Features
The 20-Year Quest to Make a Venom Movie
Producers Avi Arad and Matt Tolmach on Venom's long journey to the screen, casting Tom Hardy, the Sony Spider-Verse and more.
Avi Arad is a businessman and one-time head of Toy Biz, the company that saved Marvel Comics from bankruptcy in the 1990s and turned its fortunes around after it almost went bust under its previous owners. Arad was a key figure in getting Marvel back on its feet and launching the production arm that became the powerhouse known today as Marvel Studios. His name appears as a producer on every Marvel Studios or Marvel-related movie from Blade (1998) through The Incredible Hulk (2008).
Matt Tolmach was a one time co-president of production for Sony Pictures before becoming a producer on his own, shepherding recent hits like Jumanji: Welcome to the Jungle to the screen. And since 2012, he has partnered with Arad — who left Marvel in 2006 to venture on his own as well — in making The Amazing Spider-Man (2012), The Amazing Spider-Man 2 (2014) and now Venom, starring Tom Hardy as the journalist Eddie Brock who is merged with an alien symbiote.
Although Spidey himself is now operating under the wing of Kevin Feige and the Disney-owned Marvel Studios (through a production arrangement with Sony, which still owns the webslinger's rights), Tolmach and Arad are using Venom –which has been in the works as a movie as far back as 1997 — to potentially launch a mini-Marvel Universe based around characters and villains who have crossed Spidey's path, like Venom, Morbius, Black Cat, Silver Sable, Jackpot and more.
Will they succeed? A lot depends on what happens at the box office for Venom, which the two men have been pushing to make for well over a decade (and more so since his less-than-well-received debut in Spider-Man 3). We sat down with Tolmach and Arad at last week's press junket for Venom to discuss bringing the shapeshifting symbiote to the screen, finding the humanity in the project, letting Tom Hardy do his thing, and what lies ahead for the Sony Universe of Marvel Characters.
Den of Geek: A Venom movie has been on the drawing board for at least 11 years or more. How did everything finally fall into place?
Matt Tolmach: Avi can tell you this because he's been doing this longer than anybody, but he and I have been wanting to make a Venom movie for — how many years? 15 years?
Avi Arad: 15 or more. I'll tell you the answer, it's really simple. Venom, to the fully initiated, is a complex and interesting character. So is Eddie. I think the studios have a really hard time chewing on that. The way he looks. He's scary. The studios are bankers. They'll always want the same thing. They want full guarantee, while we want to tell a story. So it took time, but as the Marvel journey continued, if you have the name, you're fine. If it says Marvel somewhere, people go, they trust the content, they trust the material, and Venom is very strong.
People sometimes don't know when we started Spider-Man, almost no one wanted to buy it. I was running around like a snake oil salesman, and they didn't — they said it was for kids. And other people from the comic books were saying it was for adults. But this is an American art form, a storytelling system, and Marvel is full of metaphors. Once they got comfortable with it, we had the chance to go this way.
Tolmach: The word everyone uses is an antihero. Venom's a badass. He's not, you know, squeaky clean, Mr. Good Guy. So that's, I guess, a challenge in some people's eyes. It's also what makes it such a beloved character, because on a real level, he's an honest character. He's a little bit of all of us. He's flawed. He's got a great heart and good intention and he trips over himself sometimes.
So that's not an obvious setup for a superhero maybe. But I have to say, the folks at Sony who are super all in on this, understood how beloved Venom as and where that character sits in the world. And they understood the power of launching this movie.
So we had great support for something we'd been wanting to do for a long time, and then Tom Hardy called. And that's the other thing. You have this character that is crazy beloved, that people feel a real sacred connection to, so you better make sure that the person who's playing that character lands that plane believably for people, 'cause they're gonna be really tough. Tom Hardy has a kind of intensity and integrity that Eddie Brock kind of demands or that people demand of Eddie Brock, He's just, he's a badass. He's that guy, he's unapologetic. He's brilliant.
Arad: They have this expression before they green light the movie — if it's something the studio wants to green light, they always say "pending casting." Because if it doesn't fit, they'll stop it. You have to have the right person taking on the persona, and making it even more interesting than the written word.
Tolmach: There are so many great superhero franchises and movies now, but this is something different, and I think it's also time for that.
Read and download the Den of Geek NYCC 2018 Special Edition Magazine right here!
It's almost not a surprise to see a guy like Hardy starring in one of these movies, when you see them getting Robert Redford and Cate Blanchett.
Tolmach: It's the genre finally being embraced as dramatically worthy. These movies have all of the highs and lows of real drama, and so great actors are being driven to them. Obviously, they're working in the marketplace, which is good, but these movies are attracting great filmmakers and great actors.
Fans certainly know the basic story of Eddie and the symbiote. Did it change much over the years for the purposes of this movie? Were there different drafts, different villains?
Tolmach: There were different ideas about how to tell this story over the years, for sure. You know, in the end, and you've seen the movie, we wanted to make a Venom movie. We wanted to launch this thing. You've also seen the end of the movie, so you know what the ambition is from the storytelling standpoint. But the movie is the origin of this character. By the end of the movie, he's fully sort of actualized, and now he can go wherever you wanna go.
Arad: Some creature-type villains are just so outlandish. But I always found Venom to be the closest thing to us, in spite of the teeth and all that. I always felt that Venom was kind of a human converted into a monster, less as a monster converting into a human. That allowed us introduce him in all his glory.
So we felt very comfortable to open this door, and we were very fortunate that once Tom came in, you cannot run a studio and not take something very seriously when a guy like him, who's choosy as hell, comes in. He adopted it, he loved it, he was working it. On set he was 24/7.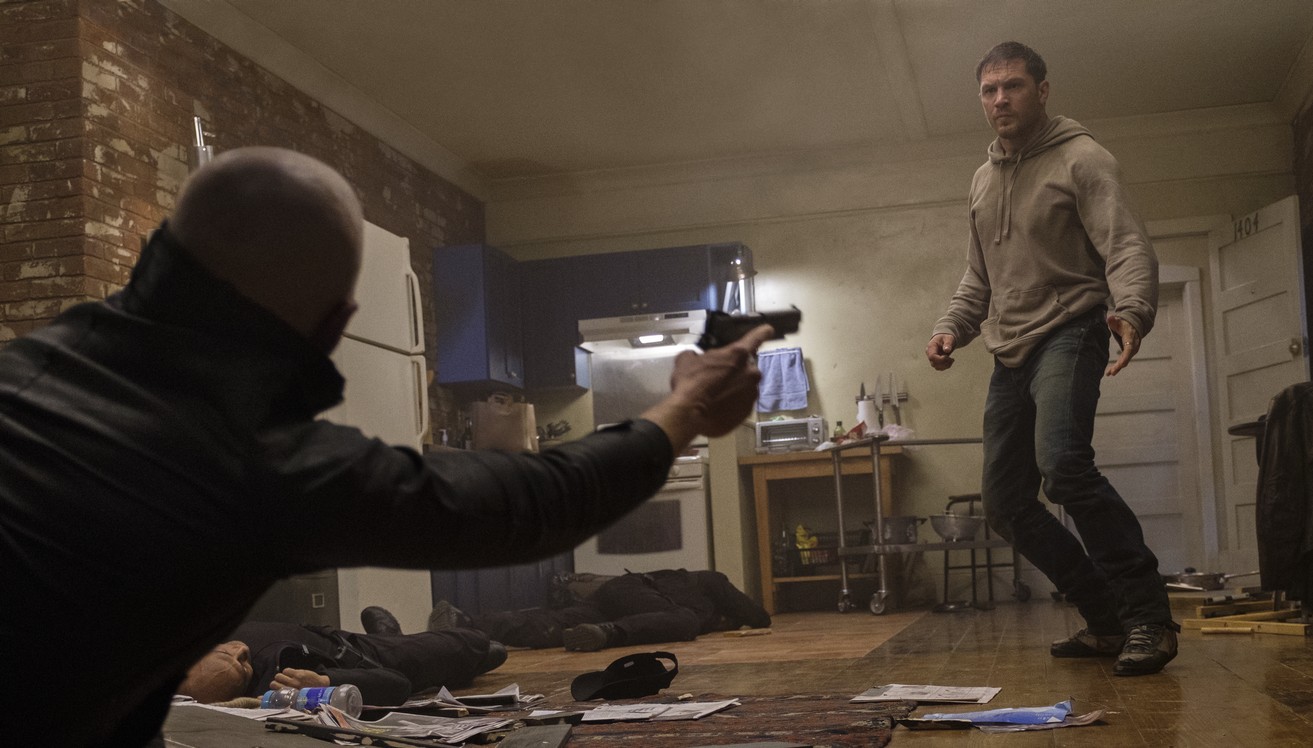 What was the tone you wanted to achieve? And what did Ruben (Fleischer, director) bring to that discussion?
Arad: Well, I think the tone — we didn't want either of them, Eddie or Venom, to be a down and out, dark character. Because that's not what we see in it, and we feel that if you wanna get dark, as Venom can be, we have to give our audience the time to breathe, some levity. Ruben comes from the levity side of the world. Tom doesn't need any help to do the other side of the world.
Because he's an executive producer on the movie, Tom thought about it more than as just an actor. He thought about the script, he had ideas, I mean he's quite an accomplished individual. So we hoped that there was a way to turn this thing into an entertaining entity, and…having the levity in the movie was key. And at that how Ruben got into this.
Tolmach: It's the collision of levity and intensity, it really always was. Bad people should be super scared of Venom, but it's also a buddy movie in the middle of it, and you love them at the same time. And in that sense, it's a really cool and unique balance.
I was a studio executive and did Zombieland with Ruben. There's a tone to that movie that I think I always thought was a great reference, you know? Because that movie is pretty damn scary when it needs to be. It's also just super cool and funny and has a huge heart. It's that collision, and you always wanted — we knew at the end of Venom, you have to fall in love with Venom. You have to.
Arad: The great thing was that Tom wanted the humor, because if you just first meet him and you don't know him well enough, you think he wants to play Bronson again. On the contrary, he's so eclectic: "I can do this, I can do that, the moment will tell me what to do." We consider ourself very fortunate to have this kooky guy.
What is the status of "Sony's Universe of Marvel Characters" and the two productions that have been mentioned as the most immediate — Silver and Black, which is now two separate projects, and Morbius with Jared Leto? Do you intend for these characters to connect with each other?
Tolmach: Morbius is very real. That's the next thing that we're going to be working on. Everything you mentioned is in the works. There's an ambition to keep making these movies, and to figure out where each of these characters connect.
Arad: If you take Morbius, who is a doctor and a genius scientist with an affliction, and he's trying to do the right thing, and he comes across Venom…there's so many ways. These characters interacted in the comics forever. It's what the studio wants to do next, what the actors want to do, and what we want to do.
By the same token, the new Marvel Studios-Sony production, Spider-Man: Far From Home, is deploying classic Spidey rogue Mysterio on the big screen for the first time. But what if you wanted to use him first in something? Will there be negotiations over who gets which villain going forward?
Arad: It's a very good relationship. If Mysterio makes sense for the Spider-Man movie and would make a good story, it's in our best interest — all of us, Disney, Sony, and us. We want it to succeed, be fun, continue. So there's no like, "If you want this, you have to do this." It's what's good for the story. Because at the end of the day, that's what sells movies. If the story is good, everything is forgiven.
So is the potential there to see the two Toms — Tom Holland as Spider-Man and Tom Hardy as Venom — eventually face off onscreen?
Arad: Why not? There are things we cannot tell you about, yes or no, but–
Tolmach: We made a standalone Venom movie, that now allows us to do many things, you know what I mean? We've landed this character, and now we get to decide what to do with him. So, all that stuff is doable.
Venom is officially out in theaters today (Friday, Oct. 5).
Don Kaye is a Los Angeles-based entertainment journalist and associate editor of Den of Geek. Other current and past outlets include Syfy, United Stations Radio Networks, Fandango, MSN, RollingStone.com and many more. Read more of his work here. Follow him on Twitter @donkaye