Features
Superman: Legacy and What It Takes To Be a Great Onscreen Man of Steel
Sure, people want Superman to be played by a square-jawed guy with black hair and blue eyes, but there's more to the role than that. A lot more.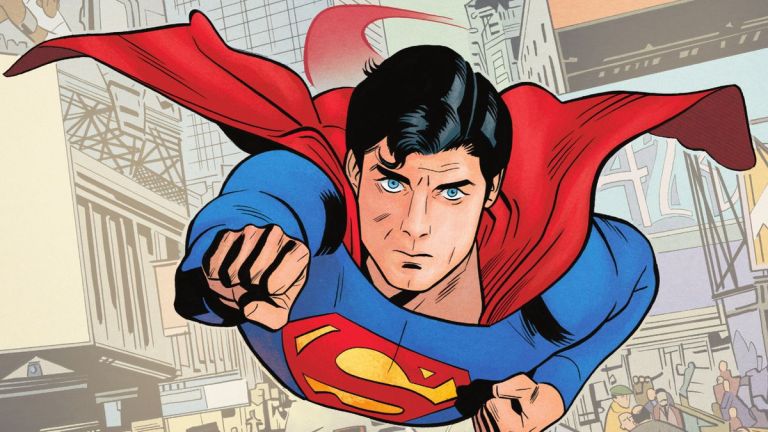 As you'd expect, the internet went nuts recently with the news that James Gunn had found his Superman and Lois in David Corenswet and Rachel Brosnahan. Some of the comments were from people upset that Henry Cavill wouldn't be returning to the role after his brief cameo in Black Adam, and others were grinding their personal axes, but most seemed pretty positive about the casting.
But if you pay attention, you'd notice a theme in the responses, best captured in this Reddit post:
People liked the Brosnahan pick because of her work on the Amazon series The Marvelous Ms. Maisel, in which she plays a smart, fast-talking comedian. When these fans look at Brosnahan, they see not just a white lady with dark hair. They see someone who embodies the bravery and gumption of an ace reporter who first appeared in 1938.
But when they look at Corenswet, what do they see? Blue eyes, dark hair, square jaw. In other words, while people have a sense of Lois Lane as a person, they think of Superman only in superficial terms. And for many, that's enough. Yet, we'd argue it takes a lot more than looks to be a great onscreen Man of Steel.
Here are three key elements of the character that Corenswet will have to nail when he finally dons the cape…
Superman Must Be Strong
Okay, this one sounds obvious. Superman is generally regarded as the strongest of the mainstream superheroes, and that should be reflected in the way the actor carries himself.
But that doesn't necessarily mean that whoever plays Superman must be jacked. Without a doubt, Henry Cavill impresses in his shirtless scenes in Man of Steel, and I certainly don't want to take away from the enjoyment many get from those sequences. But as much as Cavill's chiseled physique matches the images drawn by most artists, it's an anomaly among those who portray the character in live action. Everyone from Kirk Alyn to Tyler Hoechlin has certainly been fit, but rarely does an actor need to be shredded to play Superman.
Instead, it's more important that an actor portray strength in the way that they carry themselves. Take a scene from the climax of 1951's Superman and the Mole Men, in which George Reeves' Supes tells a hostile crowd that they cannot be trusted with guns and that he's going to take them away. After Superman deflects a few shots from one of the rioters, Reeves gives a look of irritated disappointment and tosses the firearm aside.
That's the type of strength Superman absolutely must have: more than the ability to lift cars and slow trains, Superman must have the ability to look someone in the eye and still see their best selves. He must be able to face any threat without fear for his safety, only a hope that his enemies will be better than they are right now.
Superman Must Be Clark Kent
Opinions certainly vary, but most people still hold Christopher Reeve as the best Superman performance of all time, and with good reason. It's not just that he made us believe that a man could fly or that he delivered lines about the safety of air travel without a self-conscious wink. It's how well he embodied both Superman and mild-mannered Clark Kent, sometimes in the same scene.
The Clark Kent aspect sometimes gets lost in Superman adaptations, and it's easy to understand why. Clark's a nerd, nowhere near as exciting or powerful as his alter-ego. That's certainly the case with Zack Snyder's movies, which largely ignored the classic Clark, but was also true of Reeves, who played Clark like a screen hero of the era. The '90s series Lois & Clark: The New Adventures of Superman did put more emphasis on the hero's civilian identity, but Dean Cain played the reporter as slick and handsome, making Superman the square.
To be sure, there are merits to all of these takes on the character. But by downplaying the meek nature of Clark Kent, the actors distance themselves from a key aspect of Superman. Yes, Superman is an alien with godlike powers, living among people he could destroy with a flick of the wrist. But he's also a Kansas boy raised by the wholesome Kents. He loves humanity and is inspired by their courage and capacity to do good, which is why he so utterly loves Lois Lane (and attempts to pair him with Wonder Woman are wrong-headed).
The best Superman performances, especially those by Reeve and voice actor Bud Collyer, understand that the Man of Tomorrow's amazing powers mean nothing if not couched in a love for humanity. Surprisingly, this aspect is most foregrounded in shows that emphasize Superman's earliest days, making John Haymes Newton and Gerard Christopher of Superboy, Tom Welling of Smallville, and even Jack Quaid on the new Adult Swim cartoon My Adventures with Superman, great models for Corenswet to follow. As these Clark-centric takes remind us, Superman works best not when he's above humanity, but when he sees the value in every person, even mild-mannered bumblers.
Superman Must Be an Inspiration
This emphasis on Clark's humanity is so important because it gets at a key aspect of Superman. Ask any of the character's detractors what they don't like about him, and you're likely to hear the same complaint: "Superman is too powerful and too perfect. He's unrelatable." But as writer Grant Morrison has made clear throughout their career, Superman doesn't reflect our reality; he inspires us to make a better one. "My version of Superman has always been this idea of what's the best humanity can be," Morrison told Den of Geek in 2022. "He's got super strength, and he's got super resolve, but he also has super compassion and super understanding."
Morrison captured that essence in a single page from All-Star Superman #10 (2008). Drawn by Frank Quitely, with inks and colors by Jamie Grant and letters by Travis Lanham, the page follows a troubled young woman about to jump off of a building. Just before she gives up, Superman suddenly appears behind her, his massive hand resting softly on her shoulder. "You're much stronger than you think you are," he tells the girl, before giving her a hug.
The best Superman portrayals have operated in the same way. When Collyer's Superman expresses disappointment in the racists who want to harm a kid, when Reeve's Superman reminds Lois of the safety in air travel, when Hoechlin responds to a compliment about his costume by saying, "Thanks! My mom made it," they capture the Last Son of Krypton's relationship to humanity. He wants us to be better than we are.
Images from All-Star Superman have figured heavily in announcements about Superman: Legacy, something that reassures those of us worried that Gunn's irreverent approach may be a bad fit for the wholesome hero. And although he's far from the A-list, Corenswet's credits show an actor with an impressive range, which includes the lecherous projectionist from Pearl and the star-struck G.I. from Ryan Murphy's Hollywood.
We won't know how Corenswet, Gunn, and their collaborators realize the Man of Steel until Superman: Legacy hits theaters. But we do know that they have a clear path to follow, a legacy of great Superman performances on which they can build.