News
Star Wars: The Rise of Skywalker Disney+ Release Date Confirmed
Star Wars: The Rise of Skywalker is finally hitting Disney+ in May! Here's what we know about the release!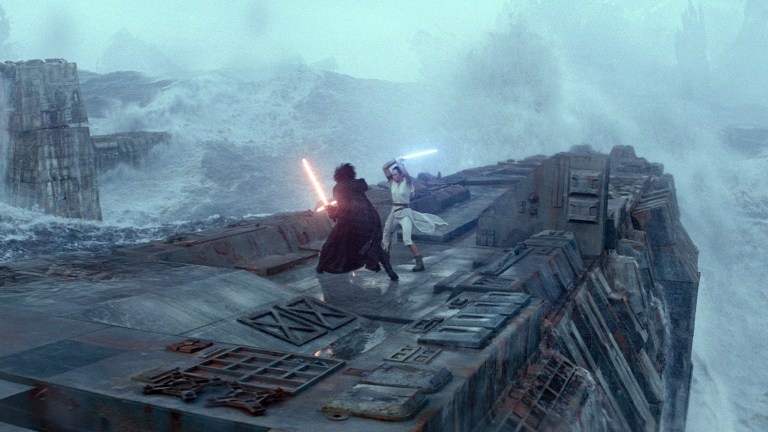 Star Wars: The Rise of Skywalker is finally hitting Disney+ on May 4. With the long-awaited arrival of the Skywalker Saga-ending chapter, all nine main Star Wars films are now on the streaming service. At last, you'll be able to binge of all nine movies while you shelter in place.
The release date is also significant because it lands on May the 4th, which is largely regarded as the official Star Wars Day when fans all over the world celebrate the franchise's more than 40-year history. This year, on top of the release of The Rise of Skywalker, fans will also be able to enjoy "a week-long concept art takeover" on Disney+, according to a press release.
"Like a commemorative gallery, each film and series' artwork will be updated on May 4th to feature its original concept paintings. From Star Wars: A New Hope to The Mandalorian, the updated art will feature work from celebrated artists such as the legendary Ralph McQuarrie and Academy Award-winning artist, author, and production designer, Doug Chiang," says Disney. "On the Disney+ home screen, the animated Star Wars brand tile, viewable on web and connected TV devices, gets upgraded with a new animation that honors the signature hyperspace jump."
Also premiering on May 4 on Disney+ are the series finale of The Clone Wars animated series and the first episode of the Disney Gallery: The Mandalorian docuseries that will take a deep dive into the making of the first live-action Star Wars series.
Stream your Star Wars favorites on Disney+ with a FREE TRIAL, on us!
Star Wars: The Rise of Skywalker stars Carrie Fisher, Mark Hamill, Adam Driver, Daisy Ridley, John Boyega, Oscar Isaac, Anthony Daniels, Naomi Ackie, Domhnall Gleeson, Richard E. Grant, Lupita Nyong'o, Keri Russell, Joonas Suotamo, Kelly Marie Tran, with Ian McDiarmid and Billy Dee Williams. It was directed by J.J. Abrams, who returned after directing The Force Awakens. The movie was written by Abrams and Justice League scribe Chris Terrio.
For those who missed Episode IX in theaters, The Rise of Skywalker concludes Rey's struggle against Kylo Ren and the evil First Order. With the Resistance on its last leg after the events of The Last Jedi and the last remaining Jedi Master, Luke Skywalker, dead, the dark side is on the verge of winning. And with the mysterious return of Emperor Palpatine, the heroes' situation is more desperate than ever before.