Features
Star Wars Just Pulled off a Surprise Rogue One Reunion on Disney+
Project Stardust in the season 2 finale of The Bad Batch opens the door for many surprising connections to Rogue One and its characters.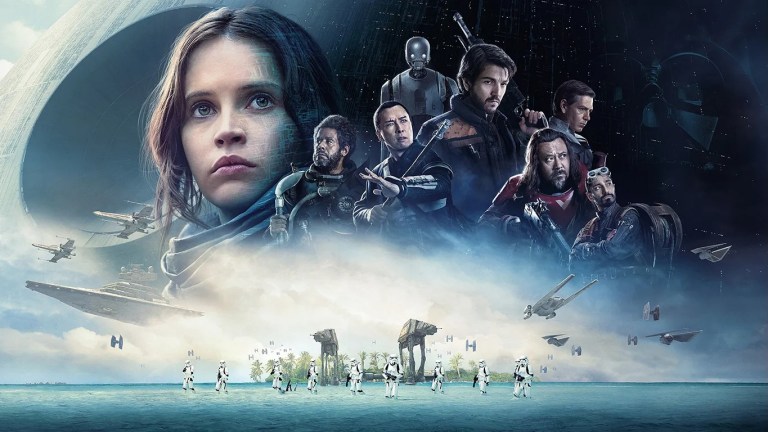 This Star Wars article contains spoilers for The Bad Batch.
The two-part season 2 finale of Star Wars: The Bad Batch not only serves as an emotional closer for the titular clone force's season-long arc, it also features an unexpected Rogue One reunion. As much as Clone Force 99 has tried to avoid getting involved in the small rebellions that are starting to form across the galaxy, they keep getting into situations where they have to fight against the Empire to protect themselves and others.
In the penultimate season 2 episode "The Summit," Clone Force 99's story once again intersects with rebel leader Saw Gerrera, who also plays an important role as Jyn Erso's adopted father and brief ally in Rogue One before his death at the hands of the Death Star. The clones first met Gererra in season 1 when Admiral Wilhuff Tarkin ordered them to kill a group of insurgents led by Gererra. All except for Crosshair refused, and this led to their defection from the Empire. This time, they run into Saw on the planet Eriadu, where Tarkin and other Imperial officials have gathered. While Clone Force 99 is just there to plant a tracker on Dr. Hemlock's ship, Saw and his crew have rigged the place with explosives hoping to kill Tarkin and the others.
Among those attending Tarkin's roundtable of awful dudes is Orson Krennic, who you'll likely remember as the man who killed Galen Erso's wife, forced him to work on the Death Star (a.k.a. Project Stardust), and ordered him to be killed in front of his daughter Jyn after discovering that he sent a message to her about the project. How ironic that, years before Rogue One, Saw had the chance to kill the man in charge of the superweapon that would eventually claim his own life… We don't actually hear much on where he's at with Project Stardust, as the meeting's focus is on Dr. Hemlock's secret plans, but Tarkin does ask him about its progress before the scene cuts to the clones infiltrating the base.
Tarkin and Krennic have a strained relationship by the time we get to Rogue One, though it's not like they were really pals to begin with. Krennic wants to take all of the credit for the completion of the Death Star and hopes that the finished product will get him a promotion and maybe even a gold star or thumbs up from the Emperor. Tarkin also wants to preside over the Death Star and control it upon completion, and uses his rank and Krennic's incompetence to get the job over him.
Even though this impromptu Rogue One reunion occurs almost 20 years before Jyn Erso and Cassian Andor take a squad to steal the Project Stardust plans from Scarif, weaving this story into Clone Force 99's shows just how important they could be to stopping the Empire. Saw and the clones may not see eye-to-eye, but they're both on Eriadu to take something from the Empire. As much as Hunter wants to settle on Pabu and avoid conflict with the Empire, living under a totalitarian regime (even a fairly new one) is never that simple. Now that Omega has been taken to Dr. Hemlock's secret base, and Hunter seems ready to do whatever it takes to get her back, they may have to work with Saw, Rex, or other rebel factions to complete their new mission.
Star Wars: The Bad Batch seasons 1 and 2 are streaming now on Disney+.