News
Alan Tudyk Recreates Iconic Firefly Scene as Star Wars Droid K-2SO
K-2SO is Firefly's Wash playing with his toys in the cockpit, sprinkled with some industrial light and magic on Star Wars Day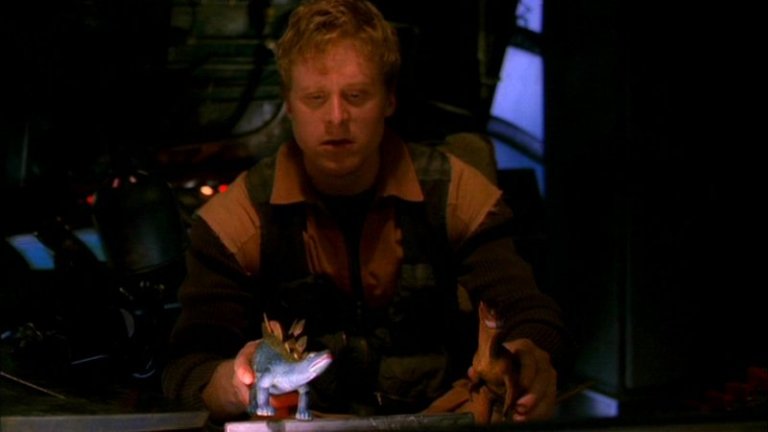 This article contains spoilers for Rogue One: A Star Wars Story and Firefly
Alan Tudyk is a busy, busy man. Just in the last couple of years he's been the voice of Oliver Queen in Young Justice, The Joker in Harley Quinn and Dangerboat in The Tick, as well as appearing in front of the camera as Mr. Nobody in Doom Patrol and Gary in Santa Clarita Diet, but for many geeks, he'll always be fondly remembered as Firefly's trustworthy pilot Wash, whose death in the series' movie conclusion, Serenity, still stands as one of the most upsetting on-screen demises of all time. Very much a Joss Whedon joint!
Tudyk-voiced Star Wars droid K-2SO also kicked the bucket, along with pretty much everyone else, in the final act of Rogue One: A Star Wars Story, and this week saw the two characters collide for Star Wars Day in the mashup no one saw coming.
In a video posted to Tudyk's Twitter account, K-2SO is seen playing with his stormtrooper toys in a recreation of Wash's "curse your sudden but inevitable betrayal" scene, where the cockpit of Firefly is swapped out for the Rogue One gang's U-Wing. The clip was reportedly created by Maureen Seng, an ILM animator who worked on Rogue One. She did an incredible job, and the clip itself is a real delight.
You can see the results for yourself below…
Though a Firefly revival looks to be pie in the sky at the moment, Tudyk will return to voice K-2SO in a forthcoming Cassian Andor Star Wars prequel series for Disney+. The show will follow the pre-Rogue One adventures of the spy and his droid, and is being created for the streaming service by Tony Gilroy. Gilroy has penned screenplays for The Devil's Advocate, Michael Clayton and three of the Bourne films, and was also tasked with "fixing" Rogue One in reshoots after Lucasfilm struggled to put Gareth Edwards' original vision for the film on track.
Diego Luna's Andor met his fate holding Jyn Erso tight as Rogue One drew to a close, and the actor admits that a prequel series featuring the character has its challenges.
"The thing I can tell you, and it's a nice challenge and it's a great way to approach a show, but what happens when you already know the ending?" Luna asked, adding, "Then it becomes about the story. Everything is in how you tell the story and how many different layers you can find. This can't be a show now where at the end we surprise you with like, 'Oh no it wasn't him!' We've already seen the ending."
The series has not yet set a release date on Disney+.