News
Turkish Star Wars Movie Rediscovered Online
If you're not already familiar with Dünyayı Kurtaran Adam, it has to be seen to be believed.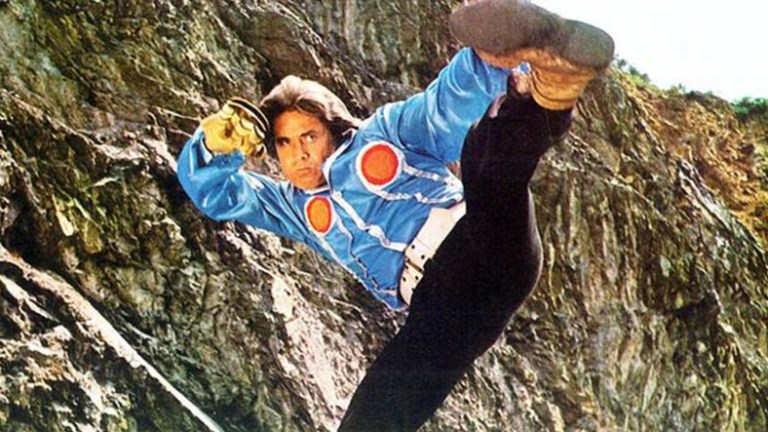 Every few years, the internet remembers the existence of Dünyayı Kurtaran Adam, a brazen attempt to loosely remake Star Wars after a military coup d'état in Turkey led to the Turkish film board clamping down on Western blockbusters entering the country.
Turkish Star Wars first joined the compelling world of low-budget blockbuster rip-offs back in 1982, when the film's director, Çetin Inanç, who had previously been churning out erotica, decided it was an ideal time to start making propaganda and action films instead. Thus, Dünyayı Kurtaran Adam (aka The Man Who Saved the World) was born, and became a homegrown hit.
Swirling science-fiction, fantasy, martial arts, adventure and superhero genres together, the beloved movie starred Cüneyt Arkın and utilized footage, music and sound effects not just from Star Wars, but from Flash Gordon, Battlestar Galactica and Raiders of the Lost Ark, too – all completely unauthorized. The result was a glorious and bonkers Golden Harvest-esque Turksploitation film that always has to be seen to be believed.
If you're already well aware of Dünyayı Kurtaran Adam – and many people in geek circles and beyond are – you might be consistently bemused by fresh waves of people rediscovering it, but just like The Room or Manos: The Hands of Fate, Turkish Star Wars will always live to see another sunrise online.
For everyone else, take your first look at Dünyayı Kurtaran Adam below…
The plot of Dünyayı Kurtaran Adam is …a lot. Even the dedicated folk adding to its Wikipedia page struggle to explain it, and objectively it doesn't make a whole lot of sense, but sprinkling martial arts into its not-really-very-A New Hope-y cauldron of visual ingredients is probably its strongest lick of genius, closely followed by the inclusion of some villainous skeletons on horseback – an element we can all agree is sorely missing from Star Wars and all other movies, including The Notebook.
In 2018, Film historian Ed Glaser restored the movie for a celebratory 2K UK tour through his Neon Harbor Entertainment company after becoming enamored with it.
"I've never seen a film so brutally, relentlessly entertaining," he told The Guardian. "It keeps chucking unbelievable new things at you. There's an all-out mummy free-for-all. Then a training montage where the hero punches rocks and overcomes gravity by strapping boulders to his legs. Then a bar-room brawl with red yetis."
He's not wrong. It's quite something, and you can watch Dünyayı Kurtaran Adam in its entirety on YouTube right now, if you're ready for the full experience.