Features
Spider-Man: Into The Spider-Verse: exclusive concept art
A look at the eye-popping visual designs behind the pioneering animation of Spidey's latest big-screen adventure
This article contains minor spoilers for Spider-Man: Into The Spider-Verse.
Spider-Man: Into The Spider-Verse is not your typical Spider-Man movie. For a start, it's centred around a new webslinger, Miles Morales, who's coming to terms with his powers after being nipped by a strange arachnid. It also features a host of other Spider-Men, Spider-Women and, erm, Spider-Pigs, who are brought together after all of their various universes are merged.
But what really sets this big-screen Spidey apart is that it's an animated movie – and a very good one at that. In fact, the film's groundbreaking animation style is probably the nearest thing to a cinematic comic book that we've seen (halftone textures, thought balloons and all). 
Now, a new book, Spider-Man: Into the Spider-Verse – The Art of the Movie, gives us a unique glimpse into how the film was brought to life, and here Den of Geek shares some exclusive concept art from the movie for your viewing pleasure.
Morales begins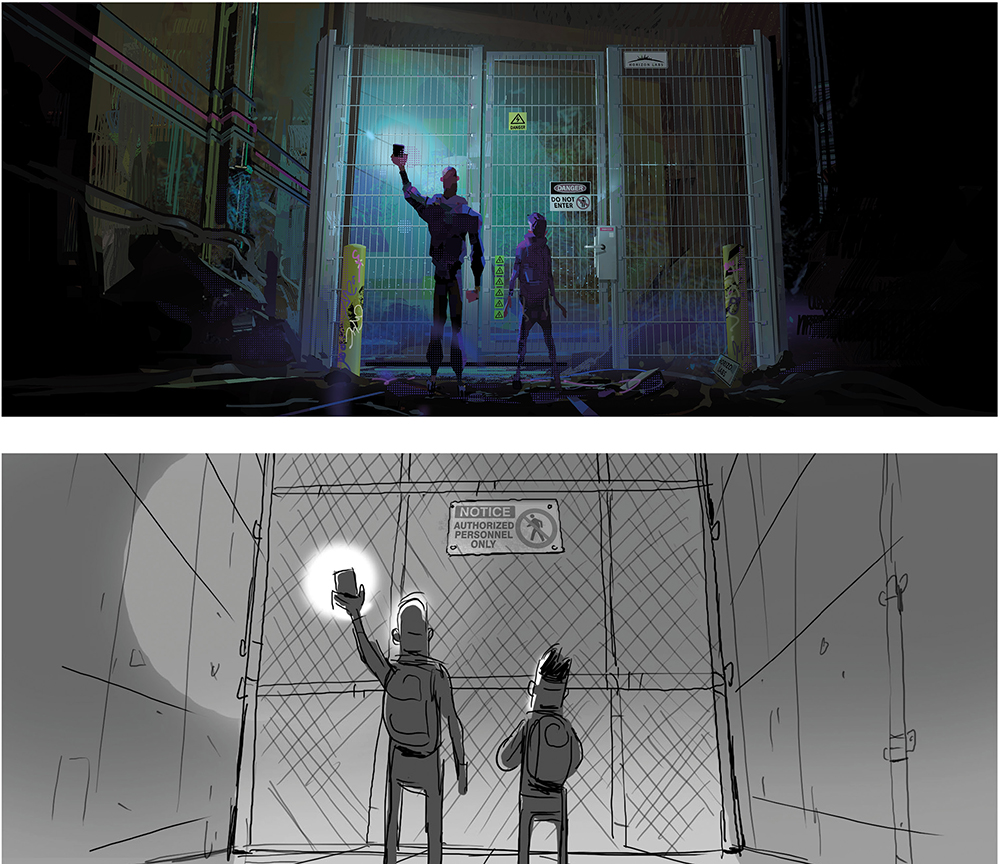 Here's how just one of the film's scenes evolved from initial sketch to fully realised concept art, as Miles (voiced by Shameik Moore) heads underground with his uncle Aaron (Mahershala Ali) to practice his street art – and ends up the unwitting victim of a fateful spider bite…
Chain reaction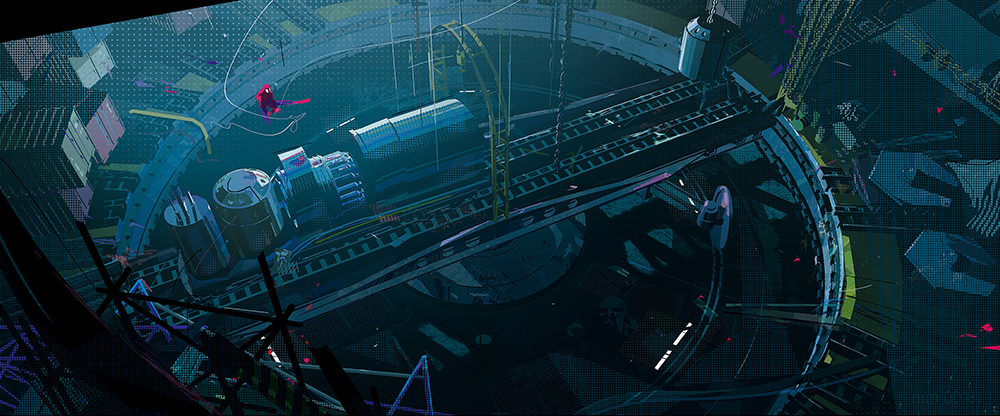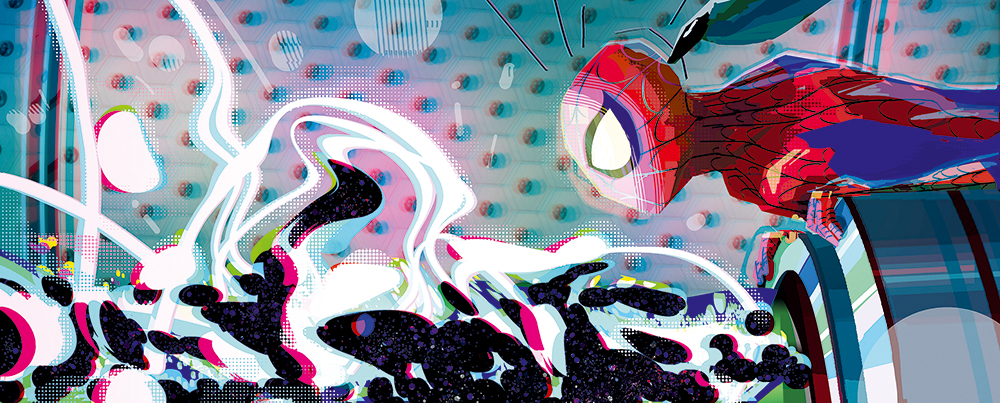 Here, the older Spider-Man discovers and attempts to power down the Kingpin's particle accelerator, before it tears open a portal to the various universes.
Welcome to the multiverse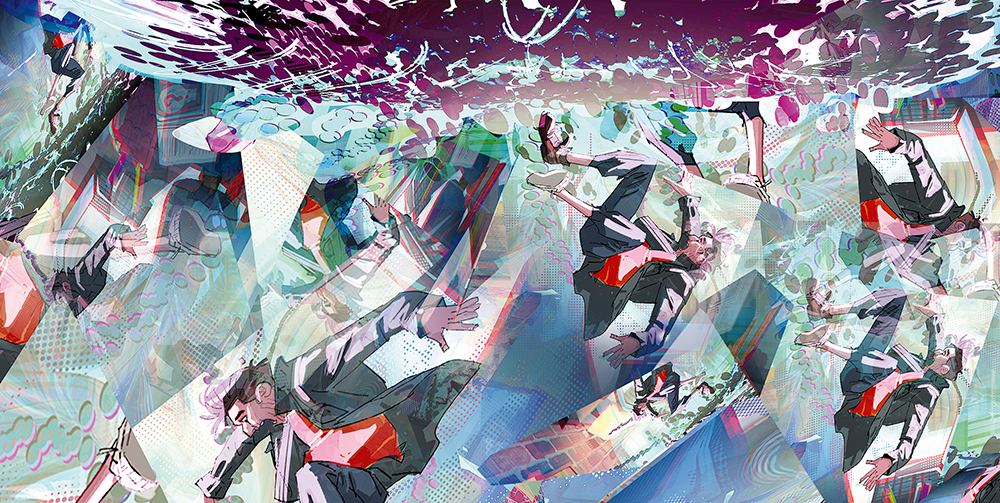 When the Kingpin's initial plan succeeds, the Spider-Verse is momentarily merged in one of the film's most abstract, eye-catching sequences – as this concept art shows.
Rogue's gallery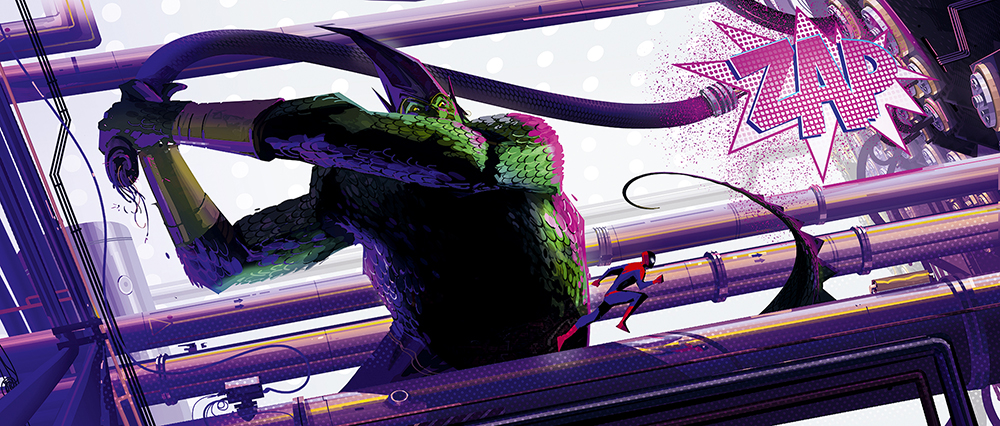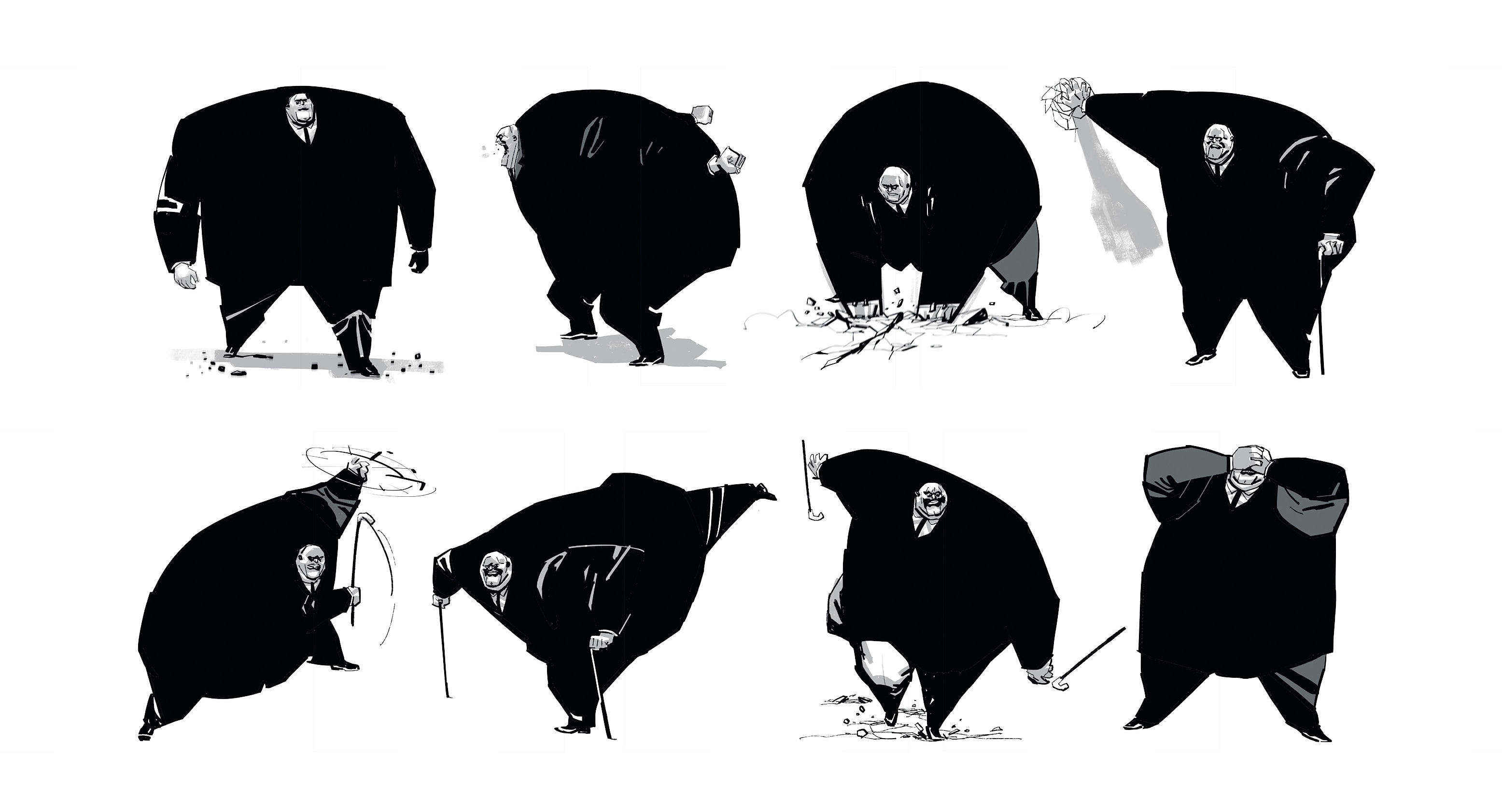 This collection of concept art shows some of the film's key villains in various stages of development – a huge, mutated take on the Green Goblin, the super-suited Prowler and the story's Big Bad – Wilson Fisk, aka the Kingpin (voiced by Liev Schreiber).
Training day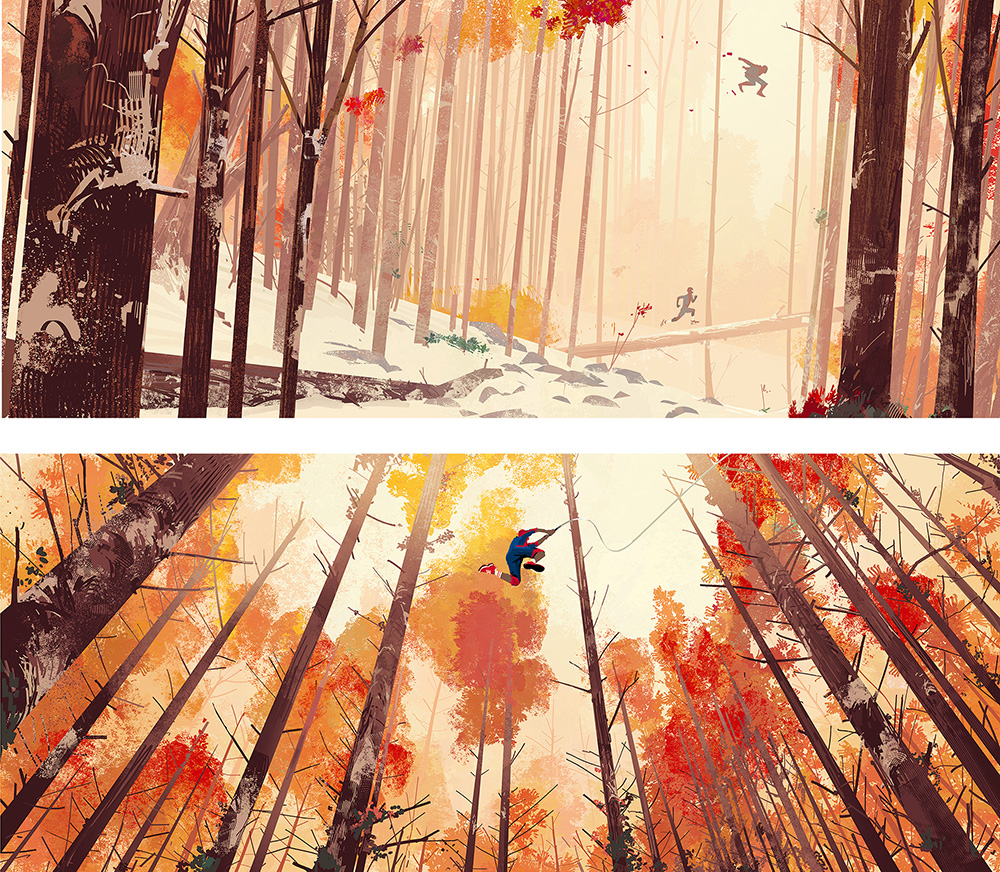 Miles gets schooled in the art of web-swinging by an older Peter Parker (voiced by Jake Johnson), his reluctant mentor, in this autumnal, forest-set sequence.
The amazing Spider-Ham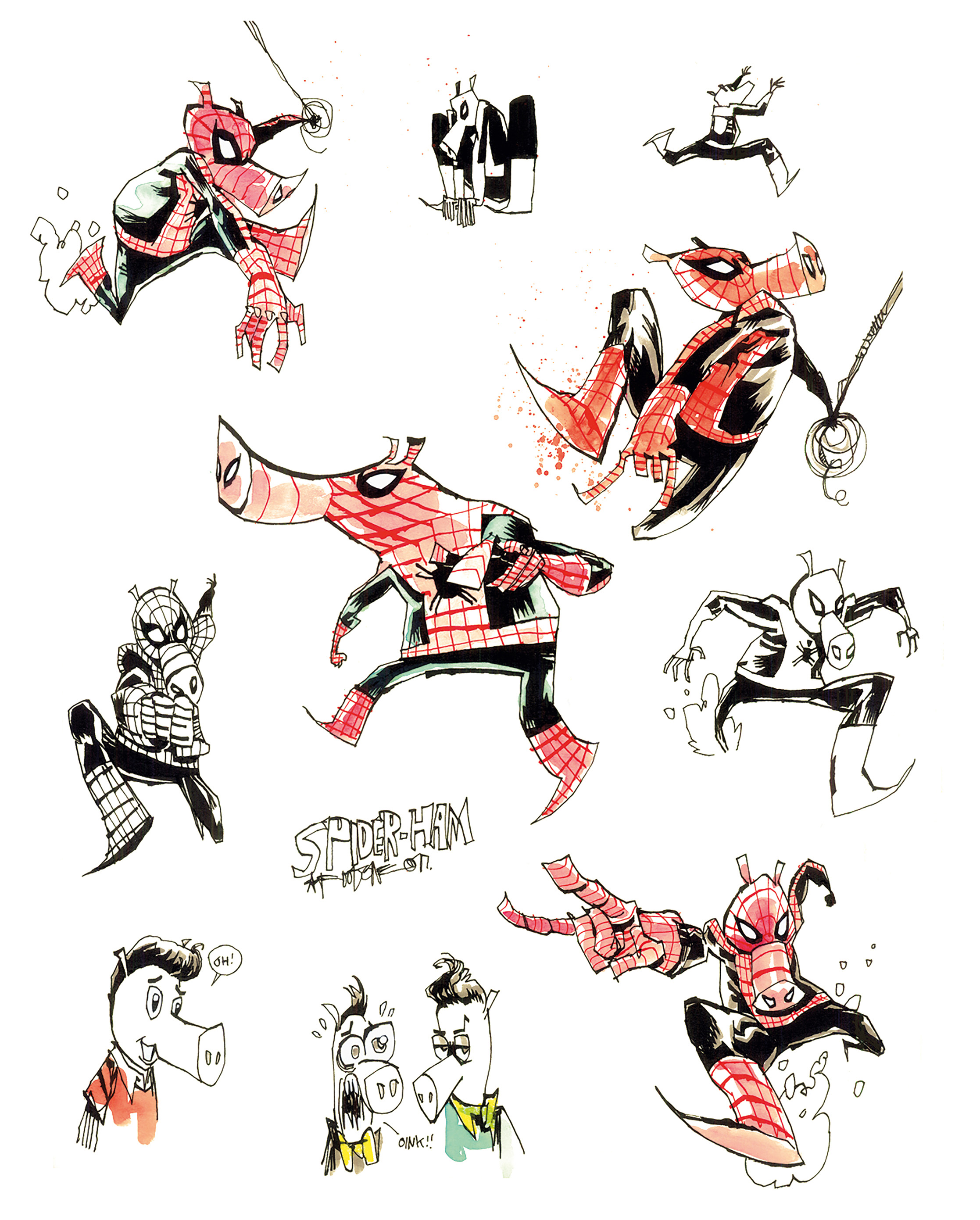 One of the webslinger's weirder comic-book iterations, Peter Porker makes his first big-screen appearance in Into The Spider-Verse – but, as these character sketches show, he nearly looked very different to the final design you can see in the film.
City slicker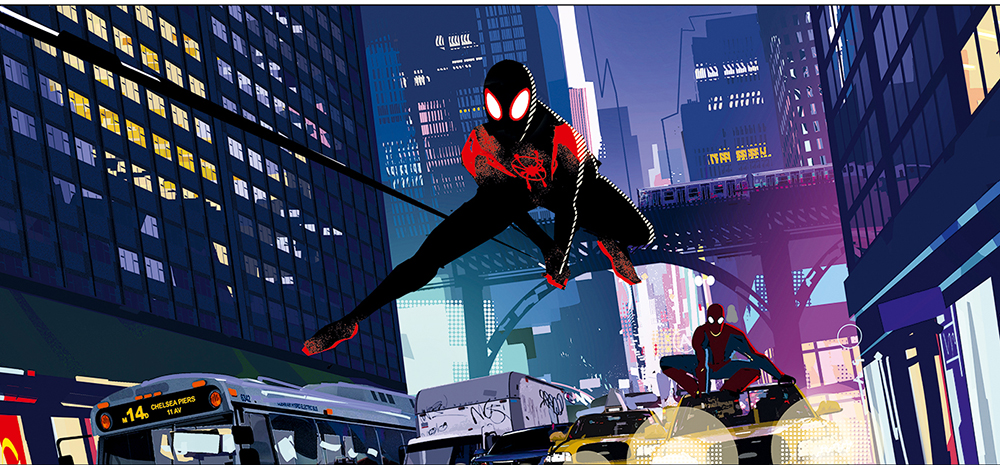 Miles comes out swinging in his cool new Spidey outfit, trailed by mentor Peter. Into The Spider-Verse's modern, expansive, neon-lit take on New York is a spectacle in its own right – a fitting tribute to the wallcrawler's home city.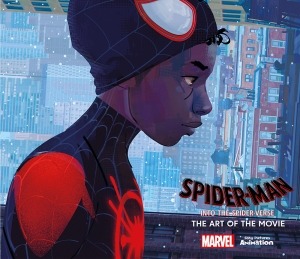 Spider-Man: Into the Spider-Verse – The Art of the Movie, by Ramin Zahed, is out on December 18th from Titan Books. You can order it now from Amazon.
Image credits: © 2018 MARVEL © 2018 SPA & CPII