Features
Sony Has a Marvel Hero Problem
Sony is turning many of their Marvel villains into anti-heroes, but without a live-action Spider-Man to play with while Tom Holland takes a break, things sure are looking weird in the Sony-Marvel universe.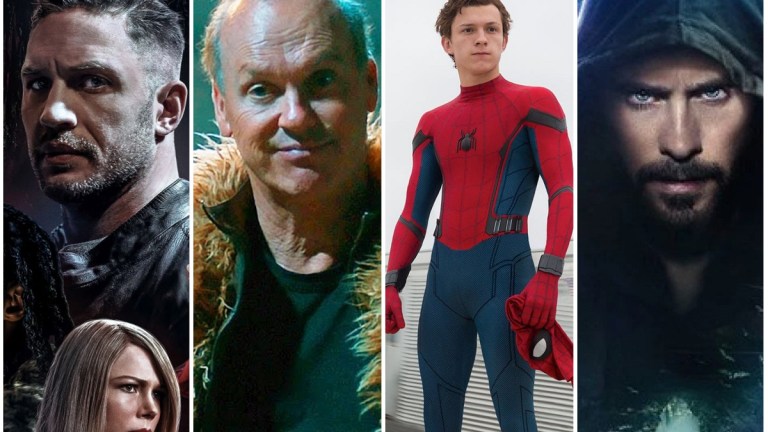 This article contains Marvel spoilers
Sony's recent string of releases and their upcoming debuts have definitely left some fans scratching their heads. With Sony entering a deal with Marvel Studios, Spider-Man's fate in the Marvel Cinematic Universe continues to unfold with great success. Yet, that leaves Sony in a strange position. With so many properties to choose from, but the webhead himself seemingly off the table, a new destination has to be set.
It seems that Sony might have a superhero problem, one that they are desperately trying to solve through some surprising decisions. There are various clues as to what Sony's plan might ultimately be, but right now their strategy simply isn't landing with audiences. Can Sony right their path, and is there even an issue to solve when it comes to looking for a leading hero?
Venom and Morbius
We've already had a peek at what Sony's own Spider-Man-based universe might look like. Venom, Let There Be Carnage, and Morbius have set the standards of what Sony is aiming for. Each movie has taken a well-known Marvel antagonist and turned them into an anti-hero of sorts, but the results of that plan have definitely been mixed.
The comics have been flirting with the idea of Eddie Brock becoming a hero for many years. The villain mantra no longer fits the iteration of the character on the page, so it's only fair that the shift in Venom is reflected on the screen. Although it might have felt like a 2000s throwback, Venom launched a franchise that Let There Be Carnage could continue to develop. Audiences have fallen in love with this strange, comedy-driven version of the Lethal Protector, playing off of the rom-com vibes of the Symbiote and Eddie. Right now, Brock and his alien ally are Sony's best bet at a leading man.
Morbius, on the other hand, followed the exact same formula to far less acclaim. While the reviews for both Venom outings weren't overwhelmingly positive, the films brought something unique to the table that Morbius simply couldn't. The comics present readers with Michael Morbius, a blood-sucking living vampire who has been a villain to Spidey countless times over. The very concept just couldn't sell when transitioned into an anti-hero flick. There weren't enough relatable elements to Morbius and the monster within can't be played off in a comedic way like Venom. Innocents are at risk when the vampire is about, which doesn't seem very heroic. Morbius needs blood to survive; Venom could instead be staved off by chocolate.
There are some stark lessons for Sony to learn. How that impacts their future might depend on another past hit, though.
Into the Spider-Verse
Ignoring the original Spider-Man trilogy and the Amazing Spider-Man follow-up, Into the Spider-Verse is clearly the most successful adaptation of the character from the studio to date. Sony Pictures Animation worked independently of Marvel Studios to create a genuinely moving coming-of-age tale starring Miles Morales and a roster of supporting Spider characters. It's fun, engaging, and visually vibrant; a stunning addition to the superhero landscape.
Naturally, Sony has now gone all-in, announcing multiple connected projects that include a Spider-Women spin-off (a Gwen Stacy, Cindy Moon and Jessica Drew team-up), and sequels titled Across the Spider-Verse and Beyond the Spider-Verse. Every positive step in the animated universe is another sign that Sony is capable of truly bringing these characters to life in an imaginative way. But their vision for a live-action Spider-Verse doesn't seem to be working. That may be because they don't have a central figure like Miles Morales to act as a jumping-off point. And no matter how beloved he may be, Venom can't be that for Sony. Into the Spider-Verse could be the perfect blueprint, but the live-action execution is something that will take a long time to get right.
Spider-Man: No Way Home
Luckily for Sony, there is a potential solution to all of this that's already staring everyone in the face. Fans adored Spider-Man: No Way Home, which brought together the previous Spider-Men in a climatic and exciting multiverse movie. Venom, the original, and the amazing iteration of Spider-Man all got in on the action. A refreshed level of interest has emerged from audiences who want to see more from Tobey Maguire and Andrew Garfield's interpretations of the character. That's surely a win for all involved!
Sony, in theory, has two separate Spider-Men that can act as their hero as they continue to build out their own shared continuity. Maguire's iteration of Peter Parker would perhaps suit Spider-Man 4 more, a final sequel capping off Sam Raimi's incredible directorial run with the character. But Garfield's version of the web-slinger still has so much more to give. With a limited rogues gallery for the Amazing Spider-Man to face, Venom, Morbius, and Sony's future antagonists could forge great new narratives for him to get involved with. There's just one catch: whether it's from the studio's end or Andrew Garfield himself, right now there are no announced plans for that.
Sinister Six
Through all of this, Sony has had an idea that they have cultivated and teased, seemingly since Spider-Man was created. The Sinister Six has been an obsession of the studio dating back to the original trilogy. Villains galore have been introduced so that they can finally team-up. The Amazing Spider-Man 2 took its shot, and No Way Home came the closest yet. There's a reason there were only five villains involved, to avoid that deadly confusion.
If there is one prediction to be made, it's that Sony is trying to build their Sinister Six. Venom and Morbius seem like surefire inclusions, and some of their future projects would likely be involved as well. Vulture's movement from the MCU into the Spider-Verse only increases the likelihood that a third member of the team has already been chosen. Yet, these characters have been presented as anti-heroes at best. They definitely aren't sinister. Is this the Slightly Nice Six? And without a central hero or Spider-Man, why are these characters uniting in the first place? Who are they going to fight? These questions only add to the fandom conversation surrounding Sony's master plan.
Kraven the Hunter
There's been a lot of talk about Sony's future releases, so it makes sense to tackle what those projects are. The idea behind all of these movies (and one TV show) is to bolster the blossoming Spider-Man universe, without the addition of a Spider-Man, but very few of these concepts and scheduled productions actually address the hero problem that's emerging.
Starring Aaron Taylor-Johnson, the Marvel Cinematic Universe's version of Quicksilver, Kraven the Hunter is currently being filmed. Featuring the infamous Spider-Man villain, this Marvel character has been pitched, in the past, as the ultimate predator. His obsession with hunting dangerous game matches his bloody lust for competition. Spidey has often been classed as his greatest challenge and he meets that threat head-on. The beloved narrative Kraven's Last Hunt is the story that makes the most sense to adapt to the big screen, seeing the hunter finally kill Spider-Man and remorsefully take his place as a flawed anti-hero beneath the mask.
That's not what Sony is doing, though. In their bid for either a central vigilante or a Sinister Six addition, the studio has pitched the character as an animal lover who will protect the environment at all costs. He's still a rival to Spider-Man, but with Peter Parker missing and no catalyst to spark the conflict, there are definitely some question marks as to whether this is going to solve any of the issues the studio is currently faced with, and it's fair to say that this is not the direction most would have tracked Kraven's progress in.
El Muerto
Next up is El Muerto, a character very few would have heard of, considering he only appeared in two Spider-Man comics. Nonetheless, Sony has made a bold move in casting rap sensation Bad Bunny as the titular character. With a mystical luchador mask giving him powers, El Muerto inherits the title and gift from his father, who is brutally murdered by El Dorado. It's a story of revenge and accepting one's heritage. It's still not high-profile enough for the Spider-Verse to converge on El Muerto as the leading hero.
Madame Web
Playing on the multiverse theme, Madame Web is yet another project in development. The original incarnation of the character was usually interpreted as an older woman who sat on the web of time and helped Spider-Man along his way through realities. She was never a focal point of the narrative, but an extremely significant supporting character. With Dakota Johnson taking the lead in the production, there are clearly some changing elements of the script. One theory could indicate that Johnson will be portraying a variation of Spider-Girl, Julia Eugenia Cornwall Carpenter, who gains the Madame Web abilities in the comics.
If this is the case, then it could be a genuinely fresh take on the mythos that fleshes out the Spider-Verse, and finally gives the series a hero to focus on. But there remains one other character that has all the qualities needed to lead the Sonyverse into the future and act as a relatable protagonist!
Silk
Sony might be focused on the big screen, but there is one TV project in development. Silk. Cindy Moon was Peter Parker's classmate and was also bitten by a radioactive spider. It's a familiar story, but with very different results. She suits up as the hero Silk in a perfect coming-of-age tale from a unique perspective. Down to Earth, loveable, and effortlessly relatable, Moon is the character with the potential to finally fix Sony's hero problem. With the character getting adapted to the small screen first, there's no telling how that may impact the wider universe. There have also been no casting announcements or rumors, despite the strength of the project in crafting a compelling leading lady for the long-term.
The Hero Problem
With all those projects in mind, does Sony really have a hero problem? Right now, yes. Silk and Madame Web are the two best bets for changing the trajectory of the franchise, but with Kraven the Hunter next up, it doesn't look like there will be a much-needed shift just yet. In the short term, there's only one main solution and that's Tom Holland's Peter Parker. But with Marvel keeping the character under lock and key, that's going to be a tough ask.
Maybe the Sinister Six will be a roaring success. Perhaps Andrew Garfield will suit up one more time, or maybe a brand new version of Spider-Man will be brought to the screen. But until there is a main Spider-person to surround this Spider-Verse with, Sony might continue to face the same issues. Luckily, the animated universe is firing on all cylinders in a way that's teaching the whole industry a lesson in how to handle a comic book property.