Features
Snake Eyes, Storm Shadow, and the Legacy of Ninja Movies
Snake Eyes: G.I. Joe Origins pays homage to the gratuitous grindhouse ninja movie genre with style and panache.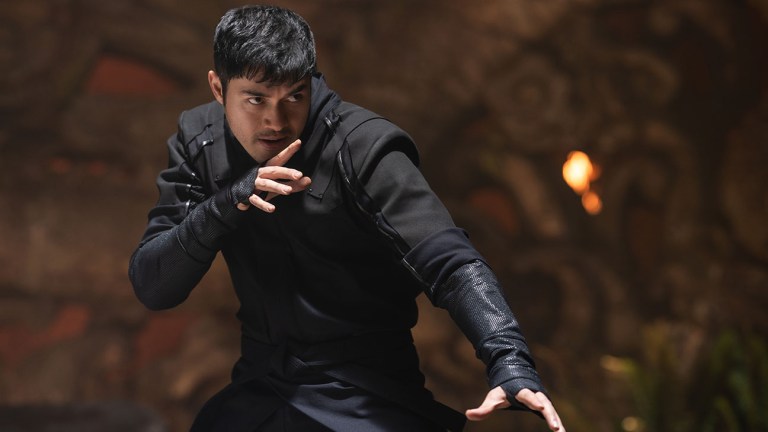 This article contains Snake Eyes: G.I. Joe Origins spoilers.
It's been a long time since we've been to the movies and an even longer time since we've seen a ninja flick on the big screen. Snake Eyes: G.I. Joe Origins is a dazzling return to the underrated ninja genre – a breakout premiere in the shadow of the pandemic. 
Ninja films rarely earn a theatrical showing anymore. They are pigeon-holed as B-grade movie fodder, and justifiably so. Back in the 1980, ninja films proliferated when second and third-run movie theaters ruled. Campy, low budget ninja pictures were popular fare there back then, right alongside slasher films and teen sex comedies. But with the advent of home entertainment, those cheap flea-ridden theater seats atop soda-sticky floors are long gone. Nowadays, most new ninja films go straight to streaming so to see one on the big screen is quite a treat for fans of the genre.
Above and beyond the G.I. Joe franchise, Snake Eyes rides on the cloak tails of a massive colorful genre (even if that color is mostly black splattered with sanguineous red). In Japan, ninja films are part of their venerated cinematic category known as Jidai-geki, or "period dramas." Silent Japanese movies about ninjas can be found as early as the 1910s – silent like Snake Eyes himself.
Ninjas still proliferate Japanese cinema, especially in anime. Who can deny the impact of Naruto? And as anyone who has seen it knows – Batman Ninja is an uncommon treat of an anime mash-up. There are literally hundreds of Japanese ninja films – anime, classic historical, modern depictions, tokusatsu stories, even a whole sub-genre of erotic ninja films.
And ninja movies are still popular in Japan. In 2019, director Yoshitaka Yamaguchi delivered his highly regarded dual ninja films, Last Ninja: Red Shadow and Last Ninja: Blue Shadow. Like Snake Eyes, that was a creation story circling around a ninja rivalry.
Early Hollywood Ninja Movies
The immigration of ninjas to Hollywood goes back to none other than James Bond. In 1967, You Only Live Twice introduced Bond (Sean Connery in his final appearance as 007 in an Eon Production) to a clan of ninja accomplices. The film marked a significant departure from Ian Fleming's original novel. You Only Live Twice was the conclusion of Fleming's "Blofeld trilogy" where Bond finally gets revenge on his arch nemesis and murderer of his bride. Bond finally tracks down Blofeld in Japan, hiding in his "Garden of Death," a restored castle surrounded by poisonous plants, and dispatches him in a brutal sword fight. 
The movie script was written by children's book author Roald Dahl, who pirated the plot of the second book of the Blofeld trilogy, Thunderball, in which SPECTRE steals a missile, but instead of atomic bombs, it's a manned spacecraft. In retrospect, it felt right to have Her Majesty's top assassin introduce Japan's elite killers to Western audiences. 
In 1975, celebrated action director Sam Peckinpah reintroduced Western audiences to ninjas in Killer Elite. James Caan and Robert Duvall play former covert operative partners, Mike Locken and George Hansen. Again akin to Snake Eyes, Locken and Hansen are split by a vengeance-filled rivalry. Hansen is in cahoots with a ninja clan, led by Negato Toku, played by renowned real-life Karate master Takayuki Kubota. Kubota invented a popular self-defense keychain that he dubbed Kubotan and instructed many celebrities, notably Martin Kove who plays Kreese in Cobra Kai. Sadly, Peckinpah succumbed to cocaine during production and Killer Elite is regarded by many critics as his worst film. 
The 1980s: The Golden Age of Ninja Movies
The addition of Snake Eyes into the G.I. Joe universe came as a reboot of the toys that reflected the times. Originally G.I. Joe dolls were 12" military figures that were introduced in the 1960s. These were reality-based figures, each emulating the authentic uniforms and gear of U.S. armed forces. In 1982, the toy line was rebooted at 3 ¼" scale, the same size as the popular Star Wars figures introduced in the late 70s. 
These new G.I. Joe came out with an accompanying marketing plan that included a simultaneous comic series from Marvel that revealed the rivalry between the "Real American Hero" G.I. Joe team and the villainous terrorist organization known as Cobra. The campaign was so successful that the first animated G.I. Joe TV show came out the following year. 
And at the movies, the great ninja wave began with Chuck Norris' 1980 flick The Octagon. Regarded as one of his stronger films, Norris played Scott James, a retired Karate champion, who has to face his rival half-brother, the ninja terrorist Seikura, played by another renowned Karate master, Tadashi Yamashita. Yamashita is credited as the man who taught Bruce Lee how to use his signature nunchaku. Norris opened the door for the ninja invasion of the '80s with The Octagon, as well as inspired the UFC's trademarked octagonal ring, The Octagon, which has become a hallmark of the brand.
Following Norris' lead, Sho Kosugi emerged as the leading ninja in grindhouse cinema. He starred in a series of ninja films beginning in 1981 with his preposterous yet entertaining "Ninja Trilogy," Enter the Ninja, Revenge of the Ninja, and my personal favorite, Ninja III: The Domination (although most feel his 1985 film Pray for Death which falls outside the trilogy was his ninja masterpiece).
The other leading ninja franchise of the eighties was the American Ninja pentalogy. Michael Dudikoff played Private Joe Armstrong in a franchise which echoed the paramilitary ninja connection from G.I. Joe. In the first film, Armstrong faced the Black Star Ninja, seeing Tadashi Yamashita once again playing a ninja baddie.
Dudikoff was an exception to the rule that ninja film leads must have a martial arts background. However he was athletic and a quick study, and became a dedicated practitioner from his involvement with the franchise. Dudikoff starred in three of American Ninja films. He skipped American Ninja 3: Blood Hunt because he didn't want to get typecast as a martial arts actor and was anti-apartheid (it was filmed in South Africa). He returned for American Ninja 4: The Annihilation but didn't appear in American Ninja V. Both Kosugi's films and American Ninja franchise were produced by that goliath grindhouse of the eighties, Cannon Films. They made ample bank slinging ninja films back then.
The '80s ninja craze helped inspire G.I. Joe's Snake Eyes, and he quickly rose to become a favorite character. The pivotal G.I. Joe comic issue #21, "Silent Interlude," was published in 1984 (coincidentally the same year the first Teenage Mutant Ninja Turtles comic was released). This was one of the first modern comics to be told entirely without word bubbles. It helped set the tone of silence for Snake Eyes' character. That issue also marked the first appearance of Storm Shadow. 
As with all comic-to-cinema characters, Snake Eyes has several incarnations, depending upon which story you follow. In the comic canon, Snake Eyes suffers a horrible helicopter crash while saving Scarlett's life. His face is burned and he loses his voice, something very different than what we see on screen in Snake Eyes: G.I. Joe Origins. 
Meanwhile, Hong Kong was getting into the action by infusing Kung Fu movies with ninjas. Leading the charge was the ultimate martial arts rivalry between China and Japan, 1978's Challenge of the Ninja (a.k.a. Heroes of the East) in 1978, Veteran Kung Fu star Gordon Liu played Ho Tao, who must match his skills against his Japanese bride's family. Got ninjas? According to Liu, the solution is scattering your yard with peanut shells!
In a savvy move for those times, Challenge of the Ninja depicts the Japanese respectfully instead of as caricatured villains, with the exception of the ninja who Ho declares to be dishonorable. Challenge of the Ninja is widely considered as one of the all-time best Kung Fu films and in its wake, dozens more ninja films came out in Hong Kong and Taiwan.
In 1982, the legendary Kung Fu grindhouse Shaw Brothers studios delivered the outrageously imaginative Five Elements Ninjas, directed by the legendary Chang Cheh who dominated the Kung Fu film genre with his gloriously bloody epics.
The last major ninja film that was released theatrically in the United States was Ninja Assassin in 2009 (coincidentally the same year that G.I. Joe: The Rise of Cobra came out). It was James McTeigue's second directorial effort following V for Vendetta, and starred K-pop singer and dancer, Rain. For ninja fans, it had a fitting homage by casting Sho Kosugi as the villain. Ninja Assassin was Kosugi's final theatrical film role to date. The film hoped to continue as a new ninja franchise, and although it was profitable, it failed to attract enough of a following to warrant a sequel. 
The Rise of Snake Eyes
It's a bold move for Snake Eyes: G.I. Joe Origins to premiere exclusively in theaters. Not even Black Widow was so daring with the Delta variant looming. As theaters reopen, it seems telling that several of the first theatrical films coming out are about stealthy martial arts masters. 
You could argue that Natasha Romanoff is an MCU ninja (Elektra is the real Marvel ninja but Jennifer Garner's film doesn't count in the MCU "sacred timeline"). You could also argue that Mortal Kombat is a ninja movie. Both have black clad assassins wielding martial arts weapons. 
However Snake Eyes is a pure ninja film, unabashed and unapologetic in its style and gratuitousness. Regardless of its G.I. Joe origins, the Joes are peripheral. Snake Eyes evades that with a glorious reboot, shifting away from the canon established in the previous two live-action G.I. Joe films and forging its own path.
Snake Eyes is Hasbro's Batman Begins. It's a completely novel creation story for the characters that defies what the film franchise has already established. The origin story of Snake Eyes and Storm Shadow was already told in the first film, G.I. Joe: The Rise of Cobra. While not the central tale, it was a significant story arc that forecasted how the ninjas would eventually eclipse the Joe's paramilitary characters in popularity. 
In Paramount's previous G.I. Joe films, Wushu champion Ray Park played the silent Snake Eyes, and taekwondo practitioner Lee Byung-hun was Storm Shadow. Byung-hun is constantly twirling a shuriken like a fidget-spinner, predating the 2017 fad by eight years. Park never speaks or shows his face, in character with the Snake Eyes of the comics. Their teacher the Hard Master is played by another real life martial arts master Gerald Okamura.
The sequel, G.I. Joe: Retaliation added another ninja, Kim Arashikage, a.k.a. Jinx, played by Elodie Yung, a black belt in Karate. Yung went on to play Elektra in Netflix's Daredevil. The standout act was a thrilling ninja battle while rappelling down a Himalayan cliffside. That show-stopping scene put the sequel above the original film, especially if you saw it in 3D IMAX. In a sneaky way, the ninja story arc creeps up on the G.I. Joe films from behind, and now it's all about those ninjas. 
Bringing Ninjas Back
Compared to the CGI bombast of the earlier two films, Snake Eyes has cool cinematic style, bathed in Tokyo neon and split with flashing katana blades. And when it comes to action, it cuts quickly to the chase. Like any good ninja flick, there's just enough plot to get to the next sword fight, no more, no less. And in contrast to previous outings, Snake Eyes tells a completely different origin story for the mysterious Snake Eyes.
In this reboot, Snake Eyes (Henry Golding) and Thomas Arashikage (Andrew Koji) meet as adults, not as children. The Hard Master is played by Iko Uwais, a genuine master of the Indonesian martial art of Silat. A practitioner of Taekwondo and Shaolin Kung Fu, Koji best known as Ah Sahm, the lead role in the Bruce Lee inspired Cinemax series Warrior. 
Like Dudikoff decades ago, Golding had no martial arts background prior to accepting the role. Once he landed it, the Crazy Rich Asians star spent four hours a day training with the stunt team in preparation.
With the exception of Golding, the casting of genuine martial arts practitioners underscores a critical element in ninja films. Ninja films are about martial arts fights. No matter how good the story and acting might be, a ninja film fails if it doesn't bring great action. Consequently for a ninja film to work, it needs a cast with a genuine martial arts background.
Golding makes up for his lack of skills with his smoldering screen presence, but much credit must be given to the film's fight coordinator, Kenji Tanigaki. Tanigaki is one of Asia's top choreographers who has been in the business since the mid '90s. Just prior to Snake Eyes, he oversaw the action on Donnie Yen's last two films, Enter the Fat Dragon and Big Brother, and completed two more installments of the five-part samurai manga-turned-movie series Rurouni Kenshin.
Snake Eyes is poised to spin off into its own franchise. The end credits scene with Storm Shadow declaring his new identity to the Baroness (Úrsula Corberó) was hardly a surprise to anyone, but it teased the possibility of a sequel. Back in May 2020, Paramount and Hasbro were in negotiations with Joe Shrapnel and Anna Waterhouse to write the script, but then the world plunged into the pandemic and no more developments have been announced at this writing. Will the sequel be Snake Eyes' The Dark Knight? For ninja fans all over the world, we can only hope. 
Snake Eyes: G.I. Joe Origins is now playing in theaters.