Features
Why Singin' in the Rain Is Still the Best Movie Musical
We examine the elusive elements that cause Singin' in the Rain to regularly be cited as the greatest movie musical of all time more than 70 years after its release.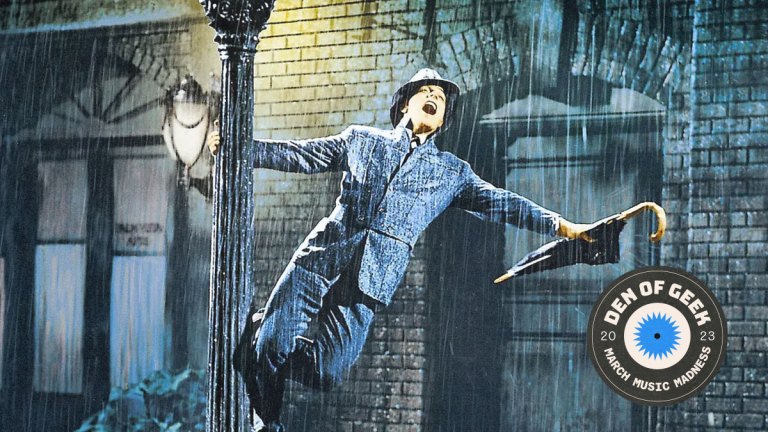 Last year, Oscar-winning director Damien Chazelle made a decadent hate letter to Hollywood, a film which dived into the seedy, salacious, and ultimately gruesome side of an industry that trades on fantasy and prefers to look at itself through glasses a shade of rose. Chazelle's Babylon failed to set the world on fire at the box office, but it does have its admirers, including those enamored by an ending sequence in which a crucial character wanders into a movie house decades after his heyday in the silent era and early talkies. And he catches, as it so happens, Singin' in the Rain during its original 1952 theatrical run.
The choice of ending a movie like that on a character watching Singin' in the Rain is both obvious yet profound. On the one hand, Singin' in the Rain is the textbook definition of a rose-tinted filter being cast across Hollywood's past—turning the painful and often tragic moment where the nascent film industry transitioned from silence to sound, and lost a few hundred lives in the process, into a quixotic fantasy.
However, a major reason the sequence works in Chazelle's movie is it's largely reflecting the true greatness of Stanley Donen's all-time classic movie musical. In fact, few films in the cinematic canon, Hollywood or otherwise, have better depicted than Singin' in the Rain the most important virtue which has ensnared generation after generation of moviegoers: the joy of escapism. Even an epic bacchanal of depravity like Babylon is kowtowed by the sheer wonderment of Gene Kelly dancing with his umbrella on a soundstage in Culver City.
More than 70 years on since that image first enraptured audiences, Singin' in the Rain's legacy in this regard has only strengthened, decade after decade. The film often appears on popular "greatest films of all time" lists, from AFI to the BBC, and only last year appeared as the single musical on Sight & Sound's once-a-decade survey of film critics, ranking at number 10 among the alleged hundred greatest movies in film history. While we suspect the absence of any other musical says more about Sight & Sound's voting pool than it does the genre, the fact remains that Singin' in the Rain has indisputably earned its place in the film canon as audience and critics' go-to musical escape. So it's still worth considering… Why has this particular daydream, which was conceived as yet another product off the Arthur Freed Unit's assembly line at MGM, endured so? Why is this the musical folks think of when they consider the genre as a whole?
Originally dreamed up by Arthur Freed as a vehicle to repackage songs he wrote the lyrics to more than 20 years earlier, the film was at first viewed as something of a vanity project for the legendary musical producer. By the early '50s, Freed's unit at MGM was the last word in glamorously glossy musicals (think of it like the Marvel Studios of its day), and its output was so shimmering and domineering that some contributors had their reservations. For instance, song and screenwriters Betty Comden and Adolph Green attempted to turn down Singin' in the Rain when MGM assigned them the project because they wanted to only write the scripts for movies that would feature their own songs (unless that movie contained the genius of Irving Berlin, Cole Porter, or Rodgers and Hammerstein, at least).
MGM kindly reminded the pair that their contract did not give them assignment approval, and the writers did wind up penning at least one song in the finished film. While most of Singin' in the Rain's musical catalog is from songs Freed wrote with composer Nacio Herb Brown between 1929 and 1939—including the title number which originally appeared in early talkie The Hollywood Revue of 1929—Comden and Green did write "Moses Supposes" while Freed and Brown collaborated again on the new comic title "Make 'Em Laugh" (a shameless knockoff of "Be a Clown" from 1948's The Pirate… and a vast improvement on the original).
Be that as it may, it was Green and Comden who realized if they're going to recycle MGM's back catalog from the studio's transition to sound and musicals, why not make an entire movie set in that period? The concept went through many transmutations from there, but it was that original genesis that imbued Singin' in the Rain with magnificent potential.
The other defining element is that an early version of the script was sent to Gene Kelly and his frequent co-director and choreographer, Stanley Donen. The pair would have a complicated professional and personal relationship over the decades that followed—not least of all because they took turns marrying the same woman, dancer Jeanne Coyne—but in 1951 they were at the peak of the collaboration.
In fact, Kelly was in many ways a mentor to Donen, seeing his potential as a background dancer on a Broadway show Kelly was the star of in 1943. He quickly hired Donen as his assistant choreographer, and when Hollywood beckoned, he eventually brought Donen with him, at first as a co-choreographer on films like Anchors Aweigh (1945) and eventually as a co-director on On the Town (1949). The latter was the real A-list breakthrough for each, paving the way for Kelly to do his passion project An American in Paris (1951), and Donen to prove he could direct hit musicals without Kelly, a la Royal Wedding (1951).
Singin' in the Rain would be their second movie as co-directors and arguably the zenith of their musical careers (not that they didn't each have a number of great toe-tappers afterward, with Donen also effectively branching out into comedy and thrillers). It was the pair's influence that pulled Singin' in the Rain's premise being about a singing cowboy of early Westerns to instead following a great screen lover and swashbuckler—essentially John Gilbert crossed with Douglas Fairbanks—who is forced to fall back on his humble beginnings as a vaudeville song-and-dance man after folks snicker at his voice at a test screening. (Donen was also the one much more open to cast Debbie Reynolds as Kelly's co-star despite the male lead having severe reservations over her limited dance talents.)
The making of Singin' in the Rain is the story of the right person making the right choice at every turn. Reynolds' sunny disposition as Kathy Selden, the fan whose dreams of breaking into the movie business come true, offers a buoyant complement to Kelly's typically starry-eyed screen persona getting slightly mocked by the film's setup; meanwhile Jean Hagen's Lina Lamont all but steals the movie as the villainous screen siren who turns out to have an accent from Canarsie by way of Hell, and a ruthless mean-streak that everyone around her underestimates at their own peril. And really, derivative though the song "Make 'Em Laugh" may be, the way Donald O'Connor sells it with physical comedy is impossible to resist—and extreme enough that the actor had to be hospitalized for several days after finishing the scene.
All contributed to building a great musical. What elevates it though is the ephemeral quality that the sum of their talents exudes when juxtaposed with a story self-aware about its historical revisionism. Like the audience, the film is actively attempting to escape into a happier, more ebullient alternative to its own reality, retelling the Hollywood story as if it could exist in a world as glittering and carefree as a golden age musical. It's like spending a few hours living inside the warmth of a snowglobe (only in Hollywoodland it never snows!).
It is with sweet affection that Singin' in the Rain finds humor in events that traumatized thousands of people in their industry, and which wrecked entire careers. Lina Lamont's inability to be properly recorded on a microphone during the shooting of the film-within-a-film, The Duelling Cavalier, is likely inspired by stories of how original "It Girl," Clara Bow, blew a microphone valve when she shouted "Hello, everybody!" on her first take of her first talkie, The Wild Party (1929). Singin' in the Rain also finds ways to lightly chuckle at the shameless inclusion of sounds in the earliest 1920s musicals, even as Singin' in the Rain is just as shamelessly indulging in technicolor excess.
Released at a moment when television was still viewed as an existential threat to the film industry, Singin' in the Rain uses a sequence like the "Beautiful Girl" number—a demonstration of how the earliest musical revues paid little attention to things like narrative or character while trying to cram as many pretty faces and songs as possible into a running time—to also drown the screen in enough sequined colors to border on garish. But hey, you weren't going to see purples and greens like that on your 12-inch black and white TV at home in '52!
Curiously though, all of these elements, be it the pleasant reimagining of its own past or the concessions to the exact time in which it was made, add to the timeless quality of Singin' in the Rain rather than detract from it. They're accentuations of a film that takes to heart the original appeal of moving pictures, both during the silent era when it was a novelty across the street from the vaudeville, and during the early talkies released in a Depression that wiped vaudeville out.
Audiences want to see a spectacle that distracts from their worries, and by looking to its own past, Hollywood turned its previous woes into a light romantic comedy with a true sense of yearning. Its simplicity in this regard is also its advantage. Most of the "big" and popular musical epics that came afterward, be it in the 1960s or certainly today, tend to be massive adaptations of sprawling Broadway spectacles. Broadway shows due to their format, however, tend to run for close to three hours and increasingly drill down into a complexity that defies early musical daydreams.
By contrast, Singin' in the Rain was designed from the ground up for the screen, which is an asset when it comes to pacing and a visual mise en scène that never feels stagebound. Indeed, the film is constructed around Kelly and Donen's ability to use their setting to craft some of the best musical sequences ever put to film.
The strength of Kelly's persona wasn't just a dreamy smile or his pure, undeniable athleticism; it was his ability to make it all look as smooth and effortless as a child jumping into a puddle. There are other legends who compete with Kelly for the greatest dancer in cinema history—with Fred Astaire being a personal favorite due to his constant, inspired innovations to tapping and ballroom sequences designed for the camera—but Kelly is the only one who turned the physicality of a gymnast into a floating grace.
The most famous musical moment in Singin' in the Rain (and perhaps any other musical) is the one where Kelly performs the title song. Set during the wee small hours of the morning after he and Kathy have lighted on a way to save his first talkie picture (and Kelly's Don Lockwood realizes he's in love with the chorus girl he initially dismissed), the scene is a dreamlike interlude wherein Don is supposed to be floating on cloud nine. He doesn't even mind the rain.
On the day the sequence was filmed, Kelly had a 103-degree fever and struggled speaking with Donen between takes. But when the cameras rolled, he was the personification of romantic bliss, and perhaps something more; the dance sequence evokes the childlike wonder of simply being happy, excited even about something as relentlessly dreary as a torrential downpour. His umbrella isn't a shield from the rain; it's a dance partner, a confidant, even a conspirator as he disturbs a local policeman and the peace by splashing in the water with a mischievous carelessness. All of which belies the precision of someone who moves like, well, Gene Kelly.
It is one of the best visual articulations of why for over a hundred years folks have enjoyed being transported by flickering images in a dark room. Don Lockwood's irrepressible giddiness allows him to find joy in practically being drowned, and audiences are likewise swept away in his jubuliance. It's a sequence aware of its facade (the actor performing it even likely worsened his fever to do the scene!), and the fact it lets the audience in on its fairytale quality causes the masterfully executed sequence to lift itself above even the sum of its parts. Like Kelly on a lamppost, it glows in the dark, shimmering in a context that, from a different vantage, might be mistaken for gloom.
The film was made to be a glossy romantic fantasy, and audiences have turned to it, decade after decade, generation after generation, for just that. It's an encapsulation of why we go to the movies, and an escape from our own personal storm clouds. At the very least, it makes the weather easier to bear with a smile on your face.