Features
Shang-Chi Villain: Best Tony Leung Movies to Watch
Shang-Chi and the Legend of the Ten Rings brings one of the world's finest actors to its complex villain, Wenwu.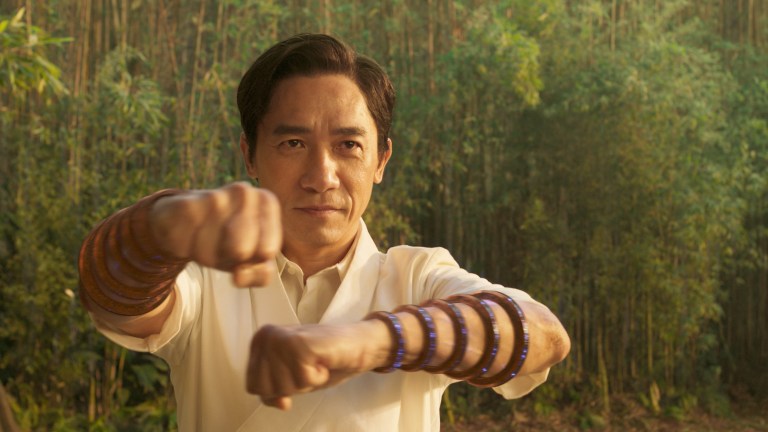 Tony Leung's portrayal of Wenwu takes the MCU villain to a whole new level in Shang-Chi and the Legend of the Ten Rings, the latest feature film in the franchise. Wenwu is complex and textured as written, but veteran actor Leung gives the role such gravity, a level of depth that can only be reached by one of the world's leading performers. Wenwu easily tops the ranks of MCU's best villains, but it wasn't always clear Shang-Chi's villain would be a hit. Originally in the comics, Shang-Chi's father was the xenophobic Asian caricature Fu Manchu. Later, Fu was replaced with the Mandarin, another character that relied on racist stereotypes, so when the Mandarin was announced as the next MCU villain, it aroused concern. However, Iron Man 3 wisely spun the Mandarin to their advantage. Trevor Slattery (Ben Kingsley) became the Mandarin, and the character was rewritten as a mere dimwitted actor, a pawn of greater evil forces. It was a woke revision and appeased the Chinese market so much that Iron Man 3 became a huge box office smash there.
The MCU corrected an outdated racist offense within the Shang-Chi comics canon through Iron Man 3, but the casting of Tony Leung as the "real" Mandarin in Shang-Chi and the Legend of the Ten Rings caused some initial trepidation. However, it's proven to be another brilliant spin on behalf of the MCU. Firstly, the character is not the Mandarin at all. He's Wenwu, an ancient immortal who disdainfully dismisses that ridiculous Mandarin moniker. Secondly, Tony Leung is a global A-list actor, a household name across Asia, and a good lure for that lucrative Chinese market…
Who is Shang-Chi's Villain Tony Leung?
Leung is an internationally acclaimed actor, but not well known in the United States. For those new to Tony Leung, it's important to know that there are two Chinese actors who go by this name. There's Tony Chiu-Wai Leung, who is the actor in Shang-Chi. And there's Tony Ka Fai Leung, who is also a distinguished actor from Hong Kong. Tony Ka Fai Leung is the elder. He won Best Actor at the prestigious Hong Kong Film Awards an astonishing four times.
While SAG doesn't permit actors to have the same name, this is tricky for China. In Chinese, the surname comes before the given name, so the Tonys are known as Leung Ka Fai or Leung Chiu-Wai in Cantonese. Hollywood usually just goes by the adopted Western name, but some try to add the Chinese name to distinguish the two. Due to the difference in surname placement, sometimes the Chinese is dropped in the middle like Tony Chiu-Wai Leung and other times it's on the end like Tony Leung Chiu-Wai. Sometimes in Hong Kong, where the British occupation left a lot of English speakers, the Western name is sometimes in the middle, as in Leung "Tony" Chiu-Wai. Regardless, it's important to know that there's two Tony Leungs and they are both highly respected Hong Kong actors. Because of their respective ages, Tony Ka Fai Leung is known as "Big Tony" while Tony Chiu-Wai Leung has been dubbed "Little Tony." They've even starred in movies together.
"Little" Tony Chiu-Wai Leung is more famous than his elder. He's won Best Actor at the Hong Kong Film Awards a whopping five times. He's also won the coveted Best Actor prize at Cannes. That was for his role in In the Mood for Love (2000), which was also nominated for the coveted Palme d'Or, and is considered by many critics as one of the greatest films of all time. In the Mood for Love was one of many collaborations between Leung and one of China's most celebrated directors, master auteur Wong Kar-wai. Leung has worked with all the top Chinese directors, producing masterpiece after masterpiece of Chinese cinema. His career spans achingly artsy romances, period Kung Fu movies, ultra-violent gangster films, goofy slapstick comedies, and now the MCU.
For Shang-Chi fans who want to go deeper, Den of Geek has selected some of Tony Leung's top films for your perusal.
A Chinese Ghost Story III (1991)
The final live-action chapter in Tsui Hark's defining Fant-Asia genre tentpole trilogy, Leung plays a bumbling Buddhist disciple who falls in love with a ghost named Lotus (Joey Wang). The three-quel reunited some of the original cast and recycled many ideas from the franchise, but the addition of Leung redeems the film. With a provocative peek into Chinese lore akin to the mythical beasts in Shang-Chi's Ta Lo, A Chinese Ghost Story III is a goofy early role for Leung before he develops his signature smoldering romantic persona.
Hard Boiled (1992)
Considered as one of the greatest Hong Kong gangster films of all time, Hard Boiled is one of Leung's collaborations with the master of balletic gunplay, director John Woo (Leung also appeared in Woo's brutal Bullet in the Head (1990)). Leung plays Alan, an undercover cop posing as a hitman. Hard Boiled is famous for an ultraviolent one-er firefight finale in a maternity ward. Leung was injured in the filming of that scene. One of the many explosions sent glass shards flying into Leung's eyes and he had to be hospitalized. Leung's performance was so gripping that it is rumored that Woo changed the script so Alan would survive. Leung was nominated for Best Supporting Actor at the Hong Kong Film Awards for his role.
Ashes of Time (1994)
As period martial arts films go, Ashes of Time is exceptional. Based on a renowned martial novel, The Legend of the Condor Heroes by Jin Yong, it was directed by Wong Kar-wai and choreographed by Sammo Hung. Leung plays a blind swordsman in a sweeping martial epic costarring his frequent leading lady, Maggie Cheung. Visually stunning yet somewhat incomprehensible, Wong went way over budget, so to garner more funds, he produced a comedy version with the same cast called The Eagle Shooting Heroes (the film title is the same as the original novel with the addition of a suffix meaning "East into West" – the translation shifted "condor" to "eagle" but it's the same character in Chinese). When the original prints of film were lost, Wong re-edited and re-scored it as Ashes of Time Redux. The film is highly regarded in art film circles for Wong's underappreciated early vision. Coincidentally, this film (and consequently The Eagle Shooting Heroes) stars both Tony Chiu-Wai Leung and Tony Ka Fai Leung.
Chungking Express (1994)
Another collaboration with Wong Kar-wai, this is a cop rom-com, told in two separate story arcs. Leung is the heartbroken Cop 663 in the second arc who gets involved in a complicated romance. Chungking Express was recognized as an artistic triumph by film critics around the world. Wong's unique visual style and technical skill in storytelling earned international praise. The role won Leung another Best Actor at the Hong Kong Film Awards, as well as the Golden Horse Awards.
Happy Together (1997)
Wong Kar-wai won Best Director at Cannes for this groundbreaking LGBTQ film. Leung plays Lau Yiu-Fai and his gay lover Ho Po-Winh is played by Leslie Cheung. Cheung was a top pop singer who came out as bisexual in 1992. Tragically, he committed suicide by jumping off the Mandarin Oriental Hotel in Hong Kong in 2003. He was only 46. A controversial film for the time, even the poster for the film was censored in Hong Kong. Nevertheless, it earned Leung yet another Best Actor at the Hong Kong Film Awards.
In the Mood for Love (2000)
In the Mood for Love reunites Leung with Wong Kar-wai and Maggie Cheung in a dramatic romance that captured the hearts of audiences around the world. Highly decorated in international film festivals, it made the Top 100 films list for Entertainment Weekly, Empire, BBC and Time Out and is widely considered a cinematic masterpiece. In the Mood for Love is an achingly poignant tale of missed opportunities and unrequited love. It's one of Leung's most acclaimed performances. If you're only going to watch one of Leung's romantic films, this is the one.
Infernal Affairs (2002)
A gripping gangster thriller, Leung plays Chan Wing-yan, an undercover cop who infiltrates a Hong Kong gang. This is the film that Martin Scorsese remade into the Academy Award winning film The Departed. Scorsese rewrote Chan as Colin Sullivan (Matt Damon). It earned Leung one more Best Actor from the Hong Kong Film Awards, and the film captured seven other wins including Best Film and Best Original Film Song (notable because the song is sung by Leung and his costar Andy Lau – Leung has a significant career as a singer too with over a dozen Cantopop albums). Internal Affairs spawned a trilogy and a TV series, as well as other international remakes beyond The Departed from directors in India, Japan, and Korea.
Hero (2002)
Hero is a truly epic martial arts film from celebrated director Zhang Yimou (Ju Dou, Raise the Red Lantern). With a lush soundtrack by Tan Dun, Hero received multiple nominations and wins across many respected international awards festivals including the Oscars and the Golden Globes. Leung plays Broken Sword, an assassin, alongside Maggie Cheung, Jet Li, Zhang Ziyi and Donnie Yen. Li's character Nameless is the main assassin, but Broken Sword is his equal. And again, Cheung plays Leung's lover as his partner assassin Flying Snow. If Shang-Chi makes you want to see more of Leung's Kung Fu, check this one out.
2046 (2004)
The final installment of the trilogy by Wong Kar-wai and costarring Maggie Cheung. In the Mood for Love was the second installment; Days of Being Wild was the first. In 2046, Leung and Cheung reprise their In the Mood for Love roles with a time-travelling spin. It was a masterful move on behalf of Wong. No one expected his to take his internationally acclaimed romance and convert it to a sci-fi. What's even more astonishing is that it totally worked. Like the previous installment, Leung won yet another Best Actor at the Hong Kong Film Awards where this film also garnered five other wins.
Lust, Caution (2007)
This steamy spy film was directed by Ang Lee, earning him his second Golden Lion from the Venice Film Festival (the first was Brokeback Mountain). Set in Hong Kong and Shanghai during the tumultuous 40s, Leung plays Mr. Yee, the target of an assassination plot. It was controversial in China because of its graphic sex scenes, but it earned Leung more Best Actor titles at the Golden Horse Awards and the Asian Film Awards. While the controversy over its explicit sex scenes didn't reflect poorly on Leung, his costar Tang Wei was blacklisted by the Chinese film industry and lost all her endorsement deals.
The Grandmaster (2013)
Wong Kar-wai's last film to date casts Leung as the martial arts master Ip Man, the same historic character played by Donnie Yen in his popular tetralogy. Like Ashes of Time, this film is on a level well above the typical martial arts movie fare. The Grandmaster brings together moving performances, arthouse sensibilities, and dazzling fight choreography in another epic tale of unrequited love. Leung brings such provocative gravitas to the role of Ip Man. While his martial arts skills are not on par with Donnie Yen, Leung trained so hard in preparation for the film that he broke his arm. This is another good example of Leung's cinematic Kung Fu skills.

Shang-Chi and the Legend of the Ten Rings opens in theaters on September 3rd.