News
Scream 6 First Reactions Rave About Ghostface's Good Works
The first wave of Scream 6 reactions have arrived, and folks seem bloody well entertained.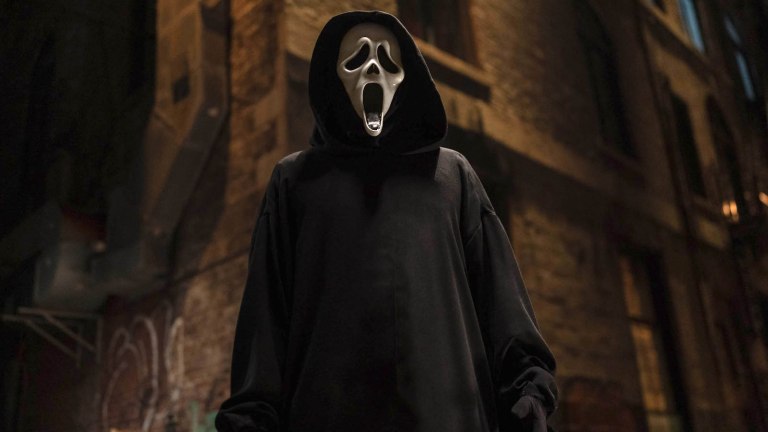 Unlike Jason Voorhees, it appears that when Ghostface takes Manhattan, he makes quite the night of it! That is certainly the implication from the first wave of social media reactions to Scream 6 from critics and film journalists who saw the movie this week.
As a rapid follow up to last year's Scream legacy sequel (aka Scream 5), the sixth chapter in the franchise has had a large groundswell of anticipation going for it in recent months. The viral success of the hype is likely due to a few factors, not least of which is that the directing/producing team of Radio Silence's last stab at the Scream franchise was so well received. Throw in the new A-list status of star Jenna Ortega after last year's Wednesday phenomenon and the radical departure from Scream formula by setting Scream 6 in New York City and you have a film that's tracking to have the highest opening in its franchise's history.
Indeed, when we caught up with Scream 6 directors Matt Bettinelli-Olpin and Tyler Gillett last month for Den of Geek magazine, the pair mused about the possibilities of an NYC setting. "So much of the tone and the fun of what this movie is, we think, is that all this crazy shit's happening, but at any moment, somebody wearing a ridiculous costume could walk through the shot. That, for us, is Scream in a nutshell."
Or as star Melissa Barrera told us, ""Post-pandemic, crowds do scare me. I think we have a bit of PTSD about that as a society. We're not used to being in close proximity to people and bumping into each other. You don't know where hands are coming from, and anybody can touch you, anybody can grab you. You can disappear in a crowd." Apparently that approach has paid off in dividends with the earliest viewers of the movie.
Exhibit A is the response of Collider senior producer and famous Scream superfan, Perri Nemiroff. "Feeling very lucky to be a diehard #Scream fan," Nemiroff wrote. "#ScreamVI is fantastic. So thankful this franchise fell into Radio Silence's hands because they continue to crush it. Yes, the Ghostface attacks/killings are especially vicious – a few might be franchise highs in terms of tension."
Bloody Disgusting's chief critic Megan Navarro also seemed to promise the film lives up to fan expectations when she wrote that she "LOVED it and I'm still riding the high. Intense, thrilling, heartfelt, smart. I'm a happy, happy gal."
Meanwhile Next Best Picture's Matt Neglia suggested the emotional core of the new film is strong, comparing it favorably to the core three characters of the original four Scream films:
Daniel Baptista of The Movie Podcast echoed that sentiment while singling out Ortega for particular praise. He also gave a lot of credit to how Bettinelli-Olpin and Gillett directed the film:
Critic Preston Barta echoed this while giving a nod to longtime Scream fans that the movie is "one mighty, red right hand." (The Nick Cave song "Red Right Hand" has been a staple of the franchise since the original movie, appearing in four of the last five movies.)
Critic Andrew Korpan also gives a special shout out to Mason Gooding, who plays the returning character of Chad Meeks-Martin in Scream 6. This is nice to hear since Gooding has been featured relatively little in the marketing and press thus far.
Film Optix also suggests going to NYC might be the best thing that ever happened to ol' Ghostface.
Critics Nate Adams and Ashley Martinez promise in particular that there is a killer (heh) opening sequence which lives up to a franchise that's often celebrated for its brutal beginnings.
The highest praise though is from The Hollywood Handle, which gives the lofty proclamation that Scream 6 is the best installment since the original movie in 1996.
Pop Crave then echoed all of the above while stating Scream 6 is the best of the sequels and that the opening will go into become "iconic" within the genre.
In fact, the only hint of disappointment we saw in any of this is from another member of The Movie Podcast who noted that the plot was a little predictable, even as he also said it has "the most TERRIFYING Ghostface" in the series.
All of these comments amount to very high praise. Normally we advise taking a grain of salt with the enthusiasm that follows the first wave of social media responses to any major studio movie. But having spoken with the filmmakers ourselves and having an idea of what audiences are in for… let's just say we're willing to follow these folks onto the cold streets of New York and see what happens next.