Features
Scott Adkins interview: Accident Man
The might Scott Adkins chats to us about Accident Man, moving into producing, piracy, Doctor Strange, and writing Triple Threat.
Have you ever tried to throw a jumping spinning kick? It's really difficult. You want to slow down to get the positioning of your feet right but you need speed to get the momentum to bring you round. You can't really just hang out in the air while you sort your hips out, as helpful as that would be. More often than not, someone attempting a jumping spin kick will abandon the operation prior to take off, or flail through the air like a spider slipping on a banana skin.
Scott Adkins, on the other hand, is a trained martial artist renowned for his athletic kicks. The British action star, who has starred in the likes of Ninja: Shadow Of A Tear and Universal Soldier: Day Of Reckoning, can leap up, punt you in the chops and be back in his chair with a cup of tea before you've even realised that your face is in the wrong order.
Following on from the recent release of Boyka: Undisputed, the fourth entry in the indie action series Undisputed and his third appearance as the fearsome Boyka, Adkins has changed things up a bit for his next movie.
That'd be Accident Man. It's a comic book adaptation and, as such, still provides ample opportunity for Adkins' famous face-bashing antics. However, this time Adkins produces and co-writes as well as stars. The result is a manic duff 'em up action flick with a dark sense of humour and a decidedly British flavour.
We're massive fans of Adkins over at Den of Geek and were dead excited to have a chance to catch up with him to talk all things action and Accident Man. Here's how we got on…
How did you meet the Accident Man comics?
I was just coming home from school. I went to the local newsagent and I was looking around, I was into my comics at that age and I saw Accident Man, bought it and read it on the bus and just thought it was great. I was struck by the imagery, the violence, and I loved the fact that it was so British and anarchic.
And I kept this comic book, I've still got it even though it's been Sellotaped up after the dog ate it, and I always felt this would make a great film. No one ever made it and I harboured a dream that maybe I could make it. Then after I'd found a bit of success in the film business I decided 'Ok, I'm gonna try and get the rights', which I did. Then I co-wrote it with my friend from school, Stu Small, who remembers me bringing the comic into school. We did it together and I produced it, starred in it, and yeah, there ya go.
I wanted to ask you about producing, actually. I know that you've exec produced before, but this is your first time producing in this way. How did it affect your day-to-day on set?
To be honest, I did most of the producing when I optioned the property and I was trying to take it to different studios, different producers, in order to get the financing to make the film. So once we had the financing and we were ready to go and start making a movie you get yourself a line producer who's going to facilitate the making of the film.
Also, I had my manager helping me and he brought on Craig Baumgarten who's a fantastic producer, done many films, and in terms of talking to the banks and all the stuff that I wouldn't have a clue about, they took care of that for me. But it was still quite stressful because it meant so much to me, the project, so anything that went wrong weighed very heavily on me because I was passionate about trying to make the best film that I could. Because it's something that I've wanted to do since I was a kid, it was pretty stressful.
So, does having produced your own movie change your view on some of the other producers you've worked with?
Well, yeah. I'm less likely to put up with their shit.
(laughter)
No, I was talking to a producer last night actually, and he was having a hard time with something, and it did make me feel a bit for him, having been in that position, so I took it easy on him.
Producers don't get enough credit, to be honest. They're with movies from the conception to the finish line and it takes a hell of a lot of time and a hell of a lot of effort. You're working at all hours, because if you're English you're talking to America. It's non-stop and they don't get the credit that they deserve. But it can be an unforgiving business and there's some hard ass producers out there as well.
In my case with Accident Man producing a project I was so passionate about probably didn't help. Sometimes I think it's better to be the money man and be devoid of emotion and just crunch the numbers, you probably end up making more money that way. It's difficult to be a producer and be emotionally attached to the project as well.
How long did you have to shoot?
Well, it's a low budget, but we did the best that we could. We had 24 days, which is not a long time at all. If you could compare Accident Man to something like The Raid, for instance, that was a 70-day shoot. So it really comes down to having enough time to get the shots that you need, especially with an action film, you need more shots than you do with a drama, because you have to fit those jigsaw sequences together.
So it's quite difficult but I think when you watch the movie, you can't really tell that. It looks much more expensive than what we made it for, and that's a testament to the cinematographer and the line producer that we had. The actors being able to turn up and do what they needed to do in one or two takes and move on.
So with your having been a producer on this one, and with a tight shoot and there being certain things you'll want to do as an actor that will clash with the producer needing the get the film done, did it increase the pressure of the shoot for you?
Oh, it's a huge amount of pressure, yeah. I thought I was gonna have a nervous breakdown at one point. But that's what I mean, it's better to be not as emotionally attached. Because, filmmaking, it's been said before, it's all about compromise. You have this vision in your head and then they say 'well, this is how much money you've got to make it' and you have to adjust that vision, you have to compromise. You might want things that you're just not gonna get and you have to think on your feet and be malleable and be able to be different things.
I brought in Jesse Johnson to direct this for me, but I certainly had the film mapped out in my head, and Jesse did a fantastic job for me, I couldn't have got anyone better for it. But also I had to deal with that fact that, and he had to deal with, that I had a certain vision and we weren't always gonna see it the same. Even if he presented something to me that was better than what I could see in my head, sometimes you just can't see that because you've been living with it in your head for so long. So it was a strange experience at times but I'm very happy with how it's turned out and what we're left with.
I'm very proud of the film.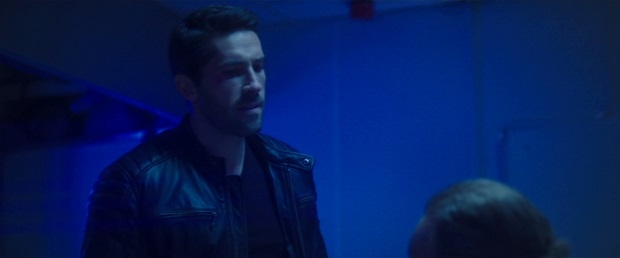 I know you worked with Jesse on Savage Dog before this film and you have some other projects coming up, but having this vision of the film, how did you know that Jesse V. Johnson was the right person?
Well, it was a bit of a leap of faith. First of all, I worked with him on Savage Dog, I knew he could work well under pressure, I had confidence in him as a director. I wanted somebody who was British, which he is, even though he lives in Los Angeles he's a very British guy, so he would understand the sense of humour and what it is to be growing up in England for the flashback stuff.
It didn't harm us at all that he's got a background in stunts. He's a nephew of Vic Armstrong, who's famous for being the stuntman for Indiana Jones. So, action wise he knows what he's doing. He writes his own scripts for the films he does so he understands about dialogue and character and all the rest of it.
But most important, Jesse said to me "Scott, I can see how passionate you are about this. I love the script." We had that conversation, I knew we were on the same page in general, but he said to me "I want to put your vision up there. Let's work together to make this happen." And we shook hands on it and that's exactly what we did.
Credit to Jesse for giving me that opportunity because otherwise I could have been saddled with a director that I would have ended up punching in the face or something, you know what I mean? Because I was so passionate about it.
But we worked well together and it was a great experience. I made two films with Jesse in quick succession after we finished Accident Man, so we get on and get the job done.
Yes, I did want to ask you about Triple Threat, if we get time. But before we get to that, you've mentioned that he responded to the script and I wanted to ask you about it. This is your first script. How long did you take to write it?
Well, it took a while but not because we were struggling, just because there was no finish line. Me and Stu, we started adapting the comic book even before I owned the rights to make the film, we just thought we'd do it as an exercise. For about five years we went back and forward, tweaking it, working on it, but because there wasn't a finish line for so long we could take our time with it. It could be done between other projects for both of us.
But everybody responded to the script. We got some great actors involved because they loved the dialogue, they loved the story. It's a who's who of action films in there. We have people like Ray Stevenson and David Paymer, Nick Moran. So the script really stood out.
Of course, that's what Sony responded to. It was all about the script to them. So I'm really proud of what Stu and I did. And of course the original comic book story is great, by Pat Mills and Tony Skinner.
So how did you work? Did you sit down together or were you working separately and passing things back and forth? What was your process?
He would do a draft, send it to me. I would make my changes, send it back to him. It was funny because sometimes he'd send a draft back to me, and he'd changed things that I wasn't happy with, so I'd just put my things back. Ultimately I was producing and starring, so I knew I could get the final say in that regard, frustratingly enough for Stu.
We're good mates since we were 16 years old. So we just passed it back and forth, kept working on it. But we're similar, growing up together and we've got the same sense of humour, it never got too weird.
That sounds fun. Plus, he knows that you know all the high kicks and the jumping spinning kicks. He's probably not gonna disagree with you too much.
Yeah, I would smash him up.
(laughter)
So, you've mentioned your co-stars, and you do have some crazy good people in there. There's Michael Jai White, who you worked with on Undisputed 2. How fun was it to work him again on this?
It's always a blast working with Mike, he's a great guy. We go back a long way. He did me a big favour on this, coming in to play this part. I asked him for the favour and he didn't let me down. It's great to work with him.
See, when you write it, you write these two characters, Mick and Mac, and I know I have to fight them, and I know I have to have an actor who can do fight sequences to a very high level, and these guys are few and far between. But I think because I've made a lot of those films and I'm well respected within that world, it was easy for me to get – well, not easy, but Ray Park and Michael were willing to come on board and be involved in this film which they knew was my passion project.
This film also offers you a chance to play a British character for a change. I think I've heard you do about 50 different accents over the years but I'm not sure I've often heard you speaking in your national tongue. Was it nice to be able to?
Oh god yeah. It's always nice. It's one less thing to think about. If you're gonna do an accent you've got to put a lot of time and effort into that. So yeah, one less thing to think about. And if you're gonna improvise in an accent that is not your own, it's quite difficult because you have the thought in your head and you've got to translate it into the accent and then deliver it, whereas, if it's your own – and it wasn't my own accent, because I'm playing a cockney, but it's easy enough for me to get my head around it that I can just do it like that. So if I wanted to throw a different line in, I just did. And I think it shows that I'm quite relaxed in that part.
So, you have worn a lot of different hats on this film, starring, writing and producing. What turned out to be the most unexpectedly difficult thing?
I mean, it was a high level of stress, but I think we've been talking about that. I just wanted it to be so good, because I'd dreamt about it for so long and I put it out there, and I still do, that it was my passion project, and there was a lot of anticipation and a lot of eyes on the project. I knew it could be good and I wanted to make it as good as I could, so that was stressful.
You're in every scene, pretty much and even when they were filming the flashback stuff that I wasn't involved in I was on second unit doing the fights. You don't have a day off, even your day off becomes a rehearsal day or something like that. It was physically and mentally draining. But it is with a lot of my films that I'm the lead in, to be honest, because I always put 100% into it.
So, yeah. Stress. Trying to make sure it was what I hoped it could be.
If you give a shit and you want to do a good job, it is gonna be stressful. I completely understand it.
Exactly.
So let me ask, the indie action films, or the smaller scale action films, that are kind of an industry in themselves, how is it getting films like that made now? Because for someone like me on the outside, it looks like a really tough one to operate in, but you're really busy as an actor, you make a lot of films.
It's very difficult, because if a film goes straight to DVD or iTunes, Sky Box Office, whatever, it can only make money there when you buy it officially. Now some people do but there are a lot of people that download the films illegally. I'm not sure if they're aware of how hard it hits the independent film industry.
A big movie goes out in the cinema and makes a lot of money at the box office, that's free advertising for when it comes out on DVD. We're fighting for space. Even, you can make some good money when you get put on the TV channels, but again you're competing against the big Hollywood blockbusters, so you've really got to stake your claim and make a legitimate impact when you come out on DVD and it's very difficult.
What happens is, when these movies don't make money the producers are coming to you and saying 'Ok, we want you to do what you did for us last time but we're gonna give you less money for it.' That means you've got to do it in less days.
When I started out making films at this independent level, you had six or seven weeks. Now you're expected to do it in three or four. No small feat, very difficult.
It's getting harder and harder and harder. It's not getting any easier.
I did want to talk to you about piracy. If you're a fan of these movies it's really frustrating to see them hamstrung by it. Because it does seem to inordinately affect action films like this.
Yeah. I think the problem is, my films, the majority of the audience is 16-30, and that's fine. This is the audience I'm happy to make movies for. But it's also the audience that are very clued up about how to get movies for free. And you've got to understand, if you like these films, if you like what I do and you want to see more of them, you've got to go and support us through legitimate means. iTunes, get the blu-ray. We've got a great DVD here with commentary and special features so it's well worth the buy. I really urge UK guys to get behind it, support a British action movie, get out there, get the DVD when it comes out and show your support for a British action film, which there aren't many of. We're standing toe to toe with what Hollywood can do in this regard.
I'd love to make a sequel. And it's such a British film as well, I just hope the UK gets behind it and shows it some support.
I want to ask you about Netflix, and their role. So, they recently added Boyka: Undisputed. And on the one hand, it's great to get to see it finally (and do check it out – it's good!), but on the other hand it didn't feel like they promoted it. So what's your take on Netflix as an outlet in the modern marketplace?
I don't know the inside and out of how much money the production company made when they gave it to Netflix, whether it was worth their time. I mean, it was definitely worth their time otherwise they wouldn't have done it. I feel like they would have made more money if it was back in the day and it was a video release, but they're not making the same money as back then.
I mean, Van Damme's career was made on being a video star. I know his films were out at the cinema, but because they made so much money on video that it was almost, you put his films on at the cinema first and even if not as many people turned up as you wanted, it was free advertising for when the video came out. We don't have that any more.
But you know, great. Obviously Netflix is big business for their originals and stuff. I don't know the ins and outs of it, to be honest, as much as I'd like.
Is there any chance of another Ninja movie? I love Ninja 2 so much.
Well thanks, I'm glad you like it. And this is where we come back to the piracy, because I've been pushing for Ninja 3, and I get messages on Facebook every day saying 'when are we gonna get a Ninja 3?' But they've said no to it. They said Ninja 2 didn't make any money, or not enough to make us want to do Ninja 3. And you go, ok, everybody is on about how much they loved it, so they've watched it, but they didn't pay for it. So, if you want Ninja 3, and you downloaded Ninja 2 for free, you've only got yourself to blame. You're not gonna get it.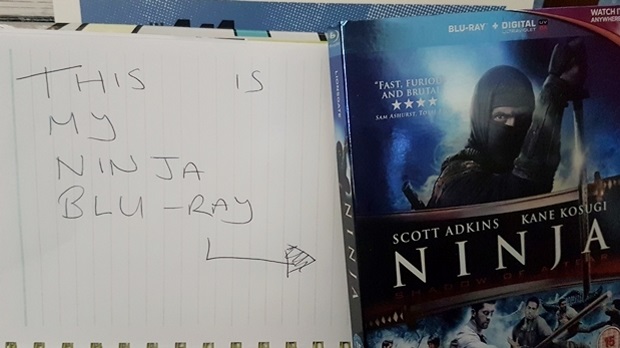 Fair enough. It's frustrating, isn't it?
Yeah. Especially when I absolutely destroyed myself making that film. The level of fights in that movie, Jesus Christ. And I was in every frame.
Is there anything you can tell me about Triple Threat? It sounds awesome. It's yourself, Michael Jai White, and you have Tony Jaa in there as well right?
Yeah, Tony Jaa, Iko Uwais, Tiger Chen, Michael Jai White, Michael Bisping and Jeeja Yanin. It's the Expendables of martial arts films, is what it is. I've always wanted to work with Tony Jaa, I have a lot of respect for him over the years. We came up at the same time. I saw him as the benchmark, him and Donny Yen, of who has been in the best stuff from my generation. I've really wanted to work with him for a long time and this opportunity came up.
Jesse Johnson got this job after Accident Man, so he brought me onto that straight away, which was brilliant. It's the martial arts dream team, so people can look forward to that.
Can you tell me about your experience working on Doctor Strange?
Well, it was brilliant, of course. It's a Marvel movie, a big movie. It's nice to do a big Hollywood blockbuster like that and have the time to do things right and to work with fantastic actors like Mads Mikkelson and Benedict.
It was a lot of green screen. Frustrating at times, when the film came out and I realised that they'd cut my dialogue out and things like that, but what are you gonna do? Big Marvel film, I enjoyed the premier. I was a big fan of the Marvel comics when I was a kid. It was great. But that's my Marvel card now, I'll have to see what's going on at DC.
Scott Adkins, thank you very much!
Accident Man is available on DVD from today.