News
Saturn 3: an 80s remake too far?
Hollywood is down to 'Outland'…but is it desperate enough to complete its remake-sweep of 80s sci-fi movies…?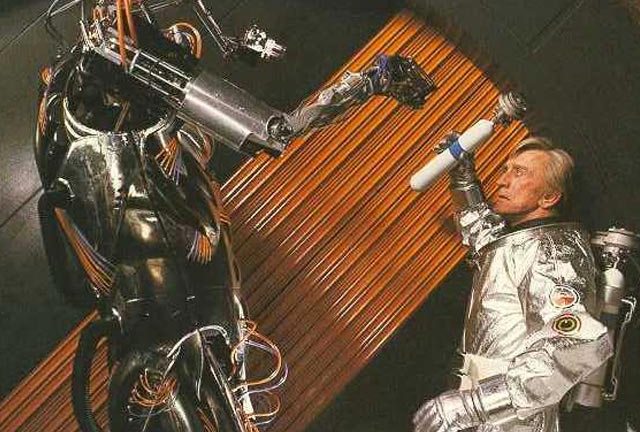 Yesterday's announcement that Peter Hyams' Outland is set for the remake factory brings us a lot closer to critical mass in terms of all sci-fi movies being remade.
The Last Starfighter, Short Circuit, Escape From New York, Nineteen Eighty-Four, Dune, The Thing, Red Sonja…and that's just what the new idea-free Hollywood is taking from the 1980s in order to fill its sci-fi and fantasy remit for the next 6-7 years.
From the 1970s it's plundering Westworld, Soylent Green and Logan's Run, amongst others. The list of proposed reheats extends back to the 1920s with Metropolis (and you can see some more putative remakes here and also here).
Well, don't forget Saturn 3, Hollywood – and we know you've tried. We all tried.
Well, actually, I didn't, because I've always been haunted by the movie that Saturn 3 could have been and – God knows, considering the resources that went into it – should have been.
It's awfully hard to fuck up a well-funded movie written by one of the most talented writers of the 1980s, which features spaceships, an isolated location, great sets, an escaped psychopath, a sex-obsessed killer robot…and the hottest woman in Hollywood. But Stanley Donen's 1980 box-office albatross proved that it could be done.
But maybe you've been spared Saturn 3 so far, so let's get a common frame of reference going:
PlotOut in the arse-end of the solar-system, namely an agricultural research station on the Saturn moon Tethys, Earth-weary wrinkly Adam (Kirk Douglas) is cloistering his lover, the space-born ingénue Alex (Farrah Fawcett) from the evils of Earthly influence – and also using her naiveté to indulge his own Steradent-age lechery. The pair live an uninterrupted existence of connubial bliss, and on the rare occasions they get bored shagging, they do a bit of work to see if Earth really is going to starve to death or not.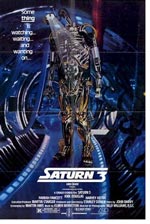 But the perils of mechanisation approach in the form of a newly-delivered 'demi-god' robot called Hector. A nine-foot tall mechanoid powered by a big tube of genetically-engineered brain matter. Hector seems set to break up the old team once his 'trainer' has used his brain-link to teach the robot what needs to be done around the base.
Trouble is his trainer, Benson (Harvey Keitel), is an impostor. Having proved himself too looney to make the grade for this mission, Benson has flung the designated pilot out of an airlock and taken his place. Quite why he has done this when his only interest seems to be in completing the mission, is not clear, since he's clearly one ID-check from the space funny-farm. But never mind…
Benson rubs the May-To-December lovers up the wrong way right from the start, bringing with him psychedelic pills, gross impoliteness and a determination to bed Alex and take her away from the 'old man'. But Alex isn't interested, fuelling Benson's ire and lust, even as he teaches Hector about life via the electronic link.
Pretty soon Hector's checking out Alex too…
By the time the robot's ready for any trials, it's as loopy as its master; when it kills Alex's beloved yapping dog, the humans have to pool their resources in order to disable it so that Benson can – very reluctantly – take it apart and prepare to return from whence he came, an abject failure. But he's determined not to make the journey alone…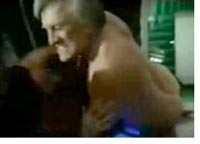 While Benson is fighting a naked Kirk Douglas for Alex's affections (if you can't take the fight scene in Borat, you won't be able to take this), the robot is using the station's drones to reassemble itself, intent on revenge…and perhaps a little robot-style love?
MoneyAdmit it – if you didn't already know that Saturn 3 is dross, you'd watch that movie. So what happened? Perhaps the best indication is found by reading Money, the excellent 1984 novel by Saturn 3 screenwriter, the novelist Martin Amis. A large chunk of the book seems to serve the author as catharsis for his one nightmarish experience as a Hollywood scribe.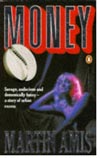 Saturn 3
was the brainchild of Oscar-winning production designer John Barry (
Star Wars
,
Superman
), who engaged Amis to write the screenplay before himself being fired from the project in favour of a safe, if rather conservative pair of hands in the form of
Singin' in the Rain
director Stanley Donen. Having renounced work on
The Empire Strikes Back
to pursue his pet project, the dejected Barry was re-hired by George Lucas for the sequel shortly before being tragically struck down by meningitis in June of 1979, whilst principal photography on
Saturn 3
was in progress.
The central character in Money, John Self, is named after John Barry, as is his infinitely more unpalatable father Barry Self. This hilarious book represents Self Jr.'s disastrous efforts to get a movie made and cope with the immense egos of the huge stars he is trying to steer into the project. If you read between the lines, neither Keitel nor Douglas fare well in Money. Here principal young buck 'Spunk Davis' gives John Self a hard time about the impending fight scene with ageing but egotistical Lorne Guyland…
"Something else worries me. The Fight. Tell me something, all right? Why would I want to fight with an old man?"…."It's kind of the climax," I said. "You and Lorne, you're fighting over the girl. Also the money. It – ""Yeah yeah, but you don't fight with old men. Not like that. Not with fists." …With Spunk and Lorne I was head-doctoring and kissing ass – and refereeing – all the time … The ageing actor in Money also insists on a nude fight scene to show how dynamic and youthful he still is…
If the long-touted screen adaptation of Money – with which Gary Oldman was associated for many years, ever hits the screen, it will be a better film that Saturn 3; but the ugly truth and great mystery of the 1980 movie is how such a dazzling writer could end up credited with such dire dialogue as:
Benson: You have a great body. May I use it?
and
Benson: Saturn 3. When they want to give the Solar System –Adam: – give the Solar System an enema, that's where they stick the tube in. We've heard that one!
Money does provide some insight into the endless meddling that can cause a screenwriter to lose heart and interest in a project for which he'd once evinced some enthusiasm; it's clearly no coincidence that Amis didn't write any more screenplays for decades, later producing treatments for the Money movie and unfilmed scripts for Northanger Abbey and his own 1991 novel London Fields.
Revisit…?Saturn 3 is awful not because it was a bad idea, but because it was very badly written, directed and acted. The corridors and sets of Tethys base were a superb achievement, whilst all three participants – even blonde sex-bomb Farrah Fawcett – were either destined for or already had glittering high points in their acting careers. As with Amis, it's a bit of a mystery how talent like that could turn in work this bad. If the bulk of the blame tends to fall on the director in such cases, one still has to wonder if Stanley Donen really had a free hand on the set, and much of what Amis writes in Money suggests Donen was hired merely as a 'safe pair of hands', and happened to be available when the decision was made to eject John Barry from the project.
The shooting of Saturn 3 was a notable feature in UK papers in the summer of 1979, and the fact that the project over-ran, particularly with its huge expenditure on sets, gives VFX supervisor Colin Chilvers at least some excuse for the poverty of many of the visual effects that had to be produced when nearly all the money was gone.
Exactly why Harvey Keitel is dubbed by Roy Dotrice in the movie falls between two rumours – that either Keitel was so appalled with how the project was turning out that he managed to wriggle out of ADR, or that the producers were unhappy with his Brooklyn accent. Either way, the actor never returned to sci-fi.
To 'spice up' a project that the execs were getting increasingly nervous about, a dream-sequence was written featuring Farrah Fawcett in an appalling sub-Barbarella 'space-babe' costume. Though the actress won her fight to have it excised from the print, stills of her in the costume were extensively used to promote a movie that could not even deliver on as exploitative a note as this.
Interestingly, Stephen Gallagher, the writer who turned Saturn 3 into a novelisation that was far better than the movie itself, provides some insight into how Amis could have written anything so awful: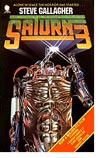 It was just a gig, back in 1979. I was working for a TV company and the union called a strike which went on for twelve weeks. My agent came up with the job and I took it. I got a copy of the screenplay and two non-professional snapshots, one of the robot costume and one of a tunnel set. That was it. The script was terrible. I thought it was bad then but in retrospect, and with experience, I can see how truly inept it was. That may not be Amis' fault. Years later I met someone who'd worked on the production and she told me that every script doctor in town had taken an uncredited swing at it, so it's impossible to say whether it was stillborn or had been gangbanged to death. I did the straight piece of journeyman work I'd been hired for, turned it in, and banked the money. It's not my book, by any definition. It's more like a housepainting job. That's all novelisations are.
I doubt that Hollywood will include Saturn 3 in its current round of remakes – but that's actually a bit of a shame, as the core idea deserved a far better shot than it got during the disastrously mishandled 1979 production schedule. Why remake a film like Outland, the central notion of which was realised as well as it could possibly be, and ignore poor old Saturn 3, which could really use a friend…?