Features
Romy and Michele's Dream Sequence Exposes Rom-Com Happy Endings for the Nightmares They Are
Romy and Michele's High School Reunion is a feminist masterpiece with a dream sequence that's way cleverer than it first appears.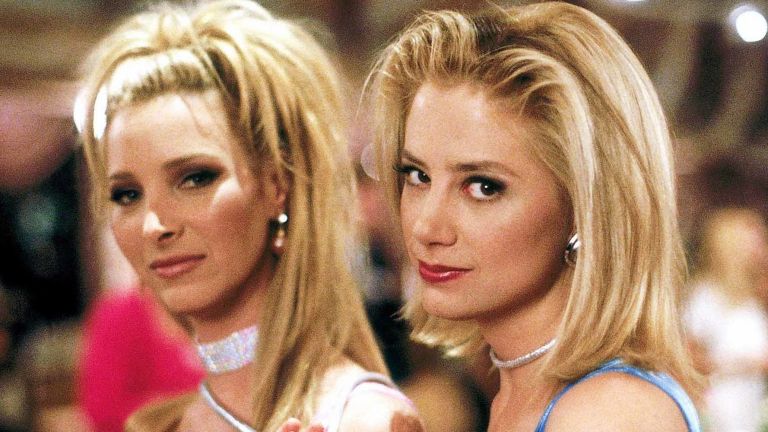 Let's be clear: Romy and Michele's Highschool Reunion is a modern masterpiece and is a brilliant feminist subversion of rom-com tropes from start to finish. Anyone who wants to hear why my favorite film is absolute perfection is welcome to pop round mine any time they like and we can stick it on.
One of the most fascinating elements, though, is the extended dream sequence which falls in the middle of the film as serves as a bit of surrealist comedy, a hinge point building up to the third act denouement of the reunion itself but also as a clever moment which hammers home the point of what this movie is, and crucially, what it is not.
To recap, Romy (Mira Sorvino) and Michele (Lisa Kudrow) are on their way to Sagebrush High and get into a fight, ostensibly over Post-its and who is the "Mary" and who is the "Rhoda"… They agree to separate once they reach Tucson and presumably at some point after this Michele falls asleep in the car.
So begins a dream sequence of two halves. The first half is semi-realistic so the audience doesn't immediately know it's a dream. The second half veers into more surrealist territory and becomes subtly more nightmarish.
The sequence lasts about 12 minutes and while being clever and funny it also serves as a plot point and a counterpoint to the film as a whole.
The dream sequence is the film you are NOT watching. The film which this one could have been in other hands.
Romy and Michele is a Pygmalion tale in reverse. The opening sequence where they are taking the piss out of Pretty Woman – a straightforward update of George Bernard Shaw's play Pygmalion (later adapted in the the musical My Fair Lady) where a professor bets he can pass a flower girl off as a duchess – is surely an indicator of what's to come. Romy and Michele sees two friends approaching their ten year high school reunion start to believe their lives aren't that impressive. After failed attempts to lose weight, get great jobs and find fabulous boyfriends in a matter of weeks they plan to pass themselves off as business women, pretending to have invented Post-Its. They are 'Pygmalioning' themselves, if you like, and they ultimately don't succeed.
The dream sequence is an imagined glimpse into what their lives might have been like had they managed to pull it off.
Michele (who is the dreamer) imagines joining in the reunion where she sees Romy claiming to have invented Post-Its by herself. Michele approaches the A-Group (the girls who bullied them at school) who are dressed in matching pastel colored suits. Chief mean girl Christie (Julia Campbell) has become a weather girl, Michele learns. And when she tells the group she invented Post-Its and they grill her she knows the formula for glue and everyone is impressed. She's a hit!
Meanwhile dream-Romy has found dream-Billy Christensen (Vincent Ventresca), an idealized version of her former crush who is well spoken and handsome and is clearly into Romy. But when Michele comes to tell Romy about her victory in front of the A-Group Romy ushers her away in favour of hanging with Billy.
Michele's victory is empty if she can't share it with her friend.
Dream-Romy is given her moment of wish fulfillment when dream-Christie asks Billy for a dance. "I owe this one to Romy" he says. Even in her own dream and even when she is mad at her friend, Michele still gives Romy what she perceives her happy ending would look like.
At this point Michele's subconscious makes a flip (yes it's a dream sequence in a '90s Valley Girl comedy but do not underestimate how brilliant this script is) and dream sequence part 2 begins. Michele walks away from Billy and Romy and suddenly gets knocked down by a limousine in a brilliant bit of slapstick. In the car is Sandy Frink (Alan Cumming), now a multi millionaire who has gifted himself a new face. "You really picked a good one!" Michele exclaims.
In another reverse Pygmalion, Romy and Michele overturns the makeover trope seen in movies like She's All That, where the bet is between jocks to turn clumsy, supposedly dowdy Laney (the conspicuously attractive Rachel Leigh Cook) into a prom queen.
Here it's Sandy who gets the makeover to become the equivalent of prom king. Then Toby (Camryn Manheim) floats over the car and tells them to come in for the vote and Michele can't find her top…
When Michele re-enters the reunion (without her top), the anxieties of her youth take shape. The Crystal Room has become the Christie Room. Rather than pictures of the year group adorning the walls they are all just pictures of Christie. The room is now decorated with balloons in the shape of the magnets the A-Group once stuck on Michele's back brace as a cruel joke.
The two are announced as joint winners of the award for "Most changed for the better since high school" and given medals. But the two leave separately in cars with Sandy and Billy, glancing wistfully back at each other. Cut to 70 years later and two are old and married and still not speaking. In a final nightmare gag Michele calls Romy (who is on her deathbed) but the two just bicker about who is the Mary and who is the Rhoda…
It's really fun but it's also way more subversive than that, in keeping with the film as a whole. The nightmare version is what happens in lesser films – the pair get their makeovers, love interests, revenge on the school bullies and both end up living long 'happily ever after' lives with their partners. Their friendship is superseded by their romantic interests. That's what's supposed to happen, these films say, grow up, get married, have kids – get thin, get great jobs, do all the things Romy and Michele thought they had to do to be impressive. But for these two, losing each other in favor of a couple of blokes is a nightmare.
In an interview with Vanity Fair 20 years after the film came out (the movie is 25 years old this year), writer Robin Schiff said she didn't exactly know what Romy and Michele would be up to 20 years on. But it sounds like they wouldn't have followed a conventional path.
"It's hard to picture them getting married and having kids. But what else have they been doing then if they're still living together?" she said. "I like to believe that they're doing well with their store, and maybe they're bigger fashion designers. I know for a fact Michele is not with Sandy. That was a big mistake."
So when Michele finally wakes up and enters the reunion for real and nothing goes quite as the girls planned, it's all the sweeter. Perceived perfection at the cost of their friendship is a nightmare. Being laughed at by your entire graduation class, telling a pregnant woman she's a nasty bitch, getting a compliment on your outfits and leaving in a helicopter with your best mate: now that is true success.