Features
He's All That: Influencer Addison Rae Helms a Cast of Familiar Faces
Netflix's He's All That cast includes some blink-or-you'll-miss-it influencer cameos.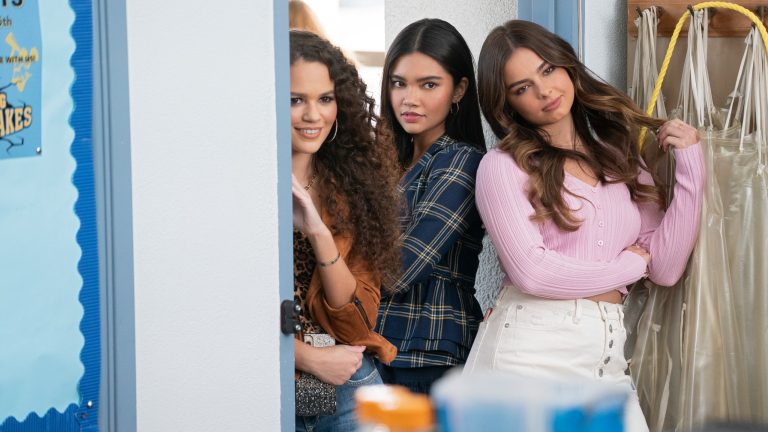 For Gen-X viewers, He's All That is a story we've seen before: Pygmalion or My Fair Lady, but updated with cultural references, settings, and technology that make the story of the lesson behind the plot—that the person you are is more important than the image you put forth—more connected to a modern audience. But digital natives who have grown up with as much with TikTok as with teen movie tropes will have a far richer experience, recognizing the cast not only as actors, but as the same influencers they're playing. 
From director Mark Waters, this update, a gender-bent response to 1999's iconic She's All That, features a young influencer who, due to the live broadcast of a messy breakup with her budding rock-star boyfriend, loses her sponsorship (and is outed as the poor girl she truly is). The only way to get her sponsor back and save face is to prove she's the makeover queen, able to make over any boy at their school the way she sculpted her ex's image.
While the cast features a number of familiar faces and voices, this is not only Addison Rae's film, it's her first film. As her character Padgett Sawyer, the real-world TikTok celeb leads the familiar story through all the right beats, accompanied by pop-up chat windows and emojis that represent the presence of social media in the lives of all but Cameron Kweller (played by Tanner Buchanan), the object of Padgett's make-over efforts.
Here's a look at the cast, including some blink-or-you'll-miss-it cameos of other influencers among the cast members…
Addison Rae as Padgett Sawyer
Although this is Rae's first full-length feature, she is no stranger to the camera. She began her career as a dancer, who in 2019 launched a TikTok channel featuring her dance takes on popular songs. At only 20, the Louisiana celeb is worth over $5 million and has more than 83.4 million followers on TikTok (far more than her character in the film). Rae has her own merchandise line, but has also endorsed brands including Chantilly Boutique, Cheapskate, FashionNova, McCrary Jewelers, and Uptown. (It seems doubtful that she relies on any of them for corporate sponsorship, the way Padgett relies on sponsor Bunny Venom, given her per-video payout rate on TikTok and the reports of what she brings in monthly on YouTube.)
Character Padgett is known for her makeover how-tos (some of which give bad advice, such as using toothpaste to reduce pimples), and in fact Rae's very first YouTube video was showing how to do hair and makeup. Another is a Q&A with her 2020 flame, Bryce Hall. But more of her videos on both YouTube and TikTok feature music, and in addition to the requisite teen movie dance numbers featured in He's All That, Rae does an excellent karaoke in the film with co-star Buchanan.
Bryce Hall's Cameo
Speaking of Bryce Hall, Rae's fellow TikTok star (21 million followers) makes a cameo in the film. Hall's career as an influencer began when he livestreaming on YouTube at age 15 in an effort to make friends after being bullied. The social media influencer moved from Maryland to Los Angeles and joined TalentX Entertainment's Sway House to create content for multiple platforms.
In the film, Hall has no lines, but commiserates with Padgett's ex, Jordan Van Draanen (Peyton Meyer) about girls. In the scene, Van Draanen soulfully mourns that the girl he dumped Padgett for has ghosted him, then asks his friends (including Hall) if they caught all that on camera. (By the time of the film release, Hall and Rae were no longer together, which may make viewers curious how Hall now feels about that scene…)
Spencer X as the DJ
TikTok viewers may also catch the cameo of Beatboxer Spencer X as the DJ behind the karaoke competition. With over 54 million followers, the sound effects champ (who includes the label Mouth Music Man on his site) also has two singles of beatboxing and remixed vocals available on Spotify.
Kourtney Kardashian as Jessica Miles Torres
While Kardashian needs no introduction, this real-life friend of Rae's takes on the role of Padgett's sponsor, an exec at Bunny Venom, who fires Padgett when her image goes wrong. Kardashian became a reality star in 2007's Keeping up with the Kardashians and is involved in fashion along with her sisters. Due to her popular presence on social media, Kardashian is regularly compensated by brands for featuring their products in her posts. She has also helmed the lifestyle website, Poosh.
Tanner Buchanan as Cameron Kweller
Coming from a more traditional acting background, Buchanan plays an artist who has no interest in the falseness of the high school world (and gives out sage words of wisdom)–though deep inside, he's still mourning the loss of his mother and feel disconnected from his family and friends until Padgett breaks through his armor. Viewers might recognize him from TV series like Game Shakers or Designated Survivor, but the martial arts skills he shows off in He's All That might be better attributed to the set of Cobra Kai, another Netflix production (after its first two seasons on YouTube Red) in which he plays Robby Keene.
Peyton Meyer and Madison Pettis
Padgett has two antagonists in the film: ex Jordan Van Draanen (Meyer) and rich girl frenemy Alden (Madison Pettis). Meyer is known for Girl Meets World and American Housewife, while Pettis made her name as Dwayne "The Rock" Johnson's daughter in The Game Plan on the Disney Channel. If her voice is familiar, it may be because the He's All That mean girl also played animated characters including Izzy in Jake and the Neverland Pirates and Zuri in The Lion Guard.
Myra Molloy and Annie Jacob
This 2021 update to the classic teen movie features a secondary romance between two queer girls of color—Padgett and Cameron's besties who hit it off, despite their social strata differences. LEGO fan Nisha is played by Annie Jacob, known for her role as Glory Moffett on Motherland: Fort Salem. Sweetheart rich girl Quinn is played by relative newcomer Myra Molloy.
Matthew Lillard as Principal Bosch
In the 1999 film She's All That, Lillard played an obnoxious reality star who steals the girlfriend of the main character, played by Freddie Prinze Jr (also Lillard's co-star in Scooby Doo). Lillard isn't shown for most of He's All That, as only his voice is featured for the majority of the movie, until the final scene, in which he's revealed to be the principal of the high school.
Rachel Leigh Cook as Anna Sawyer
She's All That lead star Cook comes back not as her original character, but as Padgett's mom, who is a nurse working hard to keep them in the best school district. As the film comes to a close, a remix of the song "Kiss Me" plays at the school dance–a direct call back to the original film, which used that as the main theme. Cook's recent Love, Guaranteed was another Netflix Original.
While He's All That offers no surprises, the cameos and callbacks to the original film make this teen movie enjoyable as exactly what it is: a familiar tale with the usual happy ending, updated for a new audience.