News
Roland Emmerich Is Not a Fan of Disaster Comedy Don't Look Up
Exclusive: Roland Emmerich, one of the ultimate disaster movie directors, has notes for Netflix's disaster comedy, Don't Look Up.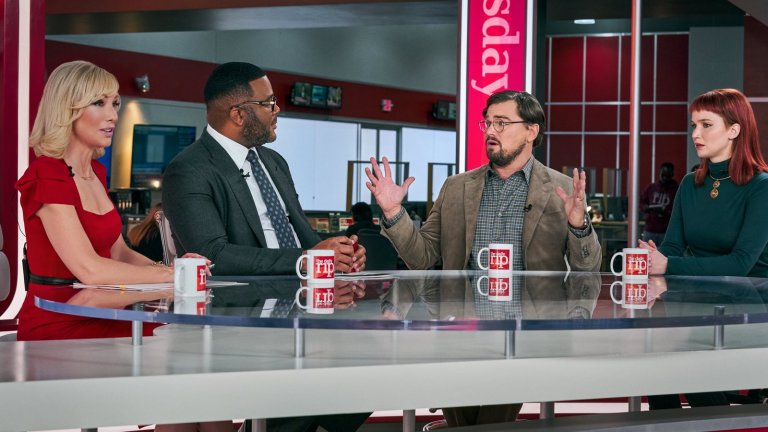 Roland Emmerich knows his way around a movie where the Earth (almost) gets destroyed. He practically reinvented the disaster genre when he obliterated the White House in Independence Day and then laid waste to NYC multiple times, from 1998's Godzilla to 2012. And decades before the new popular disaster movie on Netflix, Adam McKay's Don't Look Up, Emmerich was making a cautionary spectacle out of climate change with 2004's The Day After Tomorrow.
Which is why when we sat down to speak with Emmerich ahead of his latest world-threatening event film, this weekend's Moonfall, we felt intrigued to hear his thoughts on Don't Look Up, an all-star disaster movie in which an impending meteor strike stands in as a metaphor for climate change, and which has surprisingly become an Oscar frontrunner in recent weeks. His answers were surprising.
"It was a little bit like they missed the point," Emmerich says about the bleak humor at the heart of McKay's epic length comedy. "They were doing the same joke over and over, and over, and at one point you could not laugh anymore. They should have taken this a little more serious. Also I had the feeling that a meteor coming to Earth is not the same as climate change."
The criticism from a filmmaker as invested in fighting the climate change crisis as Emmerich is surprising, but certainly not unique. Despite McKay's initial response to criticism aimed at Don't Look Up—where he tweeted in December that "if you don't have at least a small ember of anxiety about the climate collapsing (or the U.S. teetering) I'm not sure Don't Look Up makes any sense"—there has been a decidedly mixed reception to the film, at least among critics if not the awards bodies within the industry. The film currently sits at a divided 56 percent positive reviews on the aggregate site Rotten Tomatoes. And like Emmerich, many detractors worry about climate change while still taking issue with the film.
Of course Emmerich is familiar with both aspects since he made an even more outlandish (and critically divisive) Hollywood blockbuster out of the subject in 2004—the same year McKay's first movie, Anchorman, was released—in which climate change triggered an instant apocalypse. Perhaps more fanciful on how quickly the climate-affected severe weather would occur, The Day After Tomorrow still feels somewhat prescient to our current moment with research showing climate change has already intensified the threat of hurricanes, wildfires, and water scarcity, among other global dangers. We spoke with Emmerich about how much has changed since his movie grossed more than $500 million in 2004, and his prognosis was grim.
"It makes me depressed, you know?" says Emmerich. "There was also An Inconvenient Truth out there a year later, and everybody was talking about the climate. And through the Bush years, [the issue] went a little bit down, and then Obama brought it back, and it went down again with Trump. It's pretty much a political situation where right wing politics, or conservative politics, cannot acknowledge the world is going down. And because of that, it's always like full steam ahead [where it] goes down. And when that's [occurring in] the biggest polluter you have in the world, the USA, that's not a good thing."
Emmerich's new film, Moonfall, is in theaters now. You can read our full discussion with him about that movie here.