News
Rocky IV Director's Cut Will Ditch Robot
Sylvester Stallone is working on a director's cut of Rocky IV, but the adorable robot might be "going to the junkyard."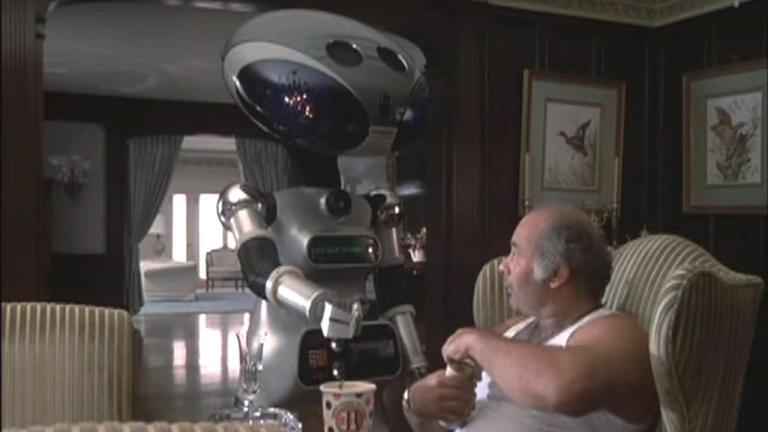 '80s nostalgia addicts rejoice! For those of you who might be desperate for more Rocky IV in your lives, you'll be pleased to know that Sylvester Stallone is currently working on a director's cut of the film in time for its 35th anniversary. Ah, but '80s nostalgia addicts should also beware…for his announcement comes with a chilling caveat.
"For the 35th anniversary Rocky 4 Is getting a new DIRECTORS cut by me," Stallone wrote in an Instagram post. "So far it looks great. Soulful. Thank you MGM For this opportunity to entertain."
But after a fan made a very specific plea in the comments, Stallone revealed a new detail, one which might not sit well with fans who go all the way back with this movie.
"Don't cut the robot," wrote one Instagram user. To which Stallone replied: "I don't like the robot anymore."
The robot in question is SICO, created by International Robotics Inc. In the film, Rocky gifts the robot to his brother-in-law Paulie. Paulie resents the gift, but later in the film seems to warm to its presence, notably after giving the robot an overhaul and a new (and female) voice.
So while Stallone's dismissal of the robot could perhaps be interpreted as just some dry humor on the director, writer, and star's part, Stallone took it a step further in answering another question.
"Wow! Cool! Does it expand on the relationship between Paulie and his robot?" (Presumably this comment was meant as a joke, thanks to an emoji at the end of it…and presumably they didn't see the answer to the previous robot-centric comment).
But Stallone's response should send chills down the spines of robot lovers everywhere.
"The robot is going to the junkyard. No more robot."
uh-oh. What did the robot do to piss him off? Especially when you consider the heartwarming origins of the robot's inclusion in the movie in the first place.
It'll be interesting to see what DOES make it into Stallone's director's cut of the film. Rocky IV is a lean 90 minutes long, and approximately 75 of those minutes are montage. SICO's brief scenes will have to be replaced somehow, and hopefully it won't consist of another music video.
There's no release date yet for the Rocky IV director's cut, but the film's 35th anniversary is on Nov. 27. Perhaps we'll get this one in time for the holidays. And hopefully Stallone is joking about the fate of poor SICO.