Features
Road House: The Long Journey to Reboot a Martial Arts Cult Classic
Road House, the 1989 cult martial arts hit, is getting a remake on Amazon. But like any cult film, this is just one of many attempts to reboot the franchise.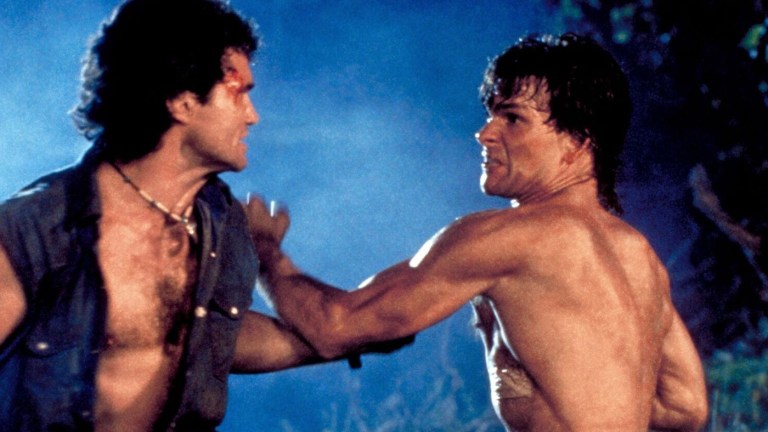 "Pain don't hurt" is one of the many bits of cheesy dialogue from Road House, and it's a perfect example of why this film is now regarded as a cult classic. Dalton (Patrick Swayze) blurts it to Doc (Kelly Lynch) as she's stapling shut his knife wound. Dalton refuses anesthesia with that cool, ridiculous pick-up line, and it's not long afterwards that he beds Doc because who could even resist that?
Road House came out in 1989 and earned $30 million at the box office from a budget of $15 million, according to Variety. But like so many cult films of the era, it found new life on the small screen. In 2020, Road House was named the most-played movie on basic cable, beating out Jumanji, Gladiator, and Ace Ventura: Pet Detective which placed second, third, and fourth respectively. 
Why Road House Works
Part of what makes Road House so infinitely rewatchable is its simple story. Dalton is a top shelf bouncer with a degree in philosophy from NYU who reads poet Jim Harrison in his spare time and practices some of the worst Tai Chi ever filmed. More specifically, he's a "cooler" which is slang for the head bouncer. Dalton is hired by Frank Tilghman (Kevin Tighe) to clean up his Missouri roadhouse, the Double Deuce, which has become overrun by, as Dalton puts it "40-year-old adolescents, felons, power drinkers, and trustees of modern chemistry." There Dalton goes toe-to-toe with a shot-calling businessman, Brad Wesley (Ben Gazzara), and plenty of bar fights ensue. Sam Elliott also appears as the veteran cooler Wade Garrett. 
Above and beyond cheesy quips about pain, Road House works on several levels. Swayze, Gazzara, and Elliott play their characters to the hilt, each delivering remarkably authentic performances in what would've ordinarily been a B-grade grindhouse film. Swayze is uber suave in one of his greatest roles. Dalton exudes a cool confidence as he stares down his adversaries with stoic, unblinking eyes. Swayze is a master at the lost art of working a cigarette, which is tragic to see knowing that he was a chain smoker in real life and inevitably died of cancer. Gazzara has a smile like a senator, so disarmingly sinister, and seethes such sadistic glee when he's being evil. And Elliot plays exactly the sort of role that he has mastered – the gruff yet lovable wise mentor.
The action is solid too. This was back in the day before CGI explosions, and the pyro is impressive. When Red's (Red West) shop blows up, the fireball is towering, and cleanly captured from multiple camera angles. The concussive impact on the stunt people running from the blast is palpable. The fight choreography is also noteworthy. Swayze can move. His mom was a dance choreographer, so he was formally trained in dance, plus despite his weak Tai Chi, he was a genuine practitioner of the martial arts. Swayze could sell a punch and throw decent high kicks.
After taking over as cooler of the Double Deuce, Dalton tells his fellow bouncers "Take the biggest guy in the world, shatter his knee and he'll drop like a stone." Consequently, many of the fights pivot on knees shots, so there's an intelligence to the choreography. It's not just random fisticuffs. The fight scenes move the plot forward, as any good fight scene should. 
Another contributing factor to the film's cult success is its rocking soundtrack. The lead guitarist for the Double Deuce's house band is blind Cody, played by the bluesman extraordaire (and genuinely blind) Jeff Healey. He throws down searing guitar riffs throughout the film, and essentially plays himself playing guitar. It's notable that the Music Supervisor was Jimmy Iovine, who was one of the top music producers of the day. Iovine produced albums for U2, Stevie Nicks, Dire Straits, The Pretenders, and many more. This might also explain the appearance of John Doe, the founder of the punk band X, as the seedy Pat McGurn, a skimming bartender and nephew of Wesley.
What Happened to the Road House Reboot?
Road House has been frequently referenced throughout pop culture in shows like Family Guy, Parks and Recreation, Weeds, and more. On top of that, there were some notable projects in the wake of Road House. There was an off-Broadway comedy musical that opened in late 2003 with the long-winded title Road House: The Stage Version Of The Cinema Classic That Starred Patrick Swayze, Except This One Stars Taimak From The 80's Cult Classic "The Last Dragon" Wearing A Blonde Mullet Wig. It played in New York from mid-December to the beginning of February and as promised, starred martial artist actor Taimak Guarriello.
A direct-to-DVD sequel, Road House 2, was released in 2006. None of the cast members from the original film appeared. The cast included Jake Busey (son of Gary) who plays the villainous Wild Bill; Ellen Holman, who played Zypher from Into the Badlands as Beau Hampton; seasoned martial arts actor Richard Norton as another villain Victor Cross; and Will Patton, who played Garrett Randall on Yellowstone as Dalton's brother. The story takes place years after the original movie and Dalton's been declared dead. Much like this terrible sequel when it went direct-to-video.
In 2015, MGM announced a Road House reboot starring Olympic Judo medalist and MMA champion Ronda Rousey, who had just started to break into movies the previous year with The Expendables 3, followed by Furious 7 and Entourage earlier in 2015. Rousey, a fan of the film, allegedly reached out to Swayze's widow, Lisa Niemi, to get her blessing.
The project gathered more steam when Nick Cassavetes signed on to write and direct it. Fans imagined Rousey thrown into an all-male world of bouncers where she could unquestionably hold her own. That would've been a game changer because the original Road House fails the Bechdel Test magnificently, replete with gratuitous topless and bare butt scenes. However, it is worthy of note that when those topless scenes aren't the female cast members or some background strippers, they are Swayze. Remember, Swayze was named Sexist Man Alive by People Magazine three years after Road House came out. 
After Rousey was knocked out by Holly Holm at UFC 193 in November 2015, she pushed away a rematch to focus on Road House. However, the project, which was originally scheduled to begin production in early 2016, faced several delays, too. Inevitably, it quietly disappeared.
Last August, Amazon announced it would reimagine Road House with Academy Award-nominated actor Jake Gyllenhaal stepping into the role of Dalton. Doug Liman (The Bourne Identity, Mr. & Mrs. Smith) is directing, from a script by Anthony Bagarozzi (The Nice Guys) and newcomer Charles Mondry. Other cast members include Gbemisola Ikumelo, Lukas Gage, Billy Magnussen, Daniela Melchior, and most notably, UFC champion Conor McGregor. Set in a roadhouse in the Florida Keys, Gyllenhaal plays an ex-UFC fighter (wonder who is sponsoring this?) who works as a bouncer. Filming began in late August. 
Will Amazon's Road House be able to live up to the original? With any cult film reboot, the most important thing is to celebrate the source material and its fans. Otherwise, what's the point of invoking the franchise? Still, so many elements combined to make the original film work, and that's a tough recipe to replicate. 
If Dalton had his say, he'd probably quip "I want you to be nice…until it's time…to not be nice."
Road House is slated for Amazon Prime Video sometime in 2023.