Reviews
Red, White & Royal Blue Review: American Nonsense That's Unexpectedly Adorable
The president's son and a wayward British prince fall in love in the endearing trash that is Red, White & Royal Blue.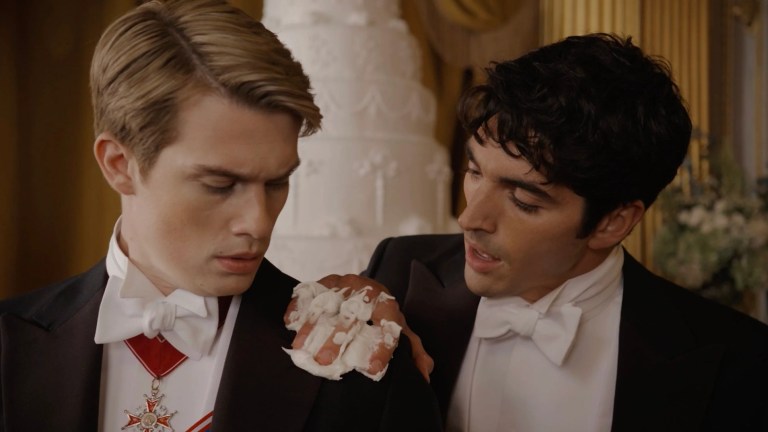 Did you ever meet someone who at first seems objectionable, but with time finds a place in your heart? That's both the plot and the viewing experience for Red, White & Royal Blue, an Amazon production based on the well-loved novel of the same name by Casey McQuiston. In it, the son of the American president and an English prince begin as rivals but quickly fall in love and have to keep their relationship a secret for the sake of their respective countries.
Packed with national cliches, intermittently stunted dialogue, and an early cake-based bit of slapstick, you'd be forgiven for thinking this is going to be one excruciating ride. But somehow, Red, White & Royal Blue manages to be actually sort of sweet. This is a modern-set, yet '90s-styled and Bridgerton-lite, bit of wish fulfillment where beautiful rich people argue about privilege and entitlement and have tasteful and romantic sex. It's New Adult (skewed towards 18 to 25 year old as opposed to Young Adult) but rated R (for sex and swearing), and comes with more than a sprinkle of Princess Diaries vibes. Which is to say it's a bit of a mishmash and it's not entirely clear who the film is aimed at, but at the same time it's deliciously addictive.
The film is the feature directorial debut of celebrated playwright Matthew Lopez, the first Latino man to win a Tony Award for Best Play for his drama The Inheritance. It explores what it's like to be a gay man today, which tackles class and generational differences. While there is a certain theatricality to Red, White & Royal Blue (Lopez also wrote the screenplay), you can imagine he might have enjoyed making something frothy, light and bright for his first film.
Nicholas Galitzine plays Prince Henry, the "spare" whose elder brother Philip (Thomas Flynn) is the heir to the throne. To all-American Alex (Taylor Zakhar Perez) ), Henry is the model of stuffy Britishness: rude, arrogant, smug and condescending. Alex, on the other hand, is ostensibly the laid back, typical American charmer. He's the child of Uma Thurman's Texan Democrat president, who is about to go toe-to-toe for her second term. He has a "working class chip on his shoulder" (!) and thinks he's fighting the good fight despite being wealthy, handsome, and fortunate.
The two cross paths at Philip's lavish wedding where a drunken Alex causes a cake-based incident which results in an edict from their respective families that the two must pretend to be good friends in the interest of public relations. So begins a mismatched love story.
It's one hell of a convoluted meet-cute but it sets us up nicely for a story of burgeoning love. Henry is gay and has secretly had a long-term crush on Alex. Alex has had limited experience with men and is able to explore his bisexuality with Henry, though the two realize their relationship must be kept secret for the sake of politics/tradition. But what starts as a casual affair begins to grow into something more serious, and that's dangerous for them both.
Though the trappings of the story are ridiculous—knowingly so (see the scene where Henry and Alex sit down to have a little tinkle on the piano and play a duet of "God Save The King," for starters)—the story is not. It's an opposites attract love story where boy meets, loses, and wins back boy, and all before both young men are forced into a corner by their roles in society.
Though their characters are largely clichés, Perez and Galitzine have charisma and chemistry enough to carry the film. Even the weird, but wrong, approximation of the British Royals becomes endearing. Henry (which is incidentally the real Prince Harry's actual name), is dubbed, as his mother was, "The Prince of English Hearts." He has a dead dad and an absentee mother. His full name is Henry George Edward James Hanover-Stuart-Fox (ticking off as many royal households as possible before it gets embarrassing). And while we're not experts, we're pretty sure the royals don't sneak around at night secretly visiting museums they have the keys to. But that doesn't mean the scene where Alex and Henry do this, to dance a little in private, isn't romantic.
In fact the whole thing is genuinely rather endearing, and by the final act you're rooting for the lads so hard that you might even shed the occasional tear. So what if the film is schmaltzy? It's escapist wish fulfillment and not just in the central romance. Don't we all long for a world in which a progressive female president married to a Mexican man, with a bisexual son could win a second term in office in the States? And one where the British royal family are swayed to be more modern and open-minded by a brave gay son and the will of the public? Maybe even a world where Stephen Fry is the king? Now that's an idea to fall in love with.
Red, White & Royal Blue is available to stream on Prime Video now.