Features
The November Man and Pierce Brosnan's Anti-James Bond Roles
Pierce Brosnan has had one of the more interesting post-James Bond careers of any 007 actor, often by playing scathing inversions of Bond himself.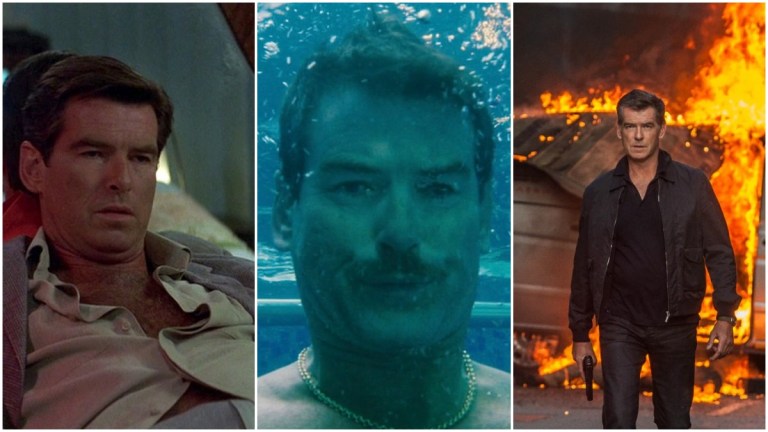 He's nastier than I remembered. In fact, Peter Devereaux, who is Pierce Brosnan's lead spy in the grisly B-actioner The November Man, is a downright scumbag. But this is by design in a film that's clearly coasting off audiences' familiarity with the actor as James Bond 007. And despite his penchant for a fashionable enough gray sport coat, Devereaux displays little elegance or wit while he's on the job; he's a bastard who'll sneak into his former protege's kitchen with a gun and then hold the young lad's girlfriend hostage and at knifepoint.
"Scenario: Your target has just severed the femoral artery of a woman you have been intimate with. What do you do?" Brosnan's not-so-super spy bellows right before slicing a young woman across the thigh. He all but sneers as he leaves the rookie to clean up his mess.
This is just one of several anti-Bond set-pieces in The November Man, which is an even uglier piece of work now than when it premiered seven years ago. Yet as the movie comes back to prominence this week due to Netflix's algorithm, I couldn't help but be reminded of how the picture must have looked like a breath of fresh air on the page for Brosnan. Indeed, it's one of several flicks that contributed to a pattern the actor cultivated over the last 20 years: a deconstruction if not outright indictment of the 007 image which made him an international star. The November Man is the slightest of those efforts, however it remains a notable one wherein Brosnan again thrived in taking the glamour, not to mention the piss, out of his most famous role.
Naturally suave and urbane, cultured yet more physical than many of his detractors ever gave him credit for, Brosnan seemed like the natural choice to play 007 back in 1986 when he was first cast in the role. He looked like such a good fit that it might have been one of the contributing factors for why 1980s audiences didn't fully warm to Timothy Dalton in the role after he stepped in because Brosnan's '80s television series, Remington Steele, was renewed and Brosnan was forced to bow out. When the Irish actor finally got a second chance to slide into the tuxedo nearly 10 years later via 1995's GoldenEye, Brosnan was more seasoned and mature than his days on NBC, but he was still unquestionably the most chic 007 audiences had ever seen.
At the time, it felt like the return of the king to many casual fans, an heir claiming his rightful throne. Audiences went wild for GoldenEye, which remains in this writer's opinion one of the best 007 adventures to date more than 25 years later. While the amount of reinvention that Eon Productions and director Martin Campbell had to do to justify Bond's continued popularity in the post-Cold War era would look like small potatoes compared to what the same team would attempt 11 years later with Daniel Craig's hard reboot of the franchise in Casino Royale, GoldenEye still remains a blast of fresh air for a series that was feeling increasingly stuffy by the end of the 20th century. Bond had to deal with the world changing, but unlike Craig's Bond, he didn't necessarily have to change with it yet.
There's thus a melancholic element to Brosnan's 007. He's not so much a "relic of the Cold War," as the wonderful Judi Dench's M says in her first tête-à-tête with a Bond actor, as he is a man that time has passed by. He's aware his moment is gone, so he spends the 1990s justifying his relevancy, and at least in the case of GoldenEye (and I'd argue all of Brosnan's first three Bond films) he proved it in the moment with a playful smirk and the best one-line groaners this side of Roger Moore. No matter how some of those movies aged, they were what audiences wanted from the character then.
However, this is not the only version of 007 that Brosnan could have played. The actor was in fact famous for his behind-the-scenes grappling with the producers and his attempts to take the character in a darker and more grounded direction. In 2017, he recalled the following to Total Film: "There was a certain frustration within me as the films went on, as I could see the world happening around me and the movies. I wanted Bond to get a little more gritty and real and down and dirty, but however you try to nurse it along, the scripts would come along with the same outlandish scenarios."
In essence, he seemed to want to play the Bond that Daniel Craig eventually embodied, or at least a less gloomy variation on it.
One imagines this was the reason even before he left the Bond role that Brosnan began exploring that side of the character wherever else he could. By the time of 2014's The November Man, the anti-Bonds were almost as familiar for Brosnan as the real thing, and he mostly appeared to be indulging the type of B-actioners that actors of a certain age have turned into a subgenre ever since Taken. However, even before hanging up the tux for good, Brosnan was doing much more interesting work that subverted his public persona.
His performance as Andy Osnad in John Boorman's The Tailor of Panama stands out as the most contemptuous and articulate deconstruction of the sophisticated 007 image. Based on a John le Carré novel, The Tailor of Panama imagines a disgraced libertine MI6 agent (Brosnan's Andy) who decides to enrich himself in South American exile by manufacturing a crisis and hoodwinking a hawkish and imperialist American military while also manipulating one particularly demented ex-pat tailor (Geoffrey Rush). Largely underrated now, the 2001 film—which opened between The World is Not Enough (1999) and Die Another Day (2002)—features Brosnan at his smarmiest.
In essence, he is being asked to play a "real" version of James Bond. Hence he comes across as a callow, arrogant, and misogynistic prick who after reaching middle age decides to use his immature work ethic to cash in like some of his past adversaries. People die because of his machinations, and lives are ruined. He even attempts to rape an alleged friend's wife. It is one of Brosnan's best performances and perhaps the most hard-nosed deconstruction of the Bond archetype attempted by any performer who'd starred in an Eon production.
However, the best inversion of the persona came from Brosnan again a few years later in Richard Shepherd's hugely under-appreciated The Matador (2005). As a comedy premised around a literal pub gag, the film pivots on "a hitman and salesman walk into a bar…." Brosnan unsurprisingly plays that hitman, Julian Noble. But despite his honorable surname, there's nothing chivalrous about Julian. A deranged and bitter killer who never thought he'd live so long as to reach an age filled with regret and loneliness, Julian probably remains Brosnan's best on-screen performance and a proper menace for Greg Kinnear's buttoned up family man, Danny Wright.
Awash in self-pity and laggard energy, Brosnan comes across like milk that spoiled weeks ago, and which has now grown arms and legs and is dragging itself out of your refrigerator. It's hard to say Brosnan's Julian was ever as sober or clear-eyed in his younger life as any version of 007, but he represents the uncouth reality of that character's vices through his obsessions with booze, teenage girls, and finding pleasure in murder. He's also one half of a terrific buddy comedy.
A small character piece, Shepherd's Matador luxuriates in a clever script that despite its barebones narrative still surprises, especially as it becomes a three-hander between Brosnan, Kinnear, and Hope Davis as the everywoman wife who proves too far out of the aging Bond type's league.
If you haven't seen this amusing tonic of a film, hunt it down.
All of which paved the way for the more rote but overt The November Man. With its plot focusing on a Brosnan spy who's out to avenge an old flame, not-so-coincidentally named Natalya (which is also the name of Izabella Scorupco's Bond Girl in GoldenEye), the film traffics in 007 nostalgia; it even casts Olga Kurylenko who appeared in Craig's Quantum of Solace. But there appears to be only faint nostalgia in Brosnan's interpretation of those old ways here. Mostly his Devereaux is just a bitter old man filled with contempt.
Which is not to say Brosnan shares such animosity toward Bond. The actor genuinely appears grateful in interviews about that time in his life. However, even during the lesser installments of Brosnan's tenure in the role, there was always a darkness and edge to his Bond that many franchise fans tended to undervalue.
While never as blunt or brooding as Craig's self-loathing 007, there was a hidden brokenness to Brosnan's interpretation that only would be seen in flashes. When they did appear, however, they were crueler than any actor in the role since Connery up to that point. It's there when his Bond executes Vincent Schiavelli in Tomorrow Never Dies (1997). There isn't a quip or smirk. There is just disdain on Bond's face as he responds to Schiavelli's pleas of "I'm just a professional doing a job" with "me too." And when he similarly shoots in cold blood one of his lovers, Sophie Marceau's Elektra King in The World Is Not Enough, there is a perversity to the scene that makes even Dench's M shudder.
Brosnan's Bond likely could've been more than the 1990s' most suave action movie joker. And he's spent a lot of his post-Bond career proving exactly that.