Features
Out to Sea with the Cast of Hotel Transylvania 3: Summer Vacation
Voice stars Keegan-Michael Key and Kathryn Hahn board the latest entry in the Hotel Transylvania animated saga.
In Hotel Transylvania 3: Summer Vacation, the lovable vampire and human family headed by Dracula (Adam Sandler) decides to go on a luxury Monster Cruise Ship for their title excursion, along with many of the friends we've come to know from the previous two films.
But once on board, they discover that the captain and cruise director, Erika Van Helsing (Kathryn Hahn), is the great-granddaughter of Drac's longtime nemesis Abraham Van Helsing. It's up to Drac's daughter Mavis (Selena Gomez), her human spouse Johnny (Andy Samberg) and their extended family of ghouls and beasts to save not just Drac, but their whole contingent, not to mention their summer vacation.
Directed and co-written by Genndy Tartakovsky — who also helmed the previous two films — Hotel Transylvania 3 gets the gang into unfamiliar territory for an adventure quite different from what has come before.
Sony Animation recently held a press day at its campus in Culver City, California to show off footage from the movie and give a small group of journalists a chance to chat with Hahn, who's new to the series, and Keegan-Michael Key (The Predator), who returns as Murray the Mummy.
What was it like for you, Kathryn, joining this talented cast?
Kathryn Hahn: Well, I've seen these movies many, many times, being a mom. And you are always on the hunt for something that will make you laugh as well because there's a lot of crap out there. Gotta be honest.
And sometimes you're just bottom of the barrel because you just need something to put in front of the children that's appropriate in any way. And we've always been huge fans of these movies, my kids and myself. I love 'em because they're undeniably funny, but they're rooted in such a heart. There's such a tenderness and sweetness in the relationships. So I was really excited to join. And this group of actors is bananas. So I was so, so, so thrilled. And then to play kind of a villainess, kind of, is also like something I've always wanted to do.
The entire cast has insane chemistry even though you're not working together.
Hahn: Yeah, no. It's weird.
Keegan-Michael Key: It's fake. We're just really good actors. No, a lot of it's Genndy. A lot of it is Genndy, the director. Genndy Tartakovsky, because he is one of the creators of the world and he knows the world so well that you have to attribute his skills with the editors and his storytelling abilities. You have to because these kind of movies, all you're doing is stitching them together.
(To Kathryn) You have an advantage because even though you've never done it before, you've seen these movies. So you know the heart and the charm and the group dynamic. They all love each other, support each other. It's a very kind-hearted film.
Do you do some sort of table read to get the vibe of the other characters?
Key: No. No, I mean it's in a vacuum. We do all of it in a vacuum. Kathryn, you came into the booth and you thought Andy was going to be there.
Hahn: And I was like, where's Adam Sandler? But then again Genndy was in there with me and we did the scenes together. So I felt like I had a pretty solid scene partner actually. He made it really easy. It was fun because it did feel like you were kind of in a void. There are these huge scenarios that you're just trying to respond to. But it was a real fun acting challenge for me. It was really fun. I loved it. And also I was able to show up in sweat pants, which I do not mind.
Key: It was really the best job in Hollywood.
Hahn: It really is. My kids were so psyched. I felt like you know, I had cred with my kids now. Finally.
When you see the finished animation do you see any personal mannerisms or facial expressions of yourselves in the characters?
Hahn: Oh no, you don't at all.
Key: Me? Not at all. And also, quite frankly the character was not designed for me. It was designed for somebody else. Yeah, so for me not at all.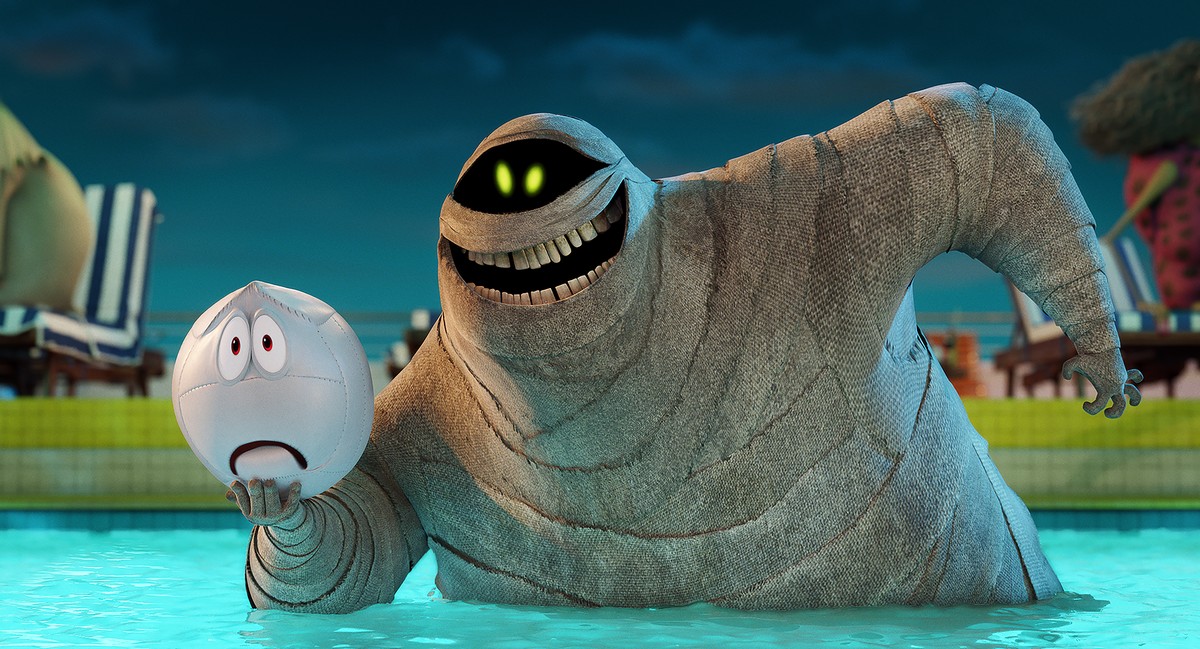 Does this movie satirize the actual cruise experience? You hear all these weird stories on the news now about these trips.
Key: Yeah, right? Boats tipping over. Gangs fighting.
Hahn: Oh my god. They're just like shit tubes on the ocean they can't get off of. No toilets working. It sounds like a nightmare. But no, this makes cruises seem like a ball. Like really, really fun.
Key: Full disclosure, I have never been on a cruise so I don't know. But I mean, to me, it seems like it's a positive satire.
Hahn: Well you know, it's also a great trap. Put all those monsters in something in the middle of the ocean. There's nowhere else they can go. I shot something on a cruise for a short amount of time and I just remember thinking like, "Wow. You gotta really talk about Purell. You gotta keep using that."
Kathryn, do you have any tips for moms on the best family vacation, or how to keep your kids sane or yourself sane?
Hahn: We love a road trip. That is my happy place, is being in the car with my hubby and my two kids and just a duffel bag of stuff. And just a couple of good podcasts and just us. That's my happy place. I love, love it. I love the adventure of it. I love stopping. I just love going on vacation with them. Anywhere.
They're really good on airplanes now. You just outgrow it. It sucks for a while. It is what it is. But it happened too fast and now I miss it when my baby was so little. She would sleep literally on the floor of the airplane because of the vibration. She would fall asleep really fast. Also bring extra clothes for the airplane 'cause they will urinate on something.
How did you get in the head of a monster hunter? Did you watch a lot of ghost hunter TV shows?
Hahn: Yeah. I mean I'm obsessed with those anyway. But I just kind of tapped into a little bit of my OCD, Filofax-using kind of side of my personality.
What was your favorite part about playing that character?
Hahn: It just was so fun to play somebody like that, that had that kind of ulterior motive. And someone who was raised that way from the time she was born is to think of monsters a certain way and then to learn something different and kind of walk away from her legacy I think was interesting to me. But I took one good look at her outfit, and I was like, "Oh my god this is so fun." I just knew my kids would have a ball.
Keegan, what is it like to be a living legend?
Hahn: Yeah, I want to know too.
Key: I wasn't expecting that one…I guess I'm trying to still especially come to terms with just living every day and working. I met one of my heroes last night. I met Gary Oldman last night. And in the middle of this conversation I said, "I don't care. I'm gonna gush. And I'm gonna talk about movies that you haven't made since 1987 because you are one of the reasons I do what I do for a living."
So you get to say that to this person, right? And then that person starts having a conversation with you and in the middle of the conversation you go, "Oh my god. We're both just actors who love what we do." He's really just an actor who loves what he does. So I don't know how to answer the question. No one's ever said this to me.
I have no sense of myself being what you're saying. I just go, "What's the next thing that I find interesting? Or what's the next thing that resonates with me? And how can I use this gift to help the world?" It's like if you just keep thinking like that you won't feel the pressure. You'll feel a lot of pressure but it feels like good pressure. It feels like good pressure.
Hotel Transylvania 3: Summer Vacation is out in theaters July 13.