News
Teenage Mutant Ninja Turtles Animated Movie in the Works with Seth Rogen's Point Grey
A new CG-animated Teenage Mutant Ninja Turtles movie is in the works, set to kick off another franchise reboot.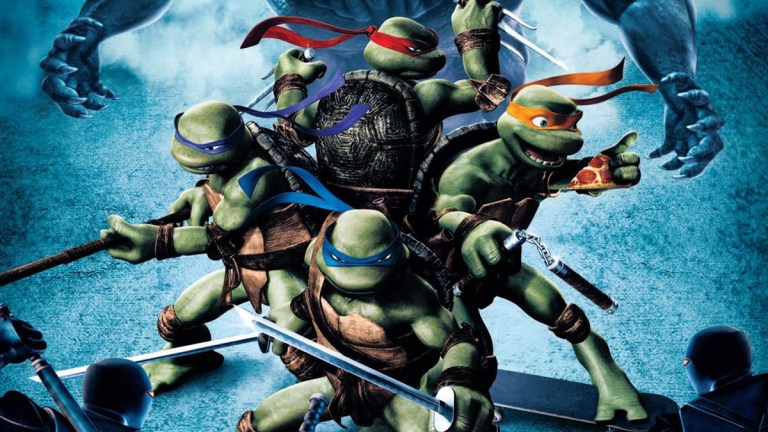 The Nickelodeon-owned Teenage Mutant Ninja Turtles franchise is set for yet another—to briefly borrow its parlance—totally tubular radical reboot, which is now set to launch in the form of a new theatrical animated feature film.
This time, according to Deadline, the fighting foursome will star in a CGI-conjured cinematic offering that will see Nickelodeon team with Point Grey Pictures, the shingle of Seth Rogen, Evan Goldberg and James Weaver, with Paramount set to distribute globally. Ramsey Naito, EVP, Animation Production and Development, will oversee the project on Nickelodeon's behalf, with Josh Fagen similarly tasked for Point Grey.
Set as director for this new Teenage Mutant Ninja Turtles outing is Jeff Rowe, who—having only served as co-director (alongside Michael Rianda) on upcoming Sony Pictures animated feature Connected—makes his debut here as the lone credited director for a feature. Rowe—who previously worked as a writer for Disney series Gravity Falls and Netflix's Disenchantment—will work off a screenplay by Brendan O'Brian (Neighbors: Sorority Rising, Mike and Dave Need Wedding Dates).
As previous iterations have done before, the new Teenage Mutant Ninja Turtles animated movie will manifest as a complete canonical reboot of the venerable, perpetually-lucrative franchise that launched in 1984 with creators Kevin Eastman and Peter Laird's comic book title of the same name, which, after the launch of its 1987-1996 animated series, exploded into global zeitgeist domination as a toys-and-knickknacks-selling kids' property. However, the new movie will serve as Viacom subsidiary Nickelodeon's very first attempt at a theatrically-aimed animated offering since the cable channel's $60 million acquisition of the property back in October 2009.
As Brian Robbins, President, Kids & Family for ViacomCBS lauds of the new feature in a statement:
"Seth, Evan and James' genius to the humor and action that's already an integral part of TMNT is going to make this a next-level reinvention of the property. I'm looking forward to see what they do, and I know that Ramsey Naito and her team are excited to take the Nick Animation Studio into another great direction with their first-ever CG-animated theatrical."
Of course, the sewer-dwelling, pizza-gulping Renaissance-named anthropomorphic reptilian martial arts practitioners—Leonardo, Raphael, Donatello and Michelangelo—are hardly strangers to the big screen, notably with the still-celebrated 1990 live-action Teenage Mutant Ninja Turtles, which solidified the brand as a global phenomenon. After that film's 1991 and 1993 sequels, the franchise was rebooted in 2007 with its first theatrically-released CG-animated film, the Warner-distributed TMNT, which remains generally well-regarded. However, a live-action reboot of the franchise—this time under the audacious Transformers-esque studio auspices of Michael Bay's Platinum Dunes—manifested with 2014's Teenage Mutant Ninja Turtles, this one a live-action hybrid film featuring motion-captured CG-animated versions of the foursome. That film would be followed by a lone sequel in 2016's Teenage Mutant Ninja Turtles: Out of the Shadows.
The Turtles have also regularly maintained their presence on the small screen, having conjured several animated iterations since the original show, and even the notorious 1997-1998 live-action series, Ninja Turtles: The Next Mutation. However, Nickelodeon's stewardship yielded offerings like the successful 2012-2017 CG animated series and last year's Batman vs. Teenage Mutant Ninja Turtles DVD/Blu-ray feature, along with a notable return to 2D animation in 2018 with reinvented Rise of the Teenage Mutant Ninja Turtles, an iteration that will soon be complemented by its own animated feature, on which Nickelodeon is partnering with Netflix.
While no timeframe was divulged for the project, we'll keep you updated on the Teenage Mutant Ninja Turtles' developing new theatrically-aimed reboot as the news arrives.