News
Does Netflix's Red Notice Really Look Like a $200 Million Blockbuster?
Dwayne Johnson and Ryan Reynolds team up to chase a thieving Gal Gadot in Red Notice, an upcoming Netflix movie with a massive budget.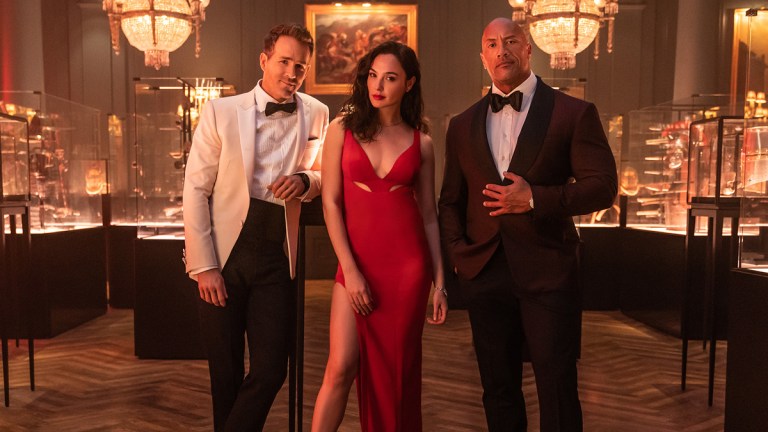 If one were to devise a formula for box-office-breaking blockbusters, then Red Notice would resemble the hypothetical end product. How else would you describe a frenetic actioner bearing a buddy cop dynamic, headlined by the A-list trifecta of Dwayne Johnson, Ryan Reynolds and Gal Gadot, with a budget believed to be in the range of $130 million to $200 million? However, this particular product has been long set to stream exclusively on Netflix, where it will stand as the streamer's most expensive feature. Now, the release of the Red Notice trailer touts what that exorbitant bill has bought.
The reluctant team of FBI agent John Hartley (Johnson) and infamous art thief Nolan Booth (Reynolds) find themselves mockingly dubbed "work wives" by their alluringly elusive femme-fatale quarry, Sarah Black (Gadot), a.k.a. The Bishop. Having handily humiliated the duo in their initial encounter, Black affirms her current status as the world's most wanted art thief bestowed by the titular red notice issued on her by Interpol. Of course, the pursuit will span sublime locations around the world amidst a bevy of banter as Reynolds's Booth is essentially in full Deadpool mode—sans the suit and scars—with Johnson's Hartley as the perpetually-patience-deprived foil who always seems ready to flex his bulky biceps to pummel him upon the next derisive quip. Will the duo catch their proverbial Carmen Sandiego?
Check out the trailer for Red Notice just below to get a taste of the wild ride Netflix has in store for its subscribers.
Interestingly enough, while Red Notice's theater-bypassing Netflix exclusivity makes it seem like a typical pandemic-era release, its status as a streamer was actually sealed long before lockdowns and restrictions were even a thing. Indeed, it was first reported back in July 2019 that Netflix had dipped into its substantial coffers to acquire worldwide distribution rights to the would-be blockbuster, having also picked up a piece of the production pie shared with Universal Pictures, Legendary Entertainment and Johnson's own Seven Bucks Productions. Likewise, upon the announcement of the film's Netflix pickup, Johnson unambiguously thanked the streaming giant for what he called "its largest commitment ever to a feature film." That's because the initial acquisition by studios Universal and Legendary was the result of a heated bidding war. After all, the project's power trio, Johnson, Reynolds and Gadot, were already firmly attached by this point, making it a most promising picture.
While the Red Notice trailer presents a generally impressive cinematic aesthetic typical of what we'd see of blockbusters once virtually guaranteed to print money pre-COVID, it still leaves one to wonder where its bloated budget—possibly as high as $200 million—went. Given the caliber of its headliners, a reflexive theory might speculate that it went to star salaries. Pertinently, Variety reported in 2019 that Reynolds stood to collect a $20 million salary. Allegedly, Gadot, despite fielding a much-smaller role, will make that same amount, boosted by compensation Netflix provided for backend profits lost from its nixed theatrical release—a topic recently made prominent by Scarlett Johansson's lawsuit against Disney for backend compensation lost in the wake of Black Widow's day-and-date streaming release. Johnson, on the other hand, is believed to collect significantly more than both of his co-stars, not just by virtue of him being the biggest star among them, but since he's also one of the main producers. However, the final amount that Johnson stands to earn here is not known.  
Consequently, even a somewhat-educated guess that around $100 million total of Red Notice's budget went to superstar salaries—thereby leaving as low as $30 million for the actual production—seems to bear a ring of truth regarding what was presented of the film in the trailer. Tellingly, the majority of the rather exotic-looking cinematic presentation was shot domestically in Atlanta, Georgia. With production having started in January 2020, the film was—like everything—affected by the early worldwide COVID lockdowns, but it eventually returned and wrapped in November, after which a mere week of supplemental shooting occurred across the pond in Rome and Sardinia, Italy. These circumstances do seem to line up with the film's unique conundrum with its coffers.
Also of note, Red Notice will be yet another Dwayne Johnson-headlined film arriving under the auspices of helmer Rawson Marshall Thurber, who also wrote the script. While he notably directed the man known as The Rock on comedic action features Central Intelligence (2015) and Skyscraper (2018), Thurber is also widely known from comedies like Dodgeball: A True Underdog Story (2004) and We're the Millers (2013), the latter of which has a sequel on the docket. Moreover, it will serve as yet another promotional platform for Ryan Reynolds and Gal Gadot, each of whom stand to reprise their lucratively popular comic book movie personas, Marvel antihero Deadpool and DC Amazonian Wonder Woman, respectively, for highly-anticipated threequels. Johnson will also showcase comic book movie splendor, with his starring role in DC antihero feature Black Adam currently scheduled for July 29, 2022.
Red Notice makes its heralded arrival on Netflix on Friday, Nov. 12.