Features
Movies of the decade: how John Wick shook-up Hollywood action filmmaking
John Wick came from nowhere in 2014 to give the action genre a brutal shake-up – and kickstarted a whole new franchise in the process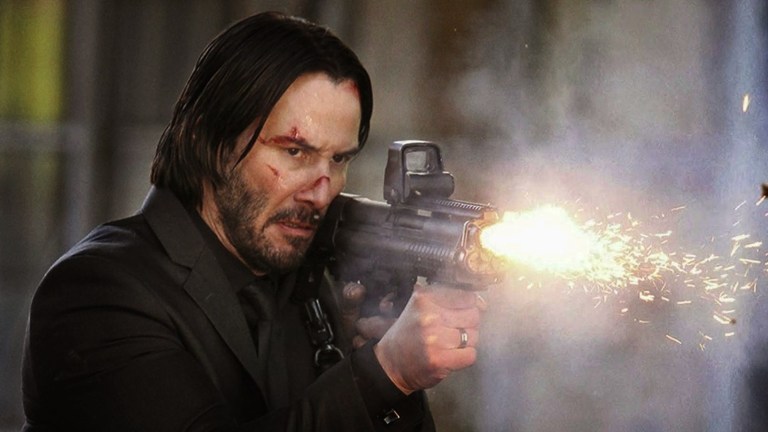 "Guns. Lots of guns"
The Wachowskis changed the face of action cinema in 1999 with The Matrix and a raft of stunning visual effects that included, most notably, "bullet time". But for all the visual trickery applied via those now-dated computer graphics, arguably the most iconic scene from their sci-fi riff on existentialism relied on a more practical approach.
The epic lobby shootout scene that kicks off Neo and Trinity's daring rescue of Morpheus required more than 4,000 squib explosives along with countless hours of martial arts training and a crack stunt team well versed in the wirework effects prevalent in Asian action cinema at the time.
Yet the results are brilliant now as they were then, whether it was Carrie-Anne Moss walking up a wall to deliver a lethal flying kick to a hapless guard, or the sight of Keanu Reeves doing an aerial cartwheel down a bullet-strewn corridor before picking up an M16 and shooting three guys in one fluid motion.
Though the Wachowskis won plaudits for their spellbinding visual effects work, it was The Matrix's ability to blend these techniques with innovative practical stunts and classic martial arts techniques that made it such a game-changer. It put the action front and centre, championing fight choreography and intricate, close-quarter "gun-fu" gunplay to create something that dazzled audiences and bordered on the balletic.
In this respect, 2014's John Wick felt like The Matrix sequel many fans had been waiting for.
While the Wachowskis had continued their story with The Matrix Reloaded and The Matrix Revolutions, both follow-ups ended up mired in an overly-elaborate mythology and an over-reliance on computer effects. John Wick not only felt like a natural progression from The Matrix, it shared much of the same DNA – though that wasn't always been the case.
Derek Kolstad's original script, titled Scorn, centred around a retired contract killer "in his mid-sixties" and owed more to the John Boorman 1967 Lee Marvin crime thriller classic, Point Blank.
That all changed once Thunder Road Entertainment optioned the script and recruited Keanu Reeves to star. Though it seems strange to think now, the casting of Reeves represented something of a gamble given that his last action film, 47 Ronin, had bombed spectacularly.
But Reeves saw something in Kolstad's script that chimed with his own sensibilities and championed a project which, until then, many had passed on. It proved a crucial step in the shaping of John Wick as with know it, with Reeves and Kolstad striking up a close bond that saw the pair develop the characters and story further.
It was Reeves who then hit upon the title of John Wick and, crucially, Reeves who approached Chad Stahelski and David Leitch about working on the film.
If there was one thing Stahelski and Leitch knew better than most it was action; both served as stuntmen on The Matrix trilogy – Stahelski was Reeves' stand-in during the lobby scene – and both had carved out careers as stunt coordinators and second-unit directors on a raft of major movies.
Eager to once again put the action at the forefront of proceedings, Reeves initially approached the pair about choreographing the John Wick fight sequences.
Stahelski and Leitch had bigger plans in mind and, after discussions with all parties involved, signed on as co-directors after pitching their bold vision that retained the throwback cool of Kolstad's script alongside a decidedly Asian influence inspired by anime, comic books and Hong Kong action cinema.
They pitched a version of John Wick as the bogeyman of assassins; a much-fabled character that hitmen told tales to their kids about over bedtime stories. An angel of death dressed in a black suit existing in a criminal underworld that even boasted its very own hotel for work-weary hitmen.
It was the pair's approach to the script's various action sequences that owed much to The Matrix while representing a major departure from it.
Like the Wachowskis, Leitch and Stahelski borrowed heavily from the Hong Kong action stylings of John Woo. Arguably Hong Kong's finest export, Woo was responsible for a string of seminal Asian action movies that arrived in the late 1980s and early 1990s.
Films like A Better Tomorrow, The Killer and Hard Boiled not only made a star out of their leading man, Chow Yun-Fat, and put Woo on the way to a Hollywood career that would include Face/Off and Mission: Impossible II, they also introduced moviegoers to a new, sophisticated style of shootout that blended quickfire gunfights and martial arts to devastating effect.
"Gun-fu" as it would come to be known, sparked a glut of Hong Kong action films taking the same approach and eventually championed to brilliant effect in Hollywood films like The Matrix.Yet Reeves would only really earn his black belt in "gun-fu" with John Wick.
In an era where the Jason Bourne movies were based around shaky-cam-led close combat, Stahelski and Leitch struck out on their own with John Wick, a film that took "gun-fu" to a whole new level.
Theorising that John Wick's status as the world's greatest assassin would make him peerless in any type of gun-based combat, they carefully choreographed a string of complex long-form action sequences that saw Reeves's character dispatching a raft of enemies with ruthless efficiency.
Fleshed out in extended fight scenes of brutally brilliant fluidity, Wick's "work" stood in stark contrast to action stars old and new: he is never seen firing countless rounds of machine-gun fire into literal armies like Arnold Schwarzenegger's John Matrix in Commando or engaging in brutal one-on-one fistfights to the death like Daniel Craig's James Bond.
No two deaths are ever the same, but each felt perfectly realised and borderline poetic, the result of countless hours of stunt choreography with the camera moving giddily around Wick and the ensuing chaos a dizzying pace and against a cinematography that gave proceedings a dark, gritty look in keeping with the underworld setting.
This was the movie some fans of The Matrix had been crying out for all of these years; a feature-length version of the lobby assault except bigger, faster and a lot more fun.
Stahelski and Leitch appreciated the need for scene-setting – much of the first part of John Wick centres on the circumstances that saw him return to a life of murder and mayhem – but the action always took centre stage. And they knew that once the handbrake was off, there could be no let-up in proceedings. In an era when smartphones have severely impacted attention spans, John Wick rarely pauses for breath, save for the occasional comic aside.
A down-on-his-luck star, two novice directors (although only Stahelski was officially credited) and a bold approach to the source material… By any reasonable assessment, John Wick represented a gamble. But it was one that paid off. Debuting at Fantastic Fest in September 2014, the film earned rave reviews, emerging from the festival as many critics' one-to-watch with a coveted 100% rating on Rotten Tomatoes.
Bolstered by the positive online buzz and word-of-mouth, the film went on to exceed all expectations at the box office with a $14.1 million opening weekend in the US – way above the $5 million some analysts had projected.
All told, John Wick grossed $86 million worldwide against a budget of $20 million and spawned a further two sequels over the next few years, with John Wick: Chapter 2 and John Wick: Chapter 3 – Parabellum both earning rave reviews and even bigger box office takings.
While Stahelski has continued to push the boundaries of action cinema as the director of those two John Wick films, Leitch has branded out into the world of comic books and franchise filmmaking. His adaptation of the graphic novel The Coldest City, starring Charlize Theron and titled Atomic Blonde, drew favourable comparisons with John Wick and serves as a neat companion piece, while he's since gone on to direct the equally lauded Deadpool 2 with Ryan Reynolds and the Fast & Furious spin-off Hobbs & Shaw, another relentlessly brilliant action movie moving at a hundred-mile-an-hour pace.
Championing stunt work and innovative fight techniques alongside a breakneck style of cinematic storytelling that championed action as a key component of the overall narrative, Leitch, Stahelski and Reeves changed the face of action cinema in 2014. And given their current trajectories, the best may be yet to come – starting with John Wick 4…