Features
Mile 22: Burning Down the Town On the Set of New Mark Wahlberg Actioner
Mile 22 is Peter Berg and Mark Wahlberg's first unrepentant action movie, and judging by the location shoot in Colombia, it'll be explosive.
I'd never been singled out for death until I stepped foot on the location shoot of Mile 22. It was delightful. The swift and sudden end came on the morning of the 40th day of production. On the streets of Bogotá's normally picturesque Centro Internacional, a pleasant little plaza is about to be blown to hell. But that explosion, which involves Mark Wahlberg's Western machismo running alongside Indonesian martial artist Iko Uwais, is later in the day. In the here and now, director Peter Berg is selecting two journalists to participate in a stunt with Uwais—the actor and stunt coordinator who helped turn Gareth Evans' The Raid into a modern action classic.
I was one such lucky prop to be laid out, fumblingly, by Uwais. The stunt involves a colleague approaching the handcuffed martial artist (who is ostensibly trapped in the backseat of an SUV) and then getting strangled by a seatbelt while I also attempt to surprise Uwais with a firearm in hand. It's a surreal movie moment, but it's also part and parcel for Berg, a stalwart of modern action movies who's notorious for his ability to improv or change the approach to a complex scene at the drop of a hat—or in my case the drop of an inept henchman, who is unconvincingly miming being turned into a human Pez dispenser. (Berg wisely doesn't use our "take.")
Described by star Ronda Rousey as kind of like The Raid in premise, Mile 22 is about a band of badasses in a CIA operation called "Ground Watch." After Uwais' Li Noor gives himself up to an American embassy at a nondescript foreign city, these seasoned and mercilessly single-minded heroes must transport the prized intelligence asset to an airstrip 22 miles away. And the team, led by Mark Wahlberg in the role of Jimmy Silva, will earn every bloody inch.
"A lot of this was inspired when I saw The Raid," Berg says later in the day, with the smoke from a freshly blasted explosion still drifting toward the nearby Andes mountains. "[I'm a] big fan of Iko's and what Gareth Evans did in The Raid, and wanted to play around with Iko and his unique style of fighting. I really do think he's heir apparent to Jackie Chan and Bruce Lee and Jet Lee; he's up there."
It's likewise a learning experience for Uwais, too. Mile 22 marks his first American movie, which has its own rhythm, even as he personally helps choreograph (and pre-visualize with animation) all the fight sequences with his team.
"It's really fast here shooting in Hollywood," Uwais considers while speaking with a translator. "In Indonesia, it takes a lot more time to film. What takes one day here, takes three or four days in Indonesia… Everything is prepared very professionally." That also goes with contrasting his fighting style with the star of the picture.
"[I] have a more complicated style of fighting—martial arts," Uwais says via translation. "But Mark has a more powerful body, smashing people into the ground, shooting people. [We're] calibrating the two together—power and style."
While this might be a little new for everyone, including a director adjusting to having a more rehearsed and choreographed sense of fighting, it's all still perfectly in keeping with the work ethic of both Berg and Wahlberg. After all, this is an actor and director pairing that, four films in, may have just found their perfect franchise-ready collaboration.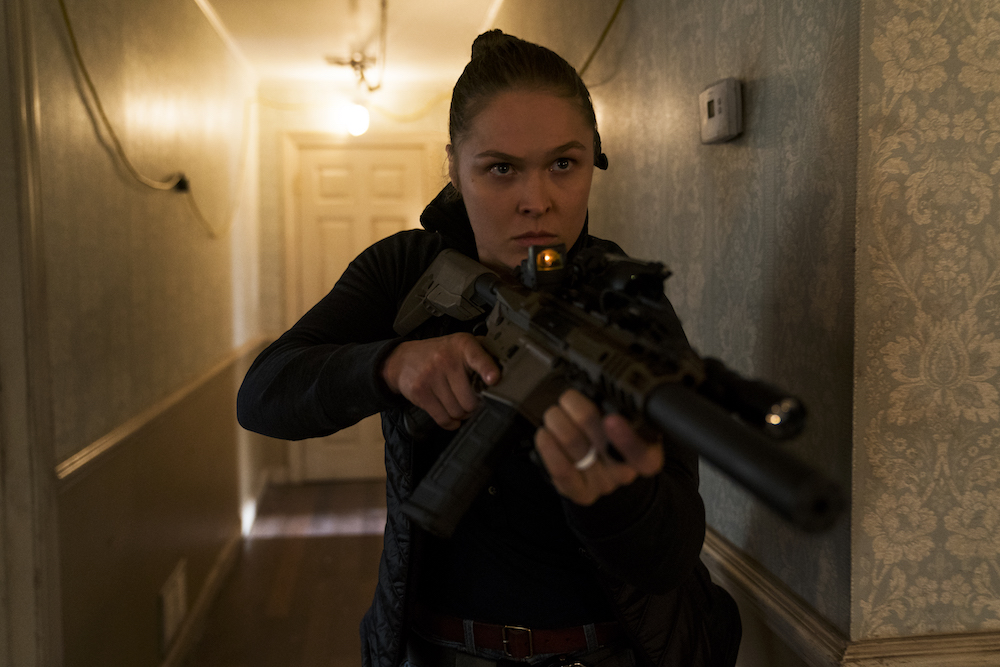 Berg and Wahlberg's Give and Take
Mark Wahlberg and Peter Berg have worked together three times prior to Mile 22. Their previous team-ups are also some of the most highly regarded in each's career. They first collaborated on Lone Survivor (2013), a biopic about Navy SEAL Marcus Luttrel's harrowing survival in the Afghanistan War, and they've since reteamed on other adaptations of true stories derived from tragedy, including 2016's doubleheader of Deepwater Horizon and Patriots Day. Yet with Mile 22, they're at last doing what used to be Berg's bread and butter in films like The Rundown (2003) and The Kingdom (2007): a straight-ahead action-thriller.
"There's a certain type of pressure that we don't experience [while] making something up," Berg says with some consideration about the difference between this picture and his previous movies with Wahlberg. "So yeah, I'd say maybe a bit more fun. Different kind of fun."
For Wahlberg it is a chance to transition from paying respect to real heroes, to embracing the kind of spectacle offered by a fictional big damn hero like Jimmy Silva. He even jokes that Berg is finally getting his frequent leading actor to finally appear with his traditional movie star persona.
"This is now our fourth film, and every film that we've done I always seem to end up being overweight," Wahlberg deadpans about how their relationship has evolved. "So Pete was like, 'That's it. I want the thin, ripped Mark Wahlberg.'" As per the actor, he had previously played roles that required a weight gain right before shooting the likes of Lone Survivor or Patriots Day. But for Mile 22 Wahlberg says, "I trained and was on a very strict diet, no drinking, none of that stuff for five whole months with Pete. And then of course as soon as we started shooting, Pete kept trying to get me to dinner and have a drink with him, have some wine."
Be that as it may, the effect this dynamic has on the rest of the cast speaks volumes. For her part, Ronda Rousey considers Mile 22 the most rewarding filmmaking experience she has had after transitioning to more acting in addition to her UFC career. This includes Berg being a detail oriented director, who gives her detailed coaching notes.
"Instead of 'that wasn't so good, let's do it again,' he'll give me the exact details of what he wants. As someone who's been coached all their life that's what I need." Still, Berg knows how to loosen his actors up, occasionally yelling at Rousey to "try this one like a pirate" or another take like a goat. Wahlberg conversely brings a precision to the set that likely only helps a massive action movie being shot in under 50 days.
Says Rousey, "Whereas Pete gets everybody loose and having fun, Mark has a way of making everybody focused. He's awesome to have around… He keeps me in that mode of not goofing around too much, and staying in character, and keeping my mind on the task at hand."
That task also includes building an onscreen espionage operation unlike what audiences might be used to.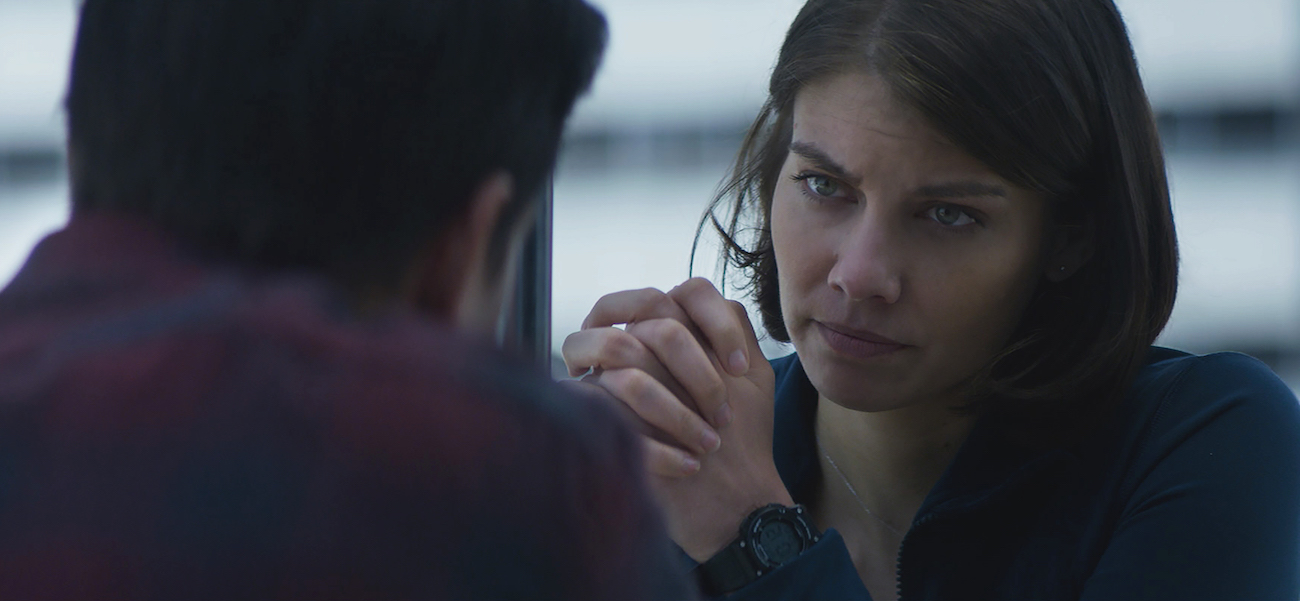 A Team That Can Leave You Behind
One of the most notable things during a day on Mile 22's version of Centro Internacional is the numerous drones buzzing overhead. Throughout the morning and afternoon, and especially during the most spectacular stunts—like twice blowing a jeep—there is a drone whizzing through the air. This is in part because Mile 22 marks the most sophisticated use of drones in action films to date. Completely substituting the need for helicopters and 'helicopter shots," drones can fly in a lower cityscape like Bogotá with ease. Or as Berg says with a wry smile, "They're not as loud as helicopters."
Yet the drones serve an in-movie purpose too: they're how a CIA offshoot of the film's "Ground Watch" are monitored and supported by a team back in Langley. It's how "Overwatch" keeps its eye in the sky. Always. Indeed, John Maklovich plays Bishop in the film, a man who is whispering in Jimmy Silva's ear every step of the way about where to go and how to achieve their mission—an objective that is taken to its most utilitarian conclusion. Or as Berg also smirks, "It's kind of every man for himself in this film." Just so long as someone brings Uwais' Li Noor to that airfield.
This kind of absolutism for the mission was also one of the most freeing aspects for co-star Lauren Cohan.
"That was definitely what appealed most, like the necessity to completely turn off and compartmentalize her life and parts of her brain, but still really display and have access to these very vulnerable and raw emotions," Cohan says of her character Alice Curr. In the film, Cohan plays a woman who has seen a lot of warzones and missions alongside Silva. Cohan also suspects she plays the first member in Silva's whole team who is starting to realize that this dedication has an expiration date.
"I feel like what's interesting with all the characters is that they're really, really straining at the seams," Cohan says. "I mean everybody is just like ready to be done, whether or not they know what that even looks like, and how they'd even be in a life where they didn't do this, and where the mission didn't come first, and where they didn't have such hard and fast rules about putting the survival of a sort of impersonal mission ahead of all of [their] connections." But those hard and fast rules are what made Mile 22 such a lovely detour from her time with another group of world-weary survivors on The Walking Dead.
As opposed to that AMC juggernaut about zombies and baseball bats, there is a real precision to how the group of Ground Watch survives in Mile 22. That included weeks of firearms and tactics training in Atlanta, where the movie filmed for six weeks before moving to Colombia.
Says Cohan, "On Walking Dead, we're never really supposed to look like we are assassins. In this you have to look like it's completely second-nature and it's just been years, and you don't even look when you reload; you just can do it in your sleep… and I remember thinking, 'Forget this stuff. Forget this stuff, so you don't look too proficient when you go back!'"
Like the rest of the Ground Watch castmates, Cohan trained with former Navy SEAL Ray Mendoza so as to become so proficient with her firearm that she could, as was often said during pre-production, "come away from this film with a new skill." It is also something her costar Rousey is very proud about.
"They had this abandoned hotel where we got to have real guns," Rousey says. "They were teaching us different ways to clear a room or a hallway or cover fire for each other. Little things that people who have been in the military would notice. We want to represent them well. We want them to be able to watch a movie like this and be proud of how it looks, instead of rolling their eyes."
For Rousey, who has been on this project for years when it was originally a martial arts action vehicle for herself and Uwais (before Wahlberg became interested in the then-smaller role of Silva), it's been an illuminating crash course in the filmmaking process.
"I didn't know how movies got made until this movie," Rousey considers. "I didn't think we'd be here at all today to be honest." And yet while her character Sam Snow went from being the main heroine to the protégé of Jimmy Silva, the experience has been a kind of therapy.
"My whole life I've always been taught to never show pain at all. It could affect the referees," Rousey says. "So for someone who's always had to suppress it, it was a challenge for me to actually go out and show pain. Whether people like it or not, it was very therapeutic for me to actually be able to express myself in a way that I've never been allowed to."
Much like her co-stars on the team, their prized Indonesian asset they must protect, and even the South American cityscape utilized during the final four weeks of production, Mile 22 seeks to give audiences new perspectives in a familiar action vehicle.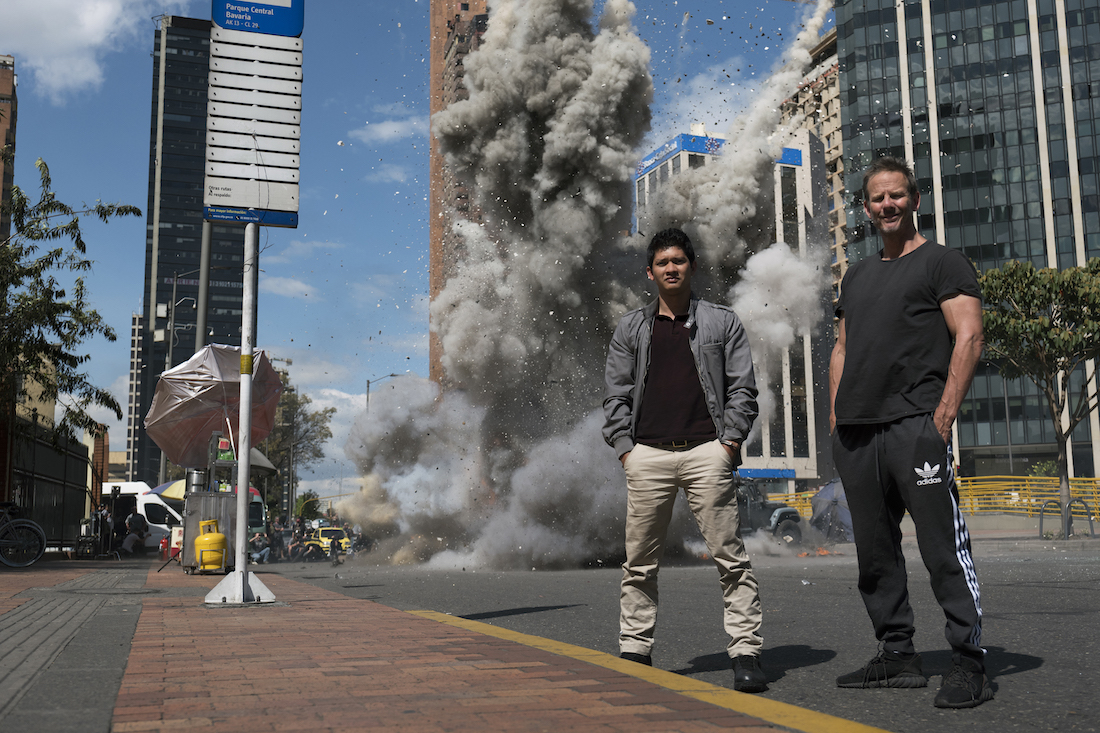 Making the Bogota Movie Boom Happen
On a warm February morning (it's summer in Colombia), everything looks devastated even before the cameras get rolling. Wahlberg's vehicle is attempting to transport Uwais and his mysterious MacGuffin through the heart of a city's business district. But things don't go according to plan. Rubble lies strewn everywhere, a hamburger stand is tipped over, and even the white van that Berg frequently retreats to in order to view playback looks like a beat-to-hell piece of the set. And that's before they blow it up in the afternoon.
Whereas the morning is about Uwais elaborately killing his way out of an ambush, one felled mercenary at a time, the sequence ends with him being rushed to a second SUV by Ground Watch (or what's left of it). All of which culminates in a massive explosive stunt where two separate cars are jerry-rigged to detonate in different takes. This is all the more impressive considering it is being executed in a downtown section that has been called "The Times Square of Bogotá."
"We were able to kind of do a lot of things that I don't think we would have been able to do in the States, as far as where and how we were shooting the action," Wahlberg says of a city he considers among the most beautiful he's filmed in. It also has the unique standing of being a city most American and international audiences might be unfamiliar with when watching the film.
As producer Stuart M. Besser posits, Bogotá works better for Mile 22 over any other city because it can keep audiences immersed in a setting that will be both modern and colonial, urban and mountainous.
"We had been to Hong Kong and looked at Thailand, and I think Peter was on vacation with his family in Japan and called me and said, 'Why not Japan?'" Besser recalls. "[But] I think if you're in Hong Kong, you're in Hong Kong. And if you're in Thailand and Bangkok, you're there. You can't hide it or pretend not to be. But there's so much architecture in Bogotá that you could be in Europe. When you're down in the plaza with the churches and the parliament, or an old government's office, you look in a 360 [degree angle], you could be in London… That was kind of thrilling."
It was even remarkable for Berg, who went from being highly skeptical when he landed in Bogotá to absolutely loving the aesthetic of the city.
"There's a lot of beautiful texture in the buildings," Berg says. "It's just very unique colors [when] the sun hits the paint." Also as the director responsible for the (faux) rubber debris resting under our feet after the latest in-camera pyrotechnic, Berg wholly dismisses the international anxiety of security concerns in the Colombian capital. "I think that's all hype; I don't ever believe that. If you believe that, you never go anywhere. I think you gotta travel. Friendliest people I ever met."
Besser would agree, considering the film has been embraced by the local government after it was made clear that the movie was not about Colombia's history with drug cartels.
"This is a first film, or international film, that has specifically come to Bogotá and has nothing to do with drugs," Besser denotes. "And that was part of, I think, the reception we've gotten from the president's office, the mayor's office, and everybody along the line… It's like shooting in Washington, D.C. We're in the middle of a major city, with all government building [and] we shot at the president's palace; we shot at the mayor's office; we closed down the middle of the city."
And they did this for a movie that looks to mix Western and Eastern action, Mark Wahlberg charm and Iko Uwais physicality. "Power and style," as Uwais might say.
After the final explosion is over, and the last drone capturing the action has been grounded, Berg recognizes me from earlier in the day as one of the on-set journalists he most wanted to see die. Strolling across the wreckage of the final blast, crunching his shoes along the foamy rubble before it is cleaned up and Bogotá returns to its peaceful self, he nods and reaches out for a fist-bump. "Like what you saw?"
Very much so, and if these different sensibilities blend together well, audiences will too when Mile 22 opens on Aug. 17.