News
Michael Madsen Reveals Plot Details of Tarantino's Nixed Vega Brothers Prequel
Michael Madsen reveals new plot points of the unmade shared prequel to Tarantino films Reservoir Dogs and Pulp Fiction.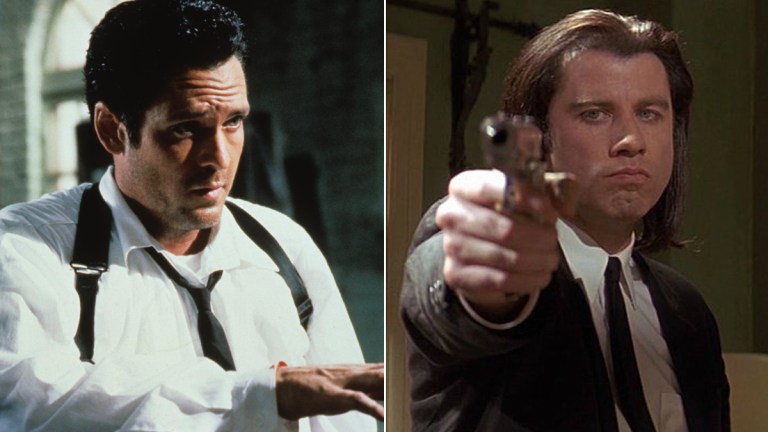 The ultraviolently acerbic shared universe of Quentin Tarantino's films has long been a source of theories and examinations, and one long-acknowledged connection has been between the apparent siblings of Michael Madsen's Vic Vega (a.k.a. Mr. Blonde) from 1992's Reservoir Dogs and John Travolta's Vincent Vega from 1994's Pulp Fiction. Indeed, Tarantino had plans to connect them onscreen, but it never happened. Now, Madsen reveals new details about the prequel that never was.
An intriguing—some might say bittersweet—anecdote about the unmade project came from Michael Madsen himself in an interview with THR, conducted on the occasion of a revival of sorts of his Mr. Blonde character for a parody PSA he released to encourage home quarantining during the COVID-19 pandemic. It seems that Tarantino had substantial ideas for the prequel film focused on Vega Brothers Vic and Vincent, starting with a premise based on a seemingly innocuous line from Pulp Fiction in which Vincent says he'd just returned to Los Angeles from Amsterdam.
As Madsen explains of Tarantino's pitch:
"We were supposed to be in Amsterdam, criminally," adding, "The picture was going to start out with the two of us being released from prison in different states. And we open up a club in Amsterdam."
As Madsen elaborates of Tarantino's idea for the plot:
"He had come up with this idea that it would be the twin brothers of Vic and Vincent, who met after the deaths of their siblings. It was very complicated, but when Quentin starts discussing an idea, it's very easy to go along with it."
Of course, the timing of a direct prequel project was always crucial, since the Vega Brothers each unambiguously met their deaths—similarly abrupt deaths by way of gunfire—in their respective films, so the possibility of passing Travolta and Madsen off as younger or even contemporaneous versions of their film characters was restricted to a very short window as the actors aged. Likewise, while Madsen says that Tarantino discussed the twin brothers sequel idea as recently as a few years ago, nothing has come of it as of yet.
Interestingly enough, the Vega Brothers concept was born accidentally, since Tarantino had originally intended to cast Madsen—having put in an indelibly iconic torture scene in Reservoir Dogs—to play Vincent in Pulp Fiction. However, as the legend goes, Madsen—in a move he now openly regrets—was lured away by Warner Bros. coffers to instead appear in star Kevin Costner's 1994 historical vehicle, Wyatt Earp, which ended up being a monumental box office bomb. Consequently, Tarantino salvaged the situation by casting Travolta, who was in a career nadir at the time, and even took the role at a reduced rate. Of course, what resulted from that move was one of the most dramatic career resurrections in the history of the industry.
While the Vega Brothers film is practically a pipe dream at this point, fans still clamoring to see Michael Madsen and John Travolta onscreen together can catch 2019 racing film Trading Paint. In fact, Madsen explains how one scene in particular, set at a retirement party, contains a tongue-in-cheek reference to the respective fates of the Vega Brothers, with Travolta's character saying to Madsen's, "I thought you were dead," to which he responds, "Well, I thought you were dead," which he recalls resulted in a big laugh on the film's set.