News
Quentin Tarantino to Make Once Upon a Time in Hollywood Spinoff TV Series
Once Upon a Time in Hollywood might be over, but the adventures of Bounty Law's Jake Cahill have only just begun!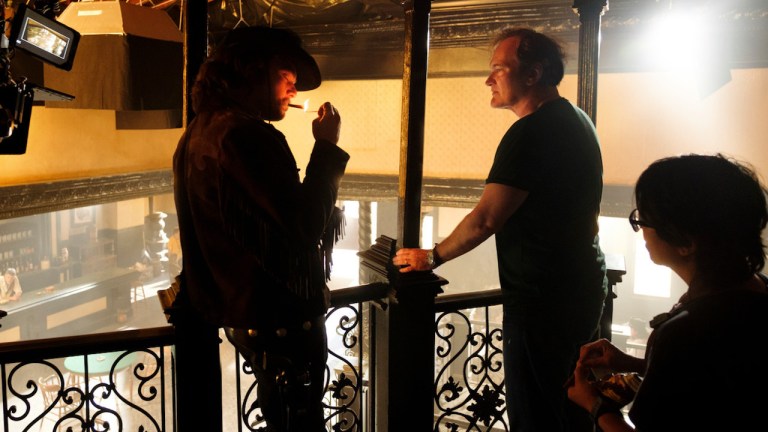 Once Upon a Time in Hollywood, Quentin Tarantino made one of the best movies of 2019 by channeling his deep and affection for 1960s Hollywood into a grand epic of nostalgia daydreaming. The film, mistaken initially by many to be about the "Manson murders," was instead a laconic hangout dramedy, led by washed up TV Western star Rick Dalton (Leonardo DiCaprio), who was famous 10 years prior for playing Jake Cahill on Bounty Law. Now that legend of Cahill will live on past Once Upon a Time… in Hollywood's wistful closing shot.
Speaking with Deadline while in the midst of the Oscars campaign season, Tarantino revealed that while imagining a fictional '50s TV Western for Rick Dalton to star in—think Steve McQueen on Wanted: Dead or Alive—his research led him to remember the thrill of half-hour Westerns from his youth… as well as writing some of his own.
"As far as the Bounty Law shows, I want to do that, but it will take me a year and a half. It got an introduction from Once Upon a Tim in Hollywood, but I don't really consider it part of that movie even though it is. This is not about Rick Dalton playing Jake Cahill. It's about Jake Cahill. Where all this came from was, I ended up watching a bunch of Wanted, Dead or Alive, and The Rifleman, and Tales of Wells Fargo, these half-hour shows to get in the mindset of Bounty Law, the kind of show Rick was on. I'd liked them before, but I got really into them. The concept of telling a dramatic story in half an hour. You watch and think, wow, there's a helluva lot of storytelling going on in 22 minutes. I thought, I wonder if I can do that? I ended up writing five half-hour episodes. So I'll do them, and I will direct all of them."
Tarantino's passion for old school TV Westerns is no surprise. His longtime cinematographer Robert Robertson, who was also nominated for his 10th Oscar for the efforts, told us back in July that he and Tarantino prepared for the new film by studying and appreciating the half-hour Western format.
"With Quentin, I watched a number of episodes of Alias Smith and Jones. We watched a little bit of Maverick; Wanted: Dead or Alive. We'd go through a series of films and television shows, and then I would take it from there, and I would complete [a series]. He'd show the first episode, the pilot, of Lancer, and then I just purchased everything I could and went through it as deeply as possible."
He also told us that you could not love tinkering with replicating the harsh lighting of '50s television, yet as Tarantino pointed out, this series would not be a recreation of Rick Dalton playing Jake Cahill, but a series about the real Jake Cahill. One could (wrongly?) assume that means it will be shot with modern filmmaking techniques, such as the TV show-within-a-movie in Once Upon a Time, and possibly in color.
read more: Once Upon a Time in Hollywood References and Easter Egg Guide
The bigger question though is whether DiCaprio would come back to play Jake in a five-part limited series?
David Crow is the Film Section Editor at Den of Geek. He's also a member of the Online Film Critics Society. Read more of his work here. You can follow him on Twitter @DCrowsNest.