Features
Michael B. Jordan's Upcoming Movies: What's Next After Without Remorse
Michael B. Jordan's turn as John Clark is finally on streaming, but there's a lot more than that in the pipeline for the Black Panther star.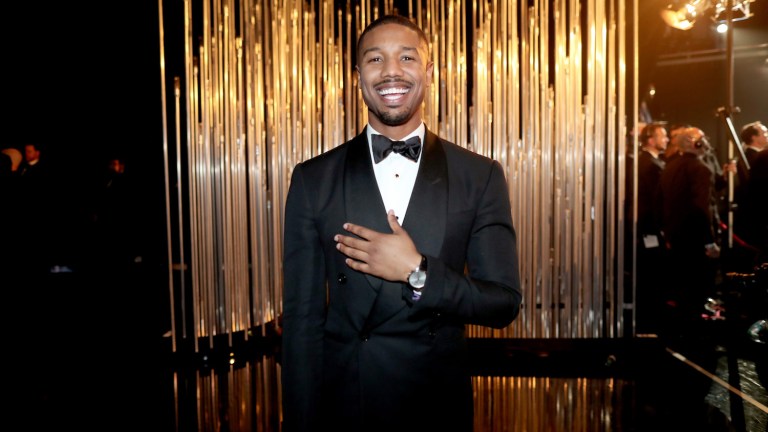 It has been such a pleasure watching Michael B. Jordan evolve onscreen. From his breakout as Wallace, the emotional center of the first season of The Wire, to Vince Howard, the anchor of the latter seasons of Friday Night Lights, on to film projects that showcased his true leading man ability like Creed and Fruitvale Station, Jordan has always projected both naturalism and star power. He's been compared to Denzel Washington by The Hollywood Reporter, listed as a "rising young star" in just about every media trade publication, and has even been named People's Sexiest Man Alive. Yet despite this, Jordan still projects an everyman quality that makes him believable in superhero spectacles and courtroom dramas alike.
Jordan's next film is Without Remorse, which hits Amazon Prime on Friday. Based on the Tom Clancy novel of the same name, Without Remorse is a film set in the Jack Ryan universe and centers on U.S. Navy SEAL John Clark taking revenge on the Russian assassins who murdered his wife. Originally scheduled for release a year ago, Without Remorse was planned as part one of a two-part series centered on Clancy's character, with Rainbow Six, adapted from the novel and video game series of the same name, set to follow.
While we wait on further news about Without Remorse and its potential follow-up, here are some of the other irons that Michael B. Jordan has in the fire.
A Journal for Jordan
As mentioned above, Jordan has often been compared to a young Denzel Washington, and those comparisons should come heavier than ever with Jordan set to star in A Journal from Jordan with Washington as his director. A Journal for Jordan is based on the memoir by Dana Canedy and follows First Sergeant Charles Monroe King as he compiles a 200-page journal for his infant son in case he does not return home from the war in Iraq. Combining King's fatherly letters on how to withstand disappointment, deal with adversaries, and behave on a date, along with Dana's own memory of her love story with Charles, A Journal for Jordan is a mother's intensely honest portrait of her child's parents.
Michael B. Jordan is set to star as King with Chanté Adams onboard to portray Canedy. The film is set to be released on Dec. 10, 2021.
Methuselah
It's always exciting when an A-list actor teams with one of our most accomplished visual storytellers on a project, and that's exactly what we're set to receive with Jordan teaming with the great Danny Boyle on the biblical epic Methuselah.
The Book of Genesis talks about Methuselah, descendant of Adam's son Seth and the son of the righteous Enoch, one of two people named in scripture that did not die but were miraculously transported directly to Heaven. Methuselah is said to be the oldest person on record in human history, having died at 969 (niiiiice) years old. Methuselah was the grandfather of Noah and is said to have died the week before the flood.
The film is slated to be an action/adventure story that showcases Methuselah's unparalleled survival skills. At one point, Tom Cruise was attached to a Methuselah project with Joachim Rønning set to direct, but plans fell through with little explanation. This version of the project is said to be in pre-production, but details are still scarce.
Creed III
With Jordan flying high now, the actor is set for his directorial debut, taking over directing duties for the third film in his Creed franchise. After defeating Viktor Drago, the son of the man that killed his father, there's no telling exactly where Donny's story will be headed next, but one thing that seems certain is that Rocky Balboa will not be a part of it. Sylvester Stallone announced on his Instagram that he would not be reprising his role as the legendary boxer in the third film in the franchise, seemingly finding Creed II to be the logical endpoint for his character. If you recall, Creed II concludes with Rocky making amends with his own son and meeting his grandson for the first time.
Fans can expect Tessa Thompson to return as Bianca and the film will likely find the pair continuing to navigate being parents to a deaf child. It is rumored that Creed III could have yet another tie to the original Rocky franchise and see Donnie square off against the son of Rocky III's Clubber Lang. Stallone has said that he would love to see real-life boxer Deontay Wilder portray the son of Lang. Other rumors suggest that Mr. T, who portrayed Lang, could make an appearance.
Creed III is slated for release on Nov. 23, 2022.
Wrong Answer
Wrong Answer is poised to be the fourth collaboration between Jordan and director Ryan Coogler after Fruitvale Station, Creed, and Black Panther. Based on an article by Rachel Aviv in The New Yorker, Wrong Answer focuses on the 2006 standardized test cheating scandal at Atlanta public schools which found 11 teachers indicted on racketeering allegations.
Jordan is set to star as teacher Damany Lewis, who joined the effort in order to prevent his school from shutting down under provisions of the No Child Left Behind law. Author, journalist, and comic book writer Ta-Nehisi Coates will write the screenplay. The movie is set-up with New Regency Productions and Brad Pitt's Plan B. It is believed that Wrong Answer will be Coogler's next film after Black Panther II, which currently does not have a release date and is in pre-production.