Features
Meat Loaf Should Have Had Two Parts in The Rocky Horror Picture Show
Meat Loaf famously played Eddie in The Rocky Horror Picture Show, but he played another role on stage, and did it so well that he made Tim Curry break character.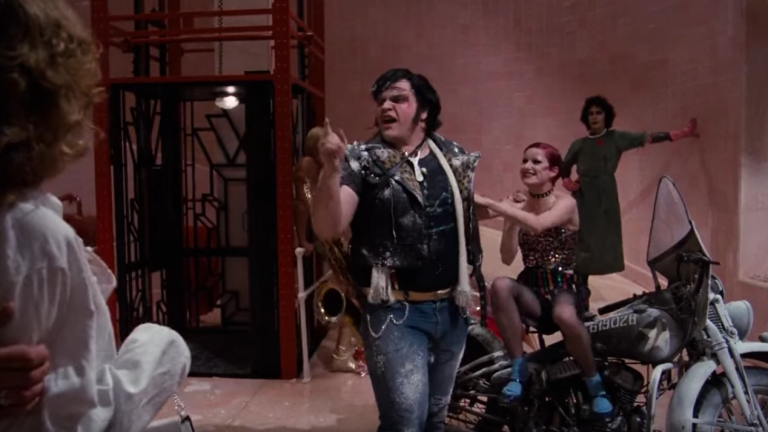 Meat Loaf, whose real name is Marvin Lee Aday, leaves behind a versatile legacy in film and music, but will forever be associated with two major cultural contributions. One is his 1977 album Bat Out of Hell. Produced by Todd Rundgren, it sold over 50 million copies, and several of the songs remain radio and satellite staples. The other is his turn as Eddie in the musical comedy sci-fi cult classic The Rocky Horror Picture Show. The rock and rolling biker who gave half his brain for science was only half of the character Meat Loaf played onstage. He also played Dr. Scott, and should have played the character in the film.
Written by Richard O'Brien, and produced and directed by Jim Sharman, the original London production of The Rocky Horror Show premiered at The Theater Upstairs in the Royal Court Theatre on June 19, 1973. O'Brien originally saw himself in the role of Eddie, but Sharman wanted him to play the usurping alien butler Riff-Raff. During the stage productions, Eddie and Dr. Scott were played by the same actor. Paddy O'Hagan originated the characters.
The Rocky Horror Show won the 1973 Evening Standard Theatre Award for Best Musical. Renowned rock producer and concert promoter Lou Adler attended a show 1973, and bought theatrical rights. He brought the show to the Roxy Theatre in Los Angeles. Besides Tim Curry, who would reprise his role as the original Dr. Frank N. Furter, the rest of the cast was new.
Meat Loaf was hired in 1973. He got the role of Eddie because he was the only actor who could get through the character's signature number. "The first two weeks when we were doing the play all we did was the music, they had not given us a script," Meat Loaf explained in a filmed interview. "They come to me on the part of 'Hot Patootie,' and Richard O'Brien is here at these rehearsals… he said 'on this song you'll never be able to get all the words in. … I wrote it and I can't sing all the words.'"
The actor was a high school athlete, playing defensive tackle on the football team, and maintained his competitive spirit. "I looked at him and said 'I can sing all the words,'" Meat Loaf remembered. "Nobody could ever get in and just make those words fly through it. I just love telling people 'I can do that' and then being able to do it."
Meat Loaf almost walked out of the original play. "It's not like you were getting rich as an actor in New York," he remembered. "I really didn't say 'what's the play about,' somebody said we'll pay you $270, so I'm there, babe." During early rehearsals, none of the cast knew what the play was about, only the songs they were doing. Curry didn't arrive in America until late in rehearsals, and he showed up in full costume and make-up. It was the first time the rest of the cast heard "Sweet Transvestite."
"I literally get up and walk out of the theater and I turned to Graham Jarvis going 'I'm gone, I'm not doing this, I'm out of here,'" the actor recalled.
Meat Loaf didn't walk, but ran out of the theater, getting himself a ticket for jaywalking. Jarvis, who played the Narrator in the stage version and would go on to play Norman Lear's Mary Hartman, Mary Hartman, convinced him to come back. Later he would also have to convince Meat Loaf to try on the fishnets he would be wearing in Dr. Scott's most revealing scene. The shy and naive actor was on the brink of leaving the production until he heard the audience at the first preview.
"I got this blanket on my lap and I got these fishnet stockings and these high heels, garter belt, this black underwear on," Meat Loaf recalled. "I bring my leg up and the audience- I've never heard such laughter in my entire life, and if you know me and you know my personality I will always go for the laughs."
The actor was even more thrilled by the lead actor's reaction.
"Tim Curry is the most professional actor, and would never break character" Meat Loaf recalled. "He started to laugh, everybody on stage started, and the audience just kept going."
The play had a successful 9 month run at the Roxy. Because of the overwhelming success of the London and Los Angeles runs, Adler and Michael White decided to produce a feature film for 20th Century Fox, and the stage show broke for principal photography between Oct 23 and Dec 21, 1974.
The Rocky Horror Show made its Broadway debut in 1975 at the Belasco Theatre. It lasted only three previews and 45 showings, closing on April 5, 1975. In spite of its short run and lukewarm reception, the play received a Tony Award nomination and three Drama Desk nominations.
With Jim Sharman as director, The Rocky Horror Picture Show was shot at Bray Studios in the UK, and on an estate which was used in a lot of Hammer Productions films. The crew made use of Hammer horror props and set pieces.
For the film, Jonathan Adams, who played the Narrator in the original 1973 London production, was hired for the wheelchair-bound, former Nazi scientist and UFO chaser Dr. Everett von Scott. "I thought I was going to do Eddie and Dr. Scott, the same as in the play, and then they said 'we're going to have somebody else do Dr. Scott," Meat Loaf said. "I said you're making a huge mistake and I still think they did, even though the actor was fine."
His comments had nothing to do with more screen time or his competitive nature. "I think they made a huge mistake because, the way it was in the play, Eddie and Dr. Scott really looked alike, and so you knew he was his nephew," Meat Loaf said.
But it also went beyond that. "I was a very good Doctor Scott," he said.
Meat Loaf was a performing whirlwind. On his first tour promoting Bat Out of Hell and opening for Cheap Trick, press reports said he worked himself into such a frenzy, roadies kept an oxygen tank backstage. His 1993 reteaming with Jim Steinman, Bat Out of Hell II: Back Into Hell, was also a five-time platinum No. 1 album and won a 1994 Grammy Award. His roles in Crazy Alabama, Fight Club, and Wayne's World, are each singularly phenomenal. The Rocky Horror Picture Show could have used a double serving of Meat Loaf.