Features
Rock Hall of Fame 2019: Todd Rundgren's Beatle Battles
Todd Rundgren had a loving history with the band that taught him almost everything he knew about music.
Rock Hall of Fame Class of 2019 nominee Todd Rundgren is a musicians' musician who consistently puts art in front of fame. A True Star, which is also the title of his 1973 album, he broke onto the scene with two romantic pop classics, "Hello, It's Me" and "I Saw the Light" off his third album Something/Anything?; explored the intricate maneuverings of prog rock with his band Utopia, and scored one of his most and least recognizable songs just banging on a drum all day. Rundgren never shied from referencing his musical influences, or ripping down his own idols. Ten years after The Beatles proclaimed "All You Need Is Love," Rundgren confirmed the message when Utopia's Oops! Wrong Planet closed with "Love Is the Answer." But not all Todd's encounters with the Beatles were loving.
Rundgren has never hidden his love for The Beatles away. He meticulously recreated the productions of "Strawberry Fields" and "Rain" for his 1976 album Faithful, enthusiastically playing all the instruments himself. The 1980 Utopia album Deface the Music merged the feel of Beatles songs so accurately the opening tack "I Just Want to Touch You" was dropped from the movie Roadie because it sounded so much like the Fab Four the producers were afraid they might get sued. The cover of Utopia's Swing to the Right album from 1982 superimposed Todd's record on the famous WAXY radio-inspired Beatle album burnings which took place in August 1966 in the town of Waycross, Georgia,  following John Lennon's comments the band was "more popular than Jesus now."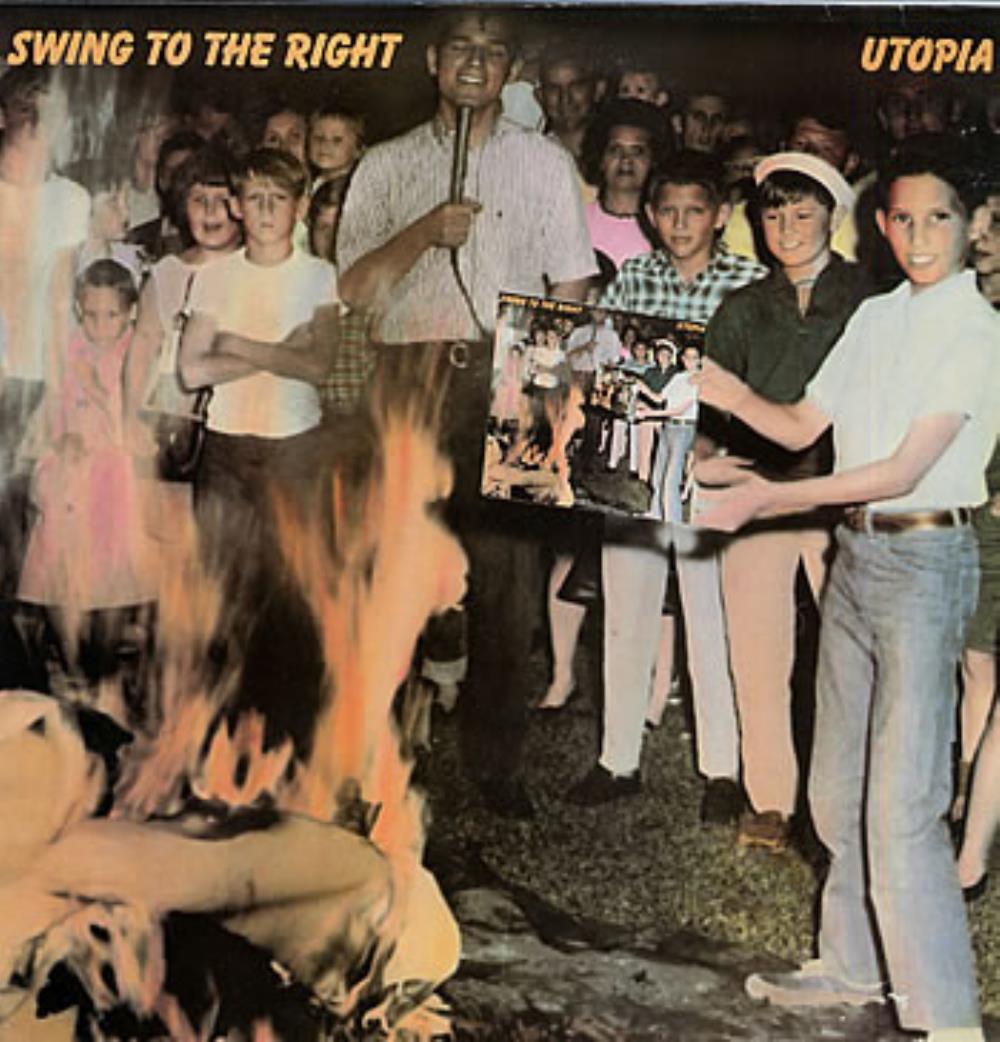 Bearsville Records almost didn't release the album because of its overt politics, but Todd doesn't care about popularity. He recently said he'd prefer Trump supporters not spend their money on Rundgren shows and records. Lennon had also been politically outspoken, but in a February 1974 interview in Melody Maker, Rundgren said "John Lennon ain't no revolutionary. He's a fucking idiot, man. Shouting about revolution and acting like an asshole. It just makes people feel uncomfortable. … All he really wants to do is get attention for himself, and if revolution gets him that attention, he'll get attention through revolution," Rundgren told Melody Maker. "Hitting a waitress in the Troubador. What kind of revolution is that?"
Rundgren met Lennon at the Rainbow nightclub in Los Angeles during the ex-Beatle's "Lost Weekend" period. Lennon was estranged from Yoko Ono, and formed the booze-based Hollywood Vampires with Harry Nilsson, Keith Moon, assorted rock and pop royalty, and his personal assistant and lover May Pang. Like the "Rat Pack" of musicians under Frank Sinatra's watch, the loose group recorded sessions for what would be Lennon's Rock and Roll and Nilsson's Pussycats albums in between bouts of public outrage like heckling the Smothers Brothers at the Troubadour.
Further reading: Real Vinyl History: The New York Dolls
Rundgren knew the pangs of production. He gave Grand Funk Railroad their first hit single after years of album charters. He would turn Meat Loaf's Bat Out of Hell album into an epic success, bring out the melodies in the raw energy of the New York Dolls, put the energy in Sparks, and produced Patti Smith's Wave, and Laura Nyro's 1984 album Mother's Spiritual. The Bronx-born Nyro was as much of an inspiration and education to the Philadelphia-born Rundgren as the Beatles, changing the way he approached songwriting. His interview with Melody Maker was supposed to "smash away the preconceptions about my records… A deliberate provocation. It came out of a certain sense of being cornered stylistically. A lot of people were just presuming that I only wrote 'Hello, It's Me' – 'I Saw The Light' type songs. Whereas, I had originally been into a hard rock/heavy metal style. The reason I did both was that when I started the Nazz, I had this thing about being eclectic. Like the Beatles had no style other than being the Beatles. So the Nazz used to do, like heavy rock, and also these light, pretty ballads with complex ballads."
Further reading: Beatles vs. Stones and Two Unmade Stanley Kubrick Movies
The Nazz was also the reason David Bowie named his band the Spiders from Mars. They'd released the tracks "Wonder Who's Lovin' Her Now" and "Lay Down and Die, Goodbye" to find Rundgren already had the band name in America. Lennon was not going to take the comments lying down, as he did for much of his Peace campaign he held over his honeymoon with Yoko Ono. Lennon had to contend with the caustic wit of cartoonist Al Capp during his Bed-In for Peace, and was no stranger to celebrity feuds. The Beatles and The Rolling Stones had a friendly rivalry during the 1960s, splitting rock fans into two camps regarding British invaders.
Further reading: John Lennon's 'How Do You Sleep?' Footage Reveals Unrest
Lennon and his songwriting partner Paul McCartney were very competitive and the pair indulged in their own public battle a few years earlier. McCartney similarly stuck out at Lennon's revolutionary politics in his song "Too Many People," which led to Lennon's acerbically magnificent song "How Do You Sleep?," as well as a few more subtle jabs at the melodic bassist. Lennon would later put his cutting take on the Beatles' lawyer Allen Klein on vinyl in the song "Steel and Glass." But Lennon stayed away from minor keys in his response to the former Nazz songwriter, and Melody Maker published it in its entirety. It was so perfect, so will we.
AN OPENED LETTUCE TO SODD RUNTLESTUNTLE. (from dr. winston o'boogie)

Couldn't resist adding a few "islands of truth" of my own, in answer to Turd Runtgreen's howl of hate (pain.)

Dear Todd,

I like you, and some of your work, including "I Saw The Light", which is not unlike "There's A Place" (Beatles), melody wise.

1) I have never claimed to be a revolutionary. But I am allowed to sing about anything I want! Right?

2) I never hit a waitress in the Troubador, I did act like an ass, I was too drunk. So shoot me!

3) I guess we're all looking for attention Rodd, do you really think I don't know how to get it, without "revolution?" I could dye my hair green and pink for a start!

4) I don't represent anyone but my SELF. It sounds like I represented something to you, or you wouldn't be so violent towards me. (Your dad perhaps?)

5) Yes Dodd, violence comes in mysterious ways it's wonders to perform, including verbal. But you'd know that kind of mind game, wouldn't you? Of course you would.

6) So the Nazz use to do "like heavy rock" then SUDDENLY a "light pretty ballad". How original!

7) Which gets me to the Beatles, "who had no other style than being the Beatles"!! That covers a lot of style man, including your own, TO DATE…..

Yes Godd, the one thing those Beatles did was to affect PEOPLES' MINDS. Maybe you need another fix?

Somebody played me your rock and roll pussy song, but I never noticed anything. i think that the real reason you're mad at me is cause I didn't know who you were at the Rainbow (L.A.) Remember that time you came in with Wolfman Jack? When I found out later, I was cursing cause I wanted to tell you how good you were. (I'd heard you on the radio.)

Anyway, However much you hurt me darling; I'll always love you,

J. L.

30th Sept. 1974
The incident didn't diminish Rundgren's love for the band that put more than three chords in their rock and roll originals, and he put it off to his own daddy issues. Rundgren occasionally tours with Ringo Starr's All-Starr Band and co-wrote the title track from Starr's 2015 solo album Postcards from Paradise. He'd done a Jerry Lewis telethon in the late 70s in Las Vegas with Ringo. Rundgren shared producing credits with George Harrison on Badfinger's 1971 album Straight Up. While Rundgren took issue with some of the guitarist's credits for the record, it didn't stop him and Joe Jackson from covering Harrison's "While My Guitar Gently Weeps" live on Late Night with Conan O'Brien in 2004. He covers "I Want You (She's So Heavy)" in concert and recorded "You've Got To Hide Your Love Away" for Cleopatra Records' Keep Calm and Salute the Beatles. Rundgren was the musical advisor for the film version of Beatlemania.
Rundgren could very well have been for John Lennon what Jeff Lynne turned out to be for Harrison, a musician-producer who understood and could enlarge on the audio legacy, if only the former Beatle had not had his life cut short by an assassin's bullet in 1980. The shooter was wearing a Todd Rundgren T-shirt on the day he met Lennon, and reportedly searched Woodstock, New York, for Rundgren prior to heading to Manhattan's Dakota building.
The Rock & Roll Hall of Fame winners will be announced in December. Todd help us if he doesn't get in.
Culture Editor Tony Sokol cut his teeth on the wire services and also wrote and produced New York City's Vampyr Theatre and the rock opera AssassiNation: We Killed JFK. Read more of his work here or find him on Twitter @tsokol.
Read and download the Den of Geek NYCC 2018 Special Edition Magazine right here!