Features
The Marvel Movie Disney+ Streaming Guide
For all the MCU fans, here's all the Marvel movies available on Disney+ to watch right now.
When Disney acquired Marvel Studios in 2009, it likely knew it had something successful on its hands. But even the Mouse Empire's most optimistic projections likely could have not accounted for this. Marvel's roster of films has grossed approximately eleventy kajillion dollars worldwide, with Avengers: Endgame topping Avatar (also a Disney property now) for highest worldwide box office takings.
Now, just over a decade after its original Marvel deal, Disney is set to bring its Marvel content to an in-house streaming service for the first time ever. When Disney+ launches on November 12, it won't have every Marvel movie ever made. But it will have plenty. And Disney is doubtless working tirelessly to get even more into the fold.
Watch your Marvel favorites with a FREE TRIAL of Disney+, on us, right here!
Here are all the Marvel movies available to stream on Disney+ and everything still yet to come. Just a note: Den of Geek may receive a commission from links on this page.
Iron Man (2008)
The first Marvel Cinematic Universe movie remains one of the best. This plants the seeds for everything that comes after, and rocketed Robert Downey Jr. to a new level of stardom. Essential by any measure.
read more: Classic Animated Disney Films on Disney+ Streaming Guide
Downey Jr.'s first go-around as Tony Stark perfectly establishes the entire MCU's tone. Tony's origin story borrows liberally from the comics, but this film from director Jon Favreau quickly adapts everything to a modern context.
Iron Man 2 (2010)
Believe it or not, Iron Man 2 is a little better than you remember. In particular, it's one of the best looking Marvel movies, and that final showdown is still pretty thrilling. Plus, it's an essential piece in the road to Avengers.
Following the events of the first film, Tony Stark is the world's biggest celebrity. Unfortunately, that celebrity comes along with some added governmental scrutiny. As the government argues that Tony's arsenal should be public, not private, rival arms manufacturer Justin Hammer (Sam Rockwell), and just general all-around lunatic Ivan Vanko (Mickey Rourke) conspire to take Tony down once and for all.
Thor (2011)
Thor is Marvel's first cosmic offering and helps give fans an indication of what this corner of the Marvel Cinematic Universe would look like going forward. And how can you miss the introduction of Chris Hemsworth and Thor and Tom Hiddleston as Loki?
read more: What Marvel Studios Has in Store for Disney+ and Phase 4
Kenneth Branagh directs what amounts to the Marvel Cinematic Universe's first Shakespearean drama. As Thor prepares to ascend to his father Odin's (Anthony Hopkins) throne, he jeoparidzes restarting a war against an old foe of Asgard. To punish Thor, Odin exiles his son to the last place anyone would want to be exiled: Earth.
Captain America: The First Avenger (2011)
Overshadowed by its more high profile follow-ups, Captain America: The First Avenger is still one of the most effective superhero origin stories ever put on film. It also marks the beginning of the Marvel movie timeline, telling a story set in World War II.
Chris Evans deftly steps into the iconic role of Steve Rogers, a puny Brooklyn kid turned into a hulking supersoldier thanks to a high-powered serum. Steve adopts the Captain America moniker and gets to work beating up some Germans for Uncle Sam. Cap would go on to become the beating heart of the MCU and his first installment builds a fine foundation for both the character and the many Avengers films to come.
The Avengers (2012)
Does this really need any introduction? Joss Whedon's first foray into the Marvel Cinematic Universe shattered box office records and made superhero movie fans realize that anything was possible in this brave new world.
The Avengers gathers Earth's mightiest heroes: Captain America, Iron Man, Thor, The Hulk, Black Widow, and Hawkeye, and they try to retrieve the mysterious Tesseract from Loki and save the world. The Avengers marks a new beginning for what this franchise, and all superhero movies to come, are capable of. Avengers assemble!
Iron Man 3 (2013)
Another underrated entry in the franchise, Iron Man 3 answers the question of "how do you follow up something as high profile as The Avengers?" by telling a more personal story it turns out. Iron Man 3 finds director Jon Favreau turning the reins over the Shane Black who puts his own personal stamp on the MCU.
read more: Star Wars Movies on Disney+ Streaming Guide
After his homebase is decimated, Tony embarks on a journey across the country with only his wits (and a precocious child) to keep him company. Iron Man 3 is a divisive chapter due to some curious villain choices and a strange sense of humor, but few could argue that it's not a bold choice to end this chapter of Tony's story.
Thor: The Dark World (2013)
OK, so Thor: The Dark World probably isn't anybody's favorite Marvel movie, but it benefits from taking a chunk of the action offworld, and gives us a better sense of Asgard and the Nine Realms.
Chris Hemsworth returns in his third outing as the God of Thunder, who is charged with finding an important artifact called the Aether and defeating the Dark Elf Malekith. This is all about as conventional as a superhero movie gets, but at least Hemsworth's dissatisfcation with the outing led to the miracle that is Thor: Ragnarok.
Captain America: The Winter Soldier (2014)
Captain America: The Winter Soldier marks the entrance of eventual Infinity War and Endgame directors Joe and Anthony Russo to the MCU. And what an introduction it is! In The Winter Soldier, Cap finds himself in the middle of a spy novel as an old friend returns and some previously unshakable instituions so longer look so stable.
Arguably the best Marvel Studios movie, Captain America: The Winter Soldier played with everybody's expectations by telling a smaller story more akin to a thriller than a superhero movie for most of its running time. Absolutely essential viewing.
Guardians of the Galaxy (2014)
Another one that makes the case for "best Marvel Studios movie." Offbeat, weird, and full of infectious tunes (not to mention an incredible cast), Guardians of the Galaxy is unlike any other entry in the studios' output.
read more: Star Wars TV Series Disney+ Streaming Guide
Director James Gunn borrows liberally from the best space operas to tell the story of a group of intergalactic misfits who end up making a good team. Star-Lord (Chris Pratt), Gamora (Zoe Saldana), Groot (Vin Diesel), Rocket Raccoon (Bradley Cooper), and Drax (Dave Bautista) all make their splendid debut in Marvel's first outerspace adventure.
Avengers: Age of Ultron (2015)
The Avengers begin to splinter after good intentions go awry. When Tony Stark very reasonably surmises that the Avengers can't look after Earth 24/7, he decides to create Ultron (James Spader), a robotic planet defense system.
read more: Marvel TV Series on Disney+ Streaming Guide
Unfortunately, in true Frankenstein fashion, Tony is too good of an inventor and Ultron quickly surmises that the biggest threat to Earth is the Avengers team, itself. Age of Ultron is likely the worst of the full team up films in the Marvel Universe but its story of the limitations of superherodom has aged well.
Ant-Man (2015)
In some ways, Ant-Man is Marvel's "little movie that could." Its troubled production isn't visible on screen as its smallest, most unlikely hero takes on a case that's more of a fun caper than a world-saving adventure.
Paul Rudd gracefully steps into the role of Scott Lang, a prolific thief who is looking for a way to stay on the straight and narrow to be with his daughter. When his paths cross with brilliant inventor Hank Pym (Michael Douglas), Scott becomes one of Marvel's unlikeliest heroes.
Captain America: Civil War (2016)
Perhaps Marvel's most ambitious offering, with the largest assembly of superheroes put on screen together (unti Avengers: Endgame), Captain America: Civil War surpasses its source material and manages to tell a real story amid all the fisticuffs.
Tony Stark understandably believes that the Avengers could use some federal oversight. Steve Rogers believes, also understandably, that ceding control to the bureacracy will only jeoparize their freedoms and the important work the team does. Just like that, battle lines are drawn and every Avenger (sans Thor and Hulk) head to the best place to have a superhero battle: an airport tarmac.
Doctor Strange (2016)
In many ways, Doctor Strange is simply the same movie as Iron Man, only with magic rather than technology. Benedict Cumberbatch's Stephen Strange is a type A jerk who actively makes the world a worse place until a brush with death (and the introduction of some useful powers) encourages him to take up the banner of heroism.
Strange falls in with the Ancient One and who gang of dimension protectors to engage with an existential threat to our reality. This origin story of the Sorcerer Supreme is full of some of the most eye-popping visuals to grace screens since The Matrix. Benedict Cumberbatch delivers a memorable performance, too.
Guardians of the Galaxy Vol. 2 (2017)
Peter Quill and friends return in the follow-up to Marvels most unexpected hit. The Awesome Mixtape Vol. 2 scores the continued adventures of Quill, Drax, Rocket Raccoon, Gamora and Baby Groot as they race to save the galaxy yet again and uncover some of their uncomfortable lineage and legacies in the process.
Guardians of the Galaxy Vol. 2 packs a surprising emotional punch thanks to performances from Kurt Russell and particularly Michael Rooker. This sequel proves that there is real depth behind this franchise in addition to all the spacefaring adventures.
Thor Ragnarok (2017)
Thor returns in easily the best movie bearing hs name. As directed by Taika Waititi Thor: Ragnarok borrows from the Planet Hulk storyline in crafting an epic '80s tinged heavy metal cover masterpiece.
Thor begins the film doing his usual Thor thing of having long hair and defeating a fire demon to protect Asgard and prevent Ragnarok. But when his sister Hela escapes from prison and returns to dominate the realm, Thor is cast out on a planet-skipping adventure that will fundamentally change him forever.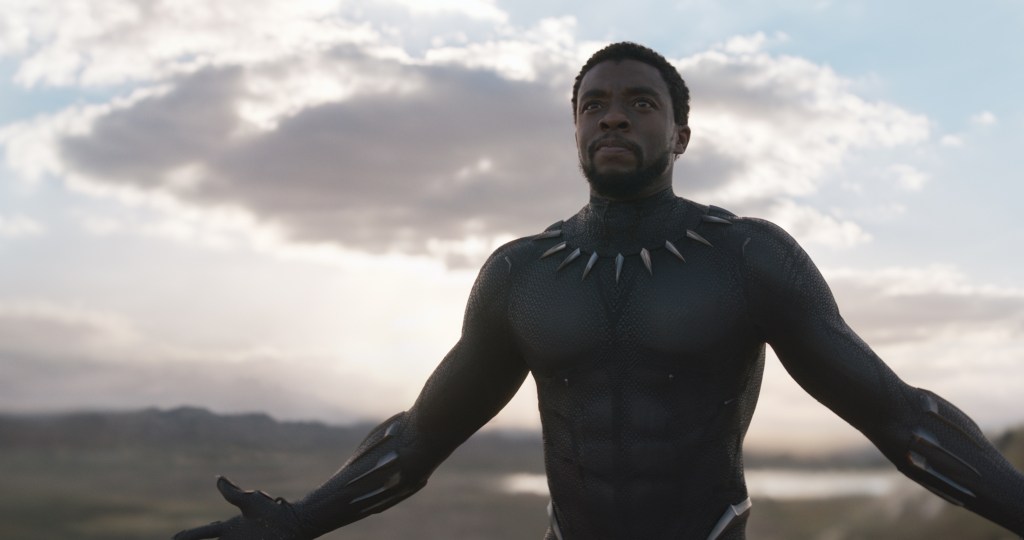 Black Panther (2018)
Black Panther, Marvel's first feature-length excursion into Wakanda is a fun, exciting feast for the eyes. In Ryan Coogler's film, T'Challa (Chadwick Boseman) is prepared to ascend to the throne of Wakanda, following his father's death. Unfortunately for him, however, there's a cold-blooded American assassin (Michael B. Jordan) who has a different vision for Wakanda's future.
Black Panther is not only a big step forward for Marvel in terms of world-building, it also builds out the cast of supporting heroes like no other film in the continuity. Where would The Avengers be without Okoye, M'Baku, Shuri, and Wakanda's assembled armies?
Captain Marvel (2019)
Let's say you're in charge of Marvel Studios. Avengers: Infinity War and Ant-Man and the Wasp just came out, getting your target audience pumped for the Infinity Saga conclusion in Avengers: Endgame. What do you do next? If your name is Kevin Feige, the answer is to go all the way back to the early '90s to spin a yarn about the very beginning of the Marvel Cinematic Universe.
Captain Marvel is a Marvel prequel of sorts. The story of Carol Danvers (played by Brie Larson) picks up in 1995 when the amnesiac maybe-alien crash lands on a mysterious planet filled with Blockbusters and Nirvana t-shirts. While on this weird, alien soil, the woman known as "Vers" will meet a young Nick Fury, unlock the mystery of her identity, and give the future Avengers a powerful new ally.
Avengers: Endgame (2019)
Avengers: Endgame is the conclusion to Marvel's sprawling Infinity Saga and it's hard to imagine a better wrap up to over a decade and 23 films worth of storytelling. Directors the Russo Brothers inherit the cliffhanger from Avengers: Infinity War (also directed by the Russos), in which Thanos has wiped out half of all life in the universe.
read more: Pixar Movies and Shows on Disney+ Streaming Guide
Unfortunately for Thanos, he left behind Steve Rogers, Tony Stark, Bruce Banner, Thor, Natasha Romanoff, Clint Barton, Scott Lang, Jim Rhodes, Rocket Raccoon, Nebula, Carol Danvers, and a host of other talented individuals. The survivors of The Snap set off on a sprawling, years-long effort to undo the damage done and revisit important parts of their own history in the process.
Stream everything Marvel with a FREE TRIAL of Disney+!
Marvel Movies NOT on Disney+ Yet
Here's a list of every remaining Marvel movie that is awaiting its trip to Disney+.
– The Incredible Hulk – Universal holds rights
– Spider-Man: Homecoming – Sony holds rights
– Avengers: Infinity War – arriving June 25, 2020
– Ant-Man and the Wasp – arriving July 29, 2020
– Spider-Man: Far From Home – Sony holds rights
Alec Bojalad is TV Editor at Den of Geek and TCA member. Read more of his stuff here. Follow him at his creatively-named Twitter handle @alecbojalad