News
How Dune's Director Helped with Marvel's Eternals
Eternals director Chloé Zhao reveals how Dune's Denis Villeneuve became integral to her experience of making a major Marvel movie.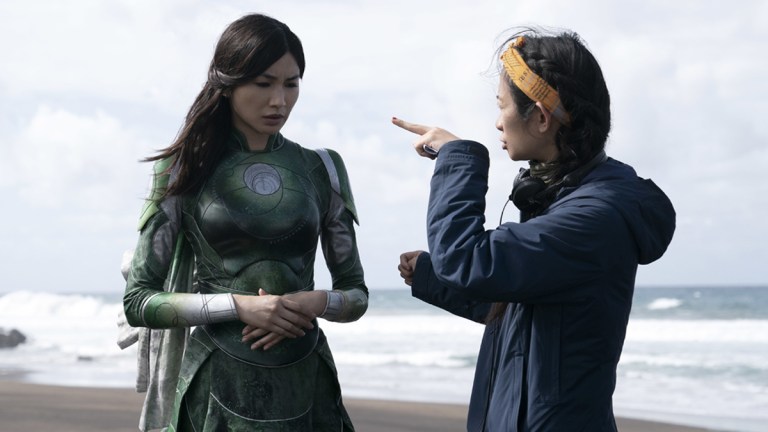 Eternals, Marvel's ambitious ensemble entry (check out our advance review), hits theaters this weekend for a pandemic-era performance that's hard to predict. Notwithstanding the fact that the film—based on Jack Kirby's 1976-launched high-concept comic title—stands as the most thematically unique film of the Marvel Cinematic Universe, it also happens to be the biggest film of indie director Chloé Zhao's career. Thankfully, she had some help from another director in Denis Villeneuve, who has experience with films on this scale, notably from the just-released, sequel-confirmed epic, Dune. In fact, Zhao reveals just how integral Villeneuve's help became.
On the cusp of Eternals' wide release, Beijing-born director Zhao faces a watershed moment in her still-burgeoning career with a potential worldwide commercial breakthrough (or flop). She's currently riding momentum from the sudden springboard success earlier this year of a Best Director Oscar win for her small-scale character-driven drama, Nomadland, which also even took the Best Picture prize. Yet, Eternals was a task that would have intimidated more-experienced filmmakers, much less an up-and-comer with only three feature films (including the eventual Oscar-winner) on her directorial CV. Consequently, the blockbuster guidance she received from Villeneuve proved invaluable. It's an aspect that, as Zhao tells THR, makes the closely-set releases of Eternals and Villeneuve's Dune into a rather poetic outcome.
"I gotta say that I'm a big fan of Denis; he's a friend," lauds Zhao. "We got pushed and shifted because of the pandemic. We got pulled apart and now we're back together again at the same time. Even when I was working on IMAX for Eternals, I asked him if it was okay for me to watch Dune. I knew he did incredible things in IMAX, so I knew I could learn from him. He was so generous; he was like, 'Yes.' He also gave me other references to look at. So, I actually find a lot of strength in our films coming out at the same time and to have a colleague who I respect and love and to be able to go through this together and to hug each other at Venice [International Film Festival] when Dune came out. He even sent me a message last night, so it all feels very empowering."
While Villeneuve has never tackled a Marvel movie himself, his sage advice does come from handling high-profile pictures such as 2013 breakthrough drama Prisoners, 2015 crime drama Sicario, 2016 sci-fi drama Arrival (which yielded a Best Director Oscar nod) and, most pertinently, 2017 sci-fi sequel Blade Runner 2049, which—like its 1982 predecessor—was a commercial failure, but maintains a fanbase. Of course, Dune would prove to be his biggest test yet, tasking the director to field a massively grandiose, exterior-heavy production that hopped from locations in Budapest, Hungary to Liwa Oasis in Abu Dhabi, United Arab Emirates to bring to life Frank Herbert's oft-attempted, but never quite successfully-adapted arid 1965 sci-fi novel. However, for all those accolades, his choice of guiding blockbuster-attempting indie helmer Zhao on her Eternals experience is curious, considering comments he recently made about the artistic merit of Marvel movies.
Indeed, Villeneuve went on record this past September with a Spanish newspaper, stating of the monolithic Disney-owned comic book film franchise: "There are too many Marvel movies that are nothing more than a cut and paste of others." He added, "The problem today… well, if we're talking about Marvel, the thing is, all these films are made from the same mold. Some filmmakers can add a little color to it, but they're all cast in the same factory. It doesn't take anything away from the movies, but they are formatted."
While Villeneuve is hardly the first prominent director to express distaste for the money-making Marvel machine, one could interpret his criticism as, in the very least, containing a constructive angle. This idea could explain his motivation for guiding Zhao on her blockbuster Marvel endeavor. Indeed, Zhao's creative connection with Villeneuve has been known for some time, having manifested when she used some of his shot footage in her initial pitch to Marvel for Eternals. There's also been no shortage of reciprocal media compliments, one of which makes more sense in hindsight, when he told Zhao in a September sit-down dialogue for Harper's Bazar, "I think it's genius that Marvel approached you because you're the radical opposite of [the MCU] aesthetically." Consequently, his support for the Eternals director also yielded the benefit of potentially affecting the direction of Marvel movies as a whole—even if the influence was minor, seeing as Eternals is coming across as a feature that's very much evocative of Zhao's now-signature style of filmmaking.
Yet, Zhao points out that Villeneuve's influence on Eternals isn't just restricted to technical and aesthetic aspects, and happens to be reflected in the film's very plot. Despite the Marvel movie being an ensemble offering, the character Sersi (Gemma Chan), a powerful immortal cosmic being who has chosen to live a humble life on Earth as a museum curator, has a traditional hero's journey arc toward a redefining potential, which is typically assigned to a protagonist. This analogously compares to Dune's Paul Atreides (Timothée Chalamet), a high-born character whose palace existence mostly insulated him from the harsh realities of the water-dwindled Arrakis, who—upon a devastating sneak attack from the Harkonnens—suddenly finds himself having to cross the threshold of safety into an unknown world towards a mysterious ascension.
Zhao identifies "complicated power" as the element that defines Eternals' Dune parallels. She further explains, "Paul's journey is not just coming of age and now everything is fine. He's about to step into a very morally complex role, and so is Sersi, not to spoil the film. It is complicated. The type of hero she has to become is not that black and white in terms of morals."
Eternals arrives in theaters this weekend, debuting on Friday, Nov. 5.