Features
Why Nomadland Feels Like a True Story Documentary
Chloé Zhao's Nomadland may be fictional, but that doesn't mean it's not a true story.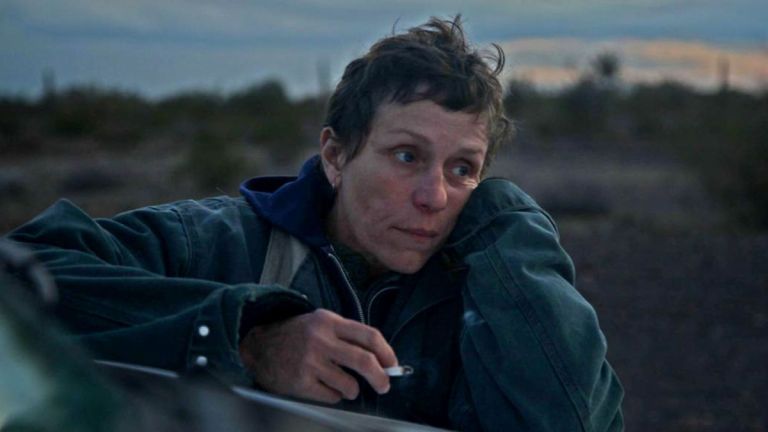 Nomadland, the Oscar-tipped feature film from Chloé Zhao, debuted on Hulu Friday after getting a limited theatrical release in the U.S. The film stars Frances McDormand as Fern, an older woman and working class widow who travels the American west in a van, in which she also lives. Though Nomadland is not a true story or a documentary, the film often blurs the line between fiction and reality by centering real places and communities, as well as casting a number of real people who are playing fictionalized versions of themselves.
To further capture the feel of the nomadic experience, Zhao used a bare bones crew who traveled in vans and stayed in motels for the four-month production. Many critics and early reviewers, including our review out of TIFF last September, responded to a more authentic representation of America than we tend to get in mainstream cinema. When one considers Zhao will next be directing the upcoming Marvel's Eternals, it makes her filmmaking techniques to create this viscerally authentic cinematic experience all the more unique.
Is Nomadland Based on a True Story?
While Nomadland is not a true story, it is based on a 2017 non-fiction book of the same name by Jessica Bruder. Subtitled "Surviving America in the 21st Century," the Nomadland book investigates the transient community of mostly older, working class Americans who have traded living in a house for living in vans and campers. Bruder spent three years interviewing these nomadic Americans who have been left with few choices following the Great Recession, chronicling their hardship and resilience. While Fern may be a fictional character, her story is inspired by the experiences of many real people, some of whom are featured in the movie.
Similar to her work in 2017's The Rider, Zhao chose to have all of the characters in Nomadland, save for McDormand's Fern and David Strathairn's Dave, played by non-actors as themselves. This includes Bob Wells, an older nomad and environmentalist whose YouTube Channel, CheapRVliving, has roughly a half-million subscribers. It also includes Linda May, Swankie, and Derek Endres. The man whom Fern's character hugs in the opening scene is somebody Bruder knows from her time researching her book. While many of the stories the actors tell are not necessarily their own backstories (Swankie has not been diagnosed with cancer), some of them are based on real-life experiences.
In speaking about Zhao's naturalistic style of filmmaker, directing assistant, actress and filmmaker Hannah Peterson told IndieWire: "You could see her listening to these individuals telling their stories, and then collaborating with them to fold their own narratives into the script. Chloé really allows people to choose how they want to represent themselves. The safety of fiction filmmaking, in my opinion, actually pulls out a level of honesty and authenticity that I think would be impossible if this was a documentary purporting to [be] truth."
Is Fern Based on a Real Person?
Zhao also used this blending of fiction and reality to create the character of Fern, who is an amalgamation of McDormand, Bruder, and Linda May. As Bruder explained to Esquire. "Chloé told me that the character of Fern was essentially a composite. One of the parts of Fern was Frances herself, who used to fantasize about hitting a certain point in her sixties, dropping out of the movie world and hitting the road in an airstream, changing her name to Fern and drinking Wild Turkey. Then there was Linda May, in that, like Linda May, Fern is new to the road and experiencing a lot of things for the first time. Then the third part is kind of me, but as someone who is in this role of a docent that people are reacting to, and also somebody who learned a lot from Linda May."
Is Empire, Nevada a Real Place?
Nomadland begins with titles explaining the story of Empire, Nevada, a town that faded into almost nothing after the closing of the U.S. Gypsum Corporation's sheetrock plant, the main employer in the community. As the titles tell us, six months after the closing of the factory in January 2011, the Empire town zip code was discontinued. This background is 100 percent true and sets the scene for the film moving forward. Though Fern, who called Empire home for many years, may not be a real person, her story is one that the former residents of Empire, and other towns like it, share.
In Nomadland, Zhao does an incredibly poignant job of bringing these largely underrepresented places and communities to the big screen. The filmmaker does this by blurring the line not only between fiction and reality, but between character and viewer.
"I'm very interested in having this be very experiential," Zhao said back in 2013 about her filmmaking technique. "I want to find new ways to place the camera to evoke more of a feeling. My goal is to put the camera inside of [the characters]."
Nomadland may be fictional, but that doesn't mean it's not a true story.