News
Dune Director Says Blade Runner 2049 Could Have Ruined His Career
Denis Villeneuve recalls how his directorial career narrowly avoided disaster from the expensive bomb that was Blade Runner 2049.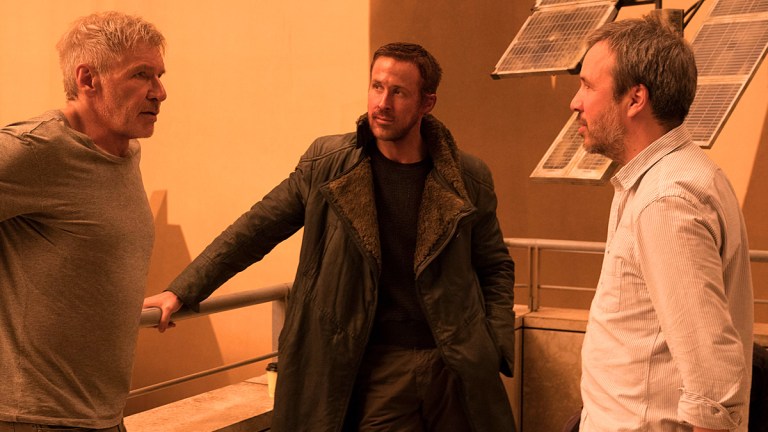 As the debut of director Denis Villeneuve's lavish rendition of Dune looms closer, tension over the imminent arrival of this crucial career waypoint has to evoke a bit of déjà vu. That's because it's essentially where the French-Canadian filmmaker found himself around this time in 2017 upon the arrival of his previous attempt at a sacred franchise offering, Blade Runner 2049, which ultimately became a box office boondoggle. This time around, he'd prefer to avoid repeating mistakes that he now implies compromised his artistic future.
Contextually, Blade Runner 2049 was to be the big-budget crowd-pleasing coming out party for Villeneuve, who was riding a wave of critical momentum from 2016 sci-fi drama Arrival, which even earned him a Best Director Oscar nomination. Indeed, he was on a steady upward trajectory from preceding buzz-worthy hits Prisoners (2013), Enemy (2013) and Sicario (2015). Consequently, said coming out party—the belated sequel to director Ridley Scott's 1982 future-noir cult classic—ballooned to a budget upwards of $150 million. Unfortunately, the film's $92 million domestic and $167 million international grosses made him the deliverer of a dud. Now safely four-years-removed from the experience, an appearance on the Happy Sad Confused podcast (via IndieWire) has Villeneuve candidly commenting on his Blade Runner humiliation.
"The miracle for me about Blade Runner 2049 is the following: I'm still making movies and you're still talking to me," recalls a relieved Villeneuve. "I knew that when I did this movie I flirted with disaster. I put myself into massive artistic danger. That was walking, as Christopher Nolan said to me once…walking on sacred territory. It's true. It was sacrilegious what I did. I was told, 'You don't do that.' Just the fact that I'm still here making movies, for me…at least I wasn't banned from the filmmaker community. It was a dangerous game."
The caution-dispensing Christopher Nolan would know a thing or two about what it's like being a buzz-riding artiste director tackling a sacred cinematic task, having rebooted DC's Dark Knight with 2005's Batman Begins. While that gamble obviously paid off for Nolan to tremendous critical and financial success and two (even more successful) follow-up films, Villeneuve's situation with Blade Runner 2049 instead resulted in a lackluster performance that put him in danger of being dismissed across the industry as a director who's unable to deliver off his own lofty ambitions. Yet, Villeneuve still had the saving grace that his sequel is a generally well-regarded entry, boosted by inter-generational headliners in Ryan Gosling and returning original star Harrison Ford, both of whom played off an antagonistic dynamic provided by Jared Leto and breakout actress Sylvia Hoeks.
Additionally, in Villeneuve's defense, the phenomenon behind the Blade Runner franchise has always been an unquantifiable enigma, especially since the Scott-directed 1982 original film was a box office dud in its own right, grossing $27.5 million in its domestic-only release. It's a head-scratching fact, especially with the film being headlined by a white-hot, The Empire Strikes Back and Raiders of the Lost Ark-fresh Harrison Ford. The film would experience several re-cuts over the decades, some of which were given theatrical releases (most recently in 2020), thereby boosting its current aggregate box office total to $41.6 million; a number that remains anemic, despite the film's influence on the sci-fi genre, and worldwide reverence it perpetually enjoys. Yet, despite Villeneuve's respectful, straightforward continuation of that sacred continuity, audiences for 2049 proved to be niche at best, arguably serving as an example of spendthrift studios being inveigled by social media astroturfing.
Fortunately, Villeneuve did not have to fall on his proverbial sword over the Blade Runner 2049 debacle, and even recently toyed with the (unlikely) notion of revisiting that world for a prospective third film. Granted, he was offered directorial duties for Dune—a franchise with a sacred veneer of its own from Frank Herbert's 1965 novel and David Lynch' disastrous 1984 film—back in January 2017, well before 2049's underwhelming run launched that October. However, early reactions—which include our own advance review—point to his remake being an engrossing entry that fulfills its grandiose designs in just about every way. Moreover, while the film's release is being relegated to Warner's controversial pandemic-era day-and-date release strategy—simultaneously debuting at theaters and streaming—the unconventional rollout could end up delivering Dune engagement from audiences typically averse of its genre, which might have benefited Blade Runner 2049.
Dune is scheduled to tap a subterranean well of sacred waters when the arid epic hits theaters and streams on HBO Max starting on Friday, Oct. 22.