News
Last Night in Soho: Quentin Tarantino and Jordan Peele Got the James Bond Poster in the Movie
Trailers for Edgar Wright's Last Night in Soho bask in a groovy nod to James Bond in Thunderball. But it took Quentin Tarantino and Jordan Peele to keep it in the film!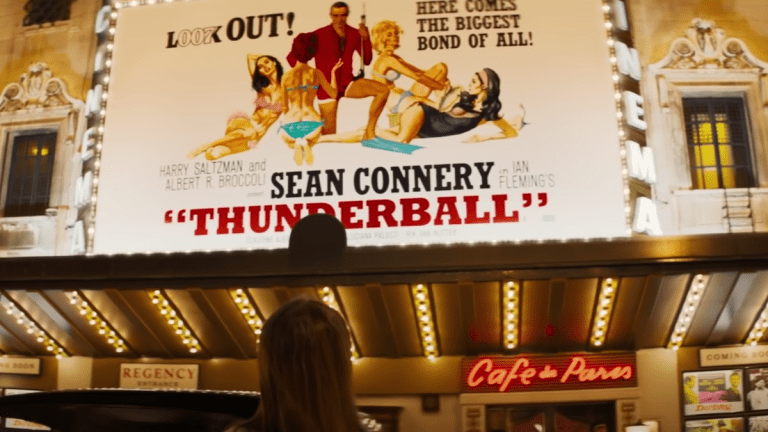 It's one of the more amusing moments in the Last Night in Soho marketing campaign. Ever since that first trailer that was equal bits dreamy and spooky—the one which reveals this is a story about time traveling to the 1960s—folks have been smirking about what might be the most massive easter egg ever slipped into an Edgar Wright movie. Quite literally so given its size.
As Thomasin McKenzie's modern girl Eloise comes out of a desolate alley and emerges into the heart of Soho's nightlife, she spots the biggest signpost imaginable to inform her that she's no longer in the 21st century. With its marquee the size of several stories, the poster for Sean Connery as James Bond 007 in Thunderball fills the frame. And as filmed from a low over-the-shoulder angle by Wright and cinematographer Chung Chung-hoon, it takes on an astonishingly surreal quality before Wright's lens spins around a bewildered yet instantly enchanted Ellie.
It's a great movie moment. But as Wright reveals to us during a lengthy sit-down chat, the Bond reference was almost not in the finished film.
According to Wright, he always liked the idea of a Thunderball easter egg in Last Night in Soho, because the fourth James Bond picture was released in 1965—dead center in the social upheaval of the decade which carried the UK out of the postwar years into something that's often been romanticized as "swinging London." It also probably didn't hurt that many of Wright's films include nods to the Bond series, with actors like Timothy Dalton and Pierce Brosnan appearing in the Cornetto Trilogy, and the late great Dame Diana Rigg making her final screen appearance in Soho. Nonetheless, at the last minute during post-production, Wright became intrigued with digitally altering the marquee so it would be for The Fantastic Voyage—he simply liked the thematic implications since McKenzie's Ellie was herself now embarking on a fantastic voyage.
But there were two hiccups that derailed this plan, beginning with the fact that The Fantastic Voyage threatened the perfect symmetry of setting the film in '65.
"There was a discrepancy of what year [Fantastic Voyage] came out," Wright tells us, "and something said 1965 was when it was made and premiered, but 1966 was the main release." So move the film's setting to '66, right? Well, there came a bigger obstacle for the change when Wright showed a rough cut of the trailer—complete with the Thunderball easter egg—to filmmaking pals Quentin Tarantino and Jordan Peele.
"I'd shown the trailer to a couple friends of mine, Quentin Tarantino and Jordan Peele," Wright says, "and both of them said the same thing. 'Oh, man I love that shot with the Thunderball poster.' So I called the VFX person and said, 'Hey, guys, change it back to Thunderball. Change of plan, get rid of Fantastic Voyage!"
The choice seems right for the filmmaker though, especially since the Thunderball poster was one of the many real dressings that Wright and his team put up around the streets of Central London back in 2019.
"I think something people would be surprised about with the film is how much of the '60s period detail is really there," says Wright, "because there's some digital work in the distance where you're painting out modern things, but Marcus Rowland, our amazing production designer, did redress significant parts of London streets in the center of London."
He continues, "There's a shot in one of the dream sequences where Matt Smith and Anya Taylor-Joy are driving up the middle of Soho in his car and turn a corner, and the camera cranes from Frith Street to Bateman Street, so it goes through three streets in Soho with one shot, and we're shooting that in the summer in the center of London in Soho, which is a very busy district, and there are some points when you're shooting a shot like that and you're thinking, 'I don't know if we can pull this off. How are we going to keep the modern world at bay?' So when it does come together and you get the take, it's a good feeling."
The feeling is probably better than knowing other auteur filmmakers like Peele and Tarantino—the latter of whom has also done his own love letter to the '60s—helped convince Wright to keep one of his better new homages. But that's still pretty cool too.
Last Night in Soho opens Friday, Oct. 29.