News
La La Land: 29 Things We Learned From the Blu-ray
We took an early look at the La La Land Blu-ray and found more than a few intriguing facts about the Oscar winning musical.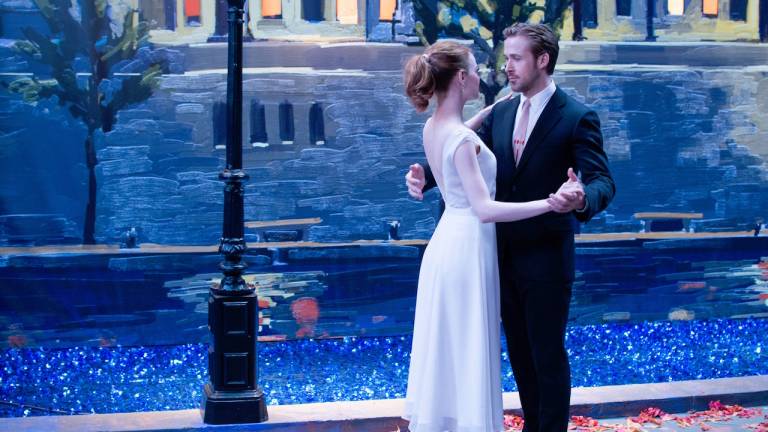 La La Land did not quite win Best Picture in the end, but it is fair to say the movie left its mark on pop culture. An unapologetic throwback to old school musicals from yesteryear that featured a surprising undercurrent of gentle modern melancholy, the Damien Chazelle directed toe-tapper waltzed its way into $440 million worldwide, as well as six Oscars, including statues for Best Actress and Best Director. It also more importantly has left a mark that this writer suspects will be felt in pop culture for decades. One in which the struggles between fantasy and reality, and art and compromise, are given an effervescent lighting.
Hence why it was such a curiosity to open up the La La Land Blu-ray and discover what the Ryan Gosling and Emma Stone-led reimagining of movie musicals had left to reveal about its handful of starlight. Below is everything we learned for the first time from the disc, and primarily the audio commentary track at that. In the commentary, Chazelle and the (now) Oscar winning composer, Justin Hurwitz, analyze the dream movie that they spent years willing into existence—often with the kind of tongue-in-cheek banter one expects from former college roommates.
Admittedly, a few of these facts (such as which songs exactly were sung live during production) have been mentioned in interviews before. However, most of these details will appear entirely new, and the rest are still likely to be as pleasant as another day of sun.
– Damien Chazelle was originally inspired to do an opening musical number that introduced viewers to the tone and tenor of his city by the Maurice Chevalier musical Love Me Tonight (1932). That film also begins with the city of Paris beautifully waking up. The Los Angeles equivalent is… a traffic jam.
– The movie was originally going to open with a three-minute overture…
– And the subsequent opening musical number, "Another Day of Sun," was almost cut from the movie. Chazelle and producers apparently went back and forth about which to remove, the overture or the traffic song. Producer Fred Berger went so far as to even try and bet Chazelle money that "Another Day of Sun" would not end up in the movie. Justin Hurwitz said to his director, "You knew you were breaking my heart cutting one or the other, so it was really just which would break my heart more."
– Related to this back and forth, the film was originally supposed to open with a bird's eye view aerial shot above the traffic after the overture, slowly lowering so audiences could see Emma Stone and Ryan Gosling's Mia and Sebastian before the musical number started. After the overture was scrapped, it was Fred Berger's idea to open the movie on a shot of the sky, which had to be digitally created in post since it was not filmed on the day. Producer Marc Platt also suggested not showing the stars of the picture until after the song was over. (Mia running lines in her car would have originally begun the camera movement that drifted into the song.)
– Mia's bad audition in which she is forced to stop mid-cry so that her casting director can order lunch is based on an actual bad memory from Ryan Gosling's past. According to Chazelle, the scene was a little more run of the mill until "Ryan and Emma were kind of sharing audition war stories, and Ryan shared this story about how he was cut in the middle of a very emotional audition back when he was much younger, and the casting director took a call in the middle of it." Chazelle also had coverage of the casting director in this scene, but Stone was so expressive that he never needed to cutaway from her eyes.
– At almost the last minute, Justin Hurwitz changed the rhythm section for both "Someone in the Crowd" and "Another Day of Sun." Both songs originally had much more notated "pop" sounds until he decided it didn't represent his and Chazelle's sensibility, nor matched the rest of the music in the film. So he gave them a much more "swing" jazz rhythm influence.
– Emma Stone's solo moment in "Someone in the Crowd" is sung live to create a better sense of intimacy. She sang live on the day with the composer playing an electric keyboard in accompaniment off-camera. The "City of Stars" reprise was also sung live by Stone and Gosling. Stone also sang all of "Audition" live with Hurwitz providing piano accompaniment.
– There's a continuity error during Seb's first scene in his apartment with his sister (Rosmarie DeWitt). Due to editing rearrangements, you can catch Chazelle combining scenes as Gosling's shirt color changes from blue to brown as Seb says goodbye to DeWitt and then sits down to play the piano.
– Damien Chazelle and J.K. Simmons developed an inside joke on the set by speculating Simmons' restaurant owning character in La La Land is his short-tempered jazz instructor from Whiplash, who after being fired from any sort of musical career has now opened a restaurant where he never wants to hear jazz music ever again. It's Christmas jingles or nothing.
– They had a piano double on set the first day that Ryan Gosling played the piano in the restaurant, just in case Gosling couldn't play to the playback piano recordings as intended. This ended up being unnecessary.
– During the springtime pool party where Mia and Seb once again run into each other, the '80s cover band singer is played by D.A. Wallach, an actual singer and old friend of Chazelle and Hurwitz. Apparently, Wallach was originally a drummer like Chazelle, and all three met when Hurwitz was forming a band and forced Chazelle and Wallach to compete against each other. After Chazelle got the percussionist gig, Wallach became the singer… that band, Chester French, finally got a record deal almost as soon as Chazelle and Hurwitz quit the group and moved to LA.
– During the scene where Seb gets Mia's car keys, there is a fake '80s sounding pop tune in the background that Hurwitz wrote to fill in the diegetic noise. It's actually just a funky cover of the alphabet.
– "A Lovely Night" was filmed over two nights, because they only had time to do about three takes an evening before the light was gone during the twilight hour from that Hollywood Hills location.
-Initially "City of Stars" was going to be a Mia song in the script, but Chazelle didn't like the idea of her getting both ballads since she sings "Audition" at the end. Chazelle was also reluctant at first to shoot it on a pier, as he originally considered filming Sebastian's croon in a back alley.
– The Rialto Movie Theater is a real movie movie palace in decay. Chazelle said they had to somewhat renovate it for use in their film.
– When looking for financing for La La Land, they used an early but highly developed version of the "Planetarium" waltz music as a score to shots from 2001: A Space Odyssey, The Tree of Life, Wall-E, and Disney's Sleeping Beauty animated feature.
– John Legend came up with most of Keith's words when he defends the transient nature of jazz. Legend is apparently passionate about the need for art to constantly evolve, and Chazelle thought what he said was better than the written lines.
– During the "City of Stars" reprise, the green light in Sebastian's apartment was created at the last minute, because Damien Chazelle had been watching Alfred Hitchcock's Vertigo the night before and was inspired by the scene where Kim Novak comes out made up like the "dead" lover of Jimmy Stewart, and is revealed while bathed in neon green light from the window. They also changed Emma Stone's dress that morning so that it would be purple—just like Novak's in Vertigo.
– The close-ups of Emma Stone walking home during the beginning of the Fall section of the film were shot a year after principal photography as a pickup. The actress was wearing a wig that was color corrected because her hair was a different color at the time.
– The scene of Mia and Seb's epic brawl was the only sequence in the film where Chazelle shot coverage, so that he could edit directly between the give-and-take and back-and-forth of his stars.
– During the production of La La Land, the filmmakers had a dinner party with Patricia Kelly, Gene Kelly's widow. Damien Chazelle brought wine, Emma Stone brought flowers, choreographer Mandy Moore brought more wine, and Ryan Gosling brought a 25-pound apple pie. Obviously, they were all shamed. But it also inspired Chazelle to use a 25-pound apple pie in the movie—it's the pastry that is burning in the oven while Mia and Sebastian's relationship is hitting the rocks over dinner.
– The scene of Mia hearing guys snarking about how much they hated her one-woman play is based on awkward Q&As Damien Chazelle had during his early experimental films and the festival run of Guy and Madeline on a Park Bench, where folks would glare or ask questions like, "Are you happy with the movie?" He'd fumble an answer of yes. The irritated attendee would respond, "Why?"
– Chazelle, Hurwitz, and their producers had a celebration after the dress rehearsal for the apartment scene of "Someone in the Crowd," because that meant the following day they'd actually be shooting the scene during the first day of principal photography. They had all apparently been superstitious that the movie would never really get made since it first died as a micro-budgeted Focus Features film while in pre-production before Whiplash, and then at Lionsgate it went through drastic changes throughout pre-production, went over-budget, and saw songs that were added and later cut. They considered it a victory to actually get to film it.
– The section of the WB lot where they placed Mia's coffee shop is the studio's "Paris Street." This is an inside joke for the filmmakers since Mia ends up going to Paris to realize her dreams. It also being where the Rick's Cafe apartment window was from Casablanca turned out to be a grand bonus.
– "Mia and Sebastian's Theme" was the first thing Justin Hurwitz wrote for the film, and he did countless variations on it as he and Chazelle refined it to their favorite form, which throughout pre-production was simply called "Theme 31-N."
– A 95-person orchestra and a 40-person choir were used for the big finale of "Mia and Sebastian's Theme" during the waltz in a soundstage by the water and stars.
– There was a different final shot cut for the movie of Mia going to her car with her husband and driving into the first rays of dawn, but the filmmakers decided they'd rather end on the close-ups between the leads for the emotion.
– Justin Hurwitz composed a song called "La La Land" that was first cut from the movie and then from the end credits.
– When La La Land first tested for audiences, it received a below average rating of "65." Test audiences apparently hated the "Another Day of Sun" beginning and especially despised the ending with it closing on a downer note.
… It's fair to say those folks landed on the wrong side of movie history.