News
Kenneth Branagh's Belfast Sneaked in a Poirot Easter Egg
There were more than just gifts under the Christmas tree in Branagh's 2021 film Belfast.
Kenneth Branagh's second Agatha Christie film Death on the Nile, did not have a smooth ride. Its release was delayed several times due to first Disney buying the studio that made the film, 20th Century Fox, and then the COVID pandemic, and its cast turned out to be a Pandora's Box of, at best, bad PR and at worst, criminal allegations.
Back in 2020 then, when Branagh was filming his autobiographically inspired family drama, Belfast, a third Hercule Poirot film wasn't necessarily a given. Though Agatha Christie's estate and Branagh were keen to make further sequels to 2017 hit Murder on the Orient Express, the next Christie movie had yet to be greenlit.
That uncertainty inspired Branagh to tuck a Poirot Easter Egg into Belfast as "an offering to the gods," as he told The Hollywood Reporter. "They can tell us, in the end, if we'll be allowed to make it."
The Easter Egg comes in a montage of Belfast's family celebrating Christmas. After young Buddy (Jude Hill) and his Granny (Dame Judi Dench) go to see a stage production of A Christmas Carol, the whole family watch Chitty Chitty Bang Bang at the cinema and unwrap gifts from under the Christmas tree. Buddy excitedly opens up a replica Thunderbirds International Rescue uniform complete with ray gun, and his Ma (Catriona Balfe) unwraps two Agatha Christie books. One's title is obscured, but the other is clearly featured as The Hallowe'en Party, published in November 1969.
Perhaps Branagh's offering to the gods did the trick (or at least Disney's sums worked out) because The Hallowe'en Party is the third Agatha Christie novel the actor-director has turned into a feature film. A Haunting in Venice, which comes out worldwide on Sept. 15 2023, is based on The Hallowe'en Party and was adapted by screenwriter Michael Green.
Loosely adapted, it has to be said. To fit with the existing timeline for Branagh's Poirot, Green has shifted the period back 20 years from the 1960s to the 1940s, and moved the action from the sleepy English town of Woodleigh Common to Italy on the night of Halloween.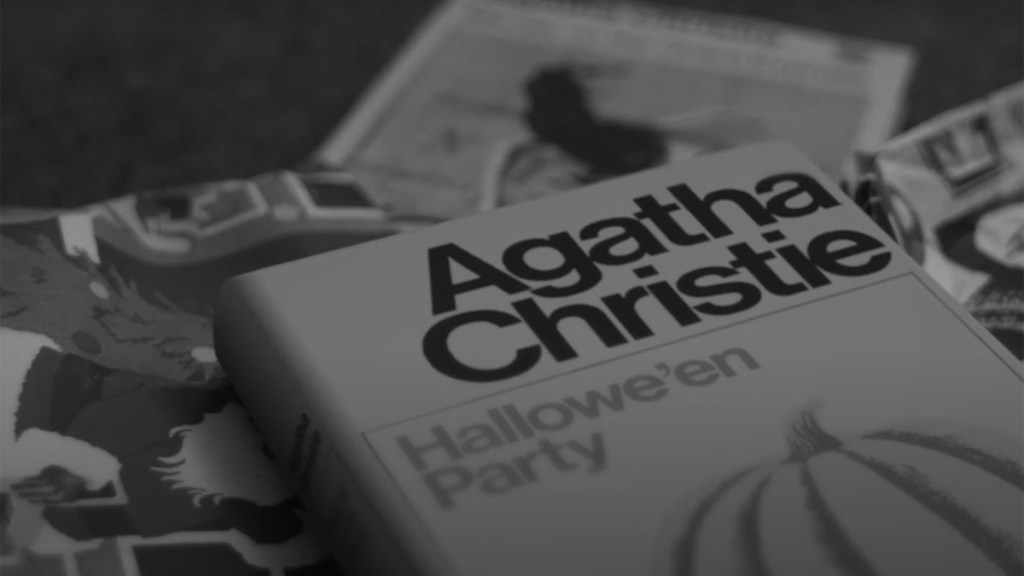 Branagh's not the only director to slip an easter egg into their work in book form. Roger Mitchell did the same in the final moments of 1999 rom-com Notting Hill, in which Hugh Grant's character is seen reading a copy of Greek wartime novel Captain Corelli's Mandolin. Mitchell was originally lined up to direct the big screen version of the Louis de Bernières novel before ill health forced him to be replaced by John Madden on the film.
Over on TV, fans of 2014 British crime drama Happy Valley think they spotted a book easter egg in episode five of the first series. When James Norton's character Tommy Lee Royce is on the run from the police, he ducks into a charity shop to disguise himself. Royce picks up a hat, coat, pair of glasses and a copy of Leo Tolstoy's War and Peace, which just happened to be Norton's next project for the BBC, playing Andrei Bolkonsky in the adaptation, alongside Paul Dano and Lily James.
If A Haunting in Venice is a success, and the story of a now-retired Hercule Poirot allows for it, perhaps fans should be looking harder at that second book Ma unwraps in Belfast for a clue as to which Agatha Christie story Branagh has planned next…
A Haunting in Venice is out now.