News
Is Keanu Reeves Ready to Join the MCU?
Keanu Reeves reveals his respect for the Marvel Cinematic Universe, and signals that he'd be open to for a role.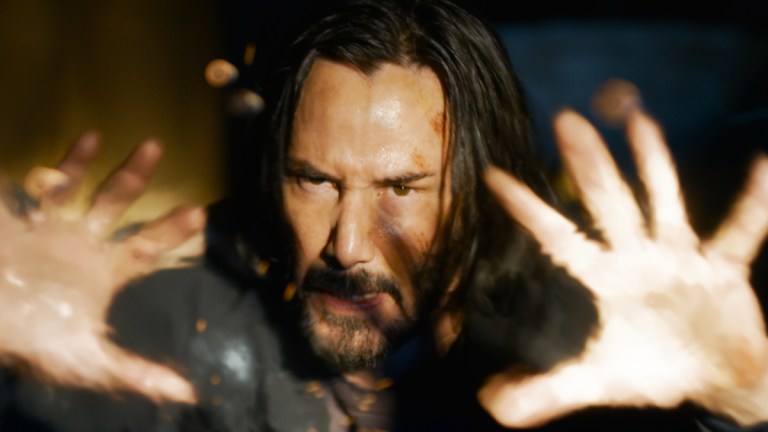 While Keanu Reeves remains a relevant mainstay in the movie industry after almost 40 years of onscreen acting, one thing that eludes him is a role in the Marvel Cinematic Universe. It's an especially notable omission, given the genre-dominant direction that he's taken in the last decade. Thus, as he prepares a return to a signature sci-fi red pill playground in The Matrix Resurrections, Reeves has franchises on his mind, seemingly inciting a rather intriguing answer to a question about a prospective MCU debut.
Reeves isn't proactively campaigning for an MCU role, but the idea of potentially tackling one has created quite a conversation. The actor sat down for Esquire on the cusp of a lengthy published interview piece on his illustrious career and the imminent release of The Matrix revival, the fourth feature film of a franchise that has been dormant since 2003's The Matrix Revolutions wrapped its initial trilogy. Yet, Reeves seems more than amenable to the idea of heading to the MCU, especially as his backlog of ongoing John Wick sequels could see that franchise run its course.
"It would be an honor," says Reeves of a prospective MCU role. "There are some really amazing directors and visionaries, and they're doing something that no one's really ever done."
Of course, as the ever-expanding big screen brand of Disney subsidiary Marvel Studios, the MCU has not only achieved unprecedented artistic success in sustaining a shared canon across an array of feature films and television shows, but it has redefined success at the box office, having hit the all-time industry high of $2.79 billion worldwide for 2019 megamovie Avengers: Endgame, with the franchise's current 26-film tally now standing at the colossal total of $23.7 billion. Yet, its success—which is still occurring in the post-pandemic era, albeit at a conventionally smaller scale—also managed to make household names of formerly-obscure actors, and even found fascinating, outside-the-box roles for A-list mainstays, as recently exemplified by Eternals' casting of Oscar-winning actress Angelina Jolie. Indeed, rather than serving as the headliner or protagonist character, Jolie played the ensemble-supporting role of team member Thena.
Consequently, with the MCU's established ability to bestow prominent, relevant roles that advantageously don't require shouldering the performance pressures of a headliner, it's understandable why a veteran star of Reeves's caliber would gravitate to the idea of joining one of its projects. "It's special in that sense, in terms of the scale, the ambition, the production," Reeves continues. "It would be cool to be a part of that."
Yet, Reeves's desire to dive into the Marvel milieu might also be attributed to a more generalized appetite to bask in the industry's deluge of comic book movies. Said appetite was initially teased several years ago with director Francis Lawrence's 2005 supernatural horror actioner, Constantine, in which Reeves played the eponymous John Constantine, the embattled, demon-exorcising main character of DC Comics' Hellblazer title. Yet, that film happened to be the product of a completely different—pre-MCU—industry mindset regarding comic book movies, and Reeves also expresses a willingness to reprise that role—presumably in the context of the modern, more franchise-minded modus operandi implemented by Warner Bros. for its various DC movies and TV projects.
"I love playing Constantine, John Constantine," exclaims Reeves. "I've played a lot of Johns. How many Johns have I played? I don't even know. I think it's over ten. But anyway, I'd love to have the chance to play Constantine again."
Constantine was not exactly a dud, and even opened at #1 in February 2005, but it was nevertheless lambasted for being mired in often-indecipherable quasi-religious gloom, and its ultimate $230.8 million worldwide gross failed to net much of a profit against its purported $100 million budget. While the film has been mostly forgotten amongst the countless genre offerings that followed in the 16 subsequent years, the character himself remains prominent in DC's printed continuity, and was notably revived on the small screen by English actor Matt Ryan, first on NBC's short-lived 2014-2015 Constantine series, then on The CW's Legends of Tomorrow, on which he (perhaps a version of the character,) became a mainstay member of the titular team. Fortuitously for Reeves, yet another version of Constantine is set to join the ensemble of HBO Max's gestating Justice League Dark TV series, which could, hypothetically, provide his reprisal opportunity.
However, Marvel or DC dreams aside, the more immediate items on Reeves's backlog currently revolve around playing a certain embattled dog loving assassin, with John Wick: Chapter 4 currently scheduled for May 27, 2022, and Chapter 5 already ordered, although that one will reportedly no longer be shot back-to-back as initially planned. Yet, the light might be visible at the end of that proverbial tunnel, especially as the franchise approaches the decade mark of its launch with the 2014 dark horse hit film. Thus, it will be interesting to see what comes from the beloved actor's apparent comic book movie appeal.
Ironically enough, Reeves's reverence for the MCU occurs as he prepares to go head-to-head with one of its showcase offerings—and a monstrous, multiverse-making one to boot. That's because The Matrix Resurrections is set for a domestic arrival on Wednesday, Dec. 22, which will follow the likely-momentous event of Spider-Man: No Way Home's Dec. 17 weekend debut. Given the insane amount of excitement recently generated by the latter's trailers, one doesn't need a professional prognosticator to predict a Spidey-dominant Christmas season at the slowly-recovering box office. I guess if you can't beat them, join them.