News
Josh Gad to Star in Roland Emmerich Disaster Epic Moonfall
Director Roland Emmerich is sending star Josh Gad to space to combat a lunar catastrophe in the movie, Moonfall.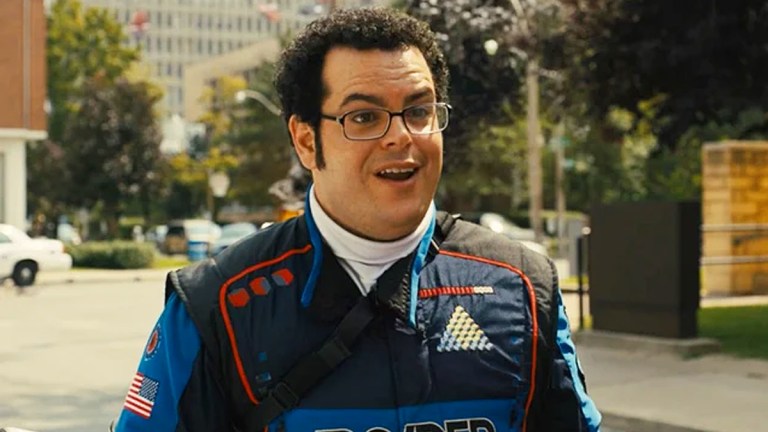 Roland Emmerich's next big screen barrage of wanton woe, Moonfall, has found its star in Josh Gad, who'll be tasked with averting a lunar apocalypse.
The signature-styled film, which will see director Emmerich re-team with studio Lionsgate after releasing last year's historical high-impact WWII thriller, Midway, will see Gad take the lead role amongst a cast that will take shape as a ragtag ensemble destined to be shot into space to combat an orbit-displaced moon, reports THR.
Gad's character, an eccentric named KC Houseman, described as "odd and unkempt in a way that suggests a high level of intelligence and an equally high level of disorganization," accurately identifies that the moon has fallen out of orbit; an event of unfathomable consequence to humanity's existence, affecting Earth's days, nights, tides and seasons. Consequently, Houseman finds himself the unlikely savior of the world, which is set for a collision course with the formerly orbiting sun-blocker.
The starring role in Moonfall represents an intriguing task for the comedically-inclined actor, Gad, who's best known to fans of Disney's Frozen franchise as the voice of snowman Olaf. Yet, he's also fielded prominent onscreen roles in recent years, with season-renewed HBO space comedy Avenue 5, and played LeFou in Beauty and the Beast (2017), a role he's set to reprise opposite a similarly-returning Luke Evans in a Disney+ prequel series. He also co-starred alongside Adam Sandler in director Chris Columbus's 2015 old-school video game love letter movie, Pixels, and will next be seen in Disney+ fantasy movie Artemis Fowl, which hits the streamer on June 12.
The Deutschland destroyer, Emmerich, will occupy the director's chair to Moonfall, working off a script co-written by Harald Kloser (with whom he co-wrote directorial efforts in 2012 and 10,000 B.C.) and Spenser Cohen (co-writer of Netflix film Extinction). Emmerich produces via his Centropolis banner, joined by Kloser, who produces via his Street Entertainment shingle. Emmerich, of course, brings his reputation as a conjuror of apocalyptic epics such as Independence Day (and its less-impactful 2016 sequel, Resurgence), The Day After Tomorrow, White House Down and the 1998 Godzilla remake, having previously fielded genre classics like Stargate and Universal Soldier.
Emmerich pitched Moonfall last year to prospective investors at the Cannes Film Festival, brandishing a logline that made the project sound like something culled as purely as possible from his world-wrecking wheelhouse. The movie will be independently financed by Emmerich through Centropolis, with Lionsgate distributing in a collaboration with AGC International; a strategy that replicates what was done with Emmerich's Midway in 2019.
While Moonfall is an actual Roland Emmerich movie that sounds like a pastiche-parody project designed to lampoon Roland Emmerich movies, it will be interesting to see how it takes shape with Josh Gad in the lead role.