Features
Free Guy: How Jodie Comer Went From Holby City to Hollywood
Killing Eve's breakout star is taking on her first big-screen blockbuster lead in Free Guy, playing a badass action hero with heart. Den of Geek catches up with her on set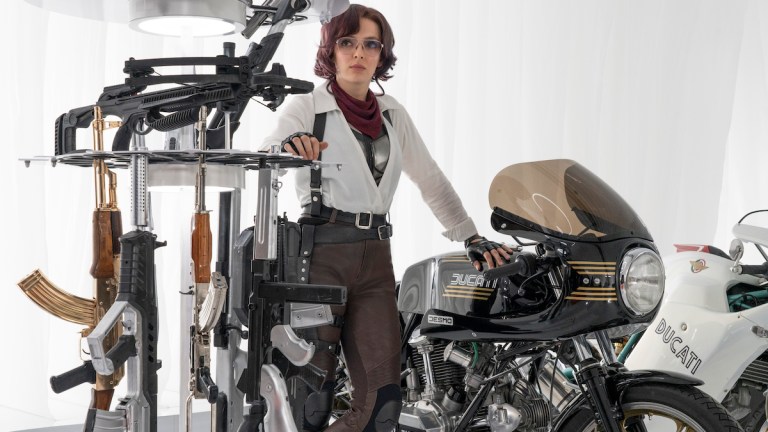 Talk about glamorous locations. It's an overcast spring day in Boston, and Den of Geek is standing in… a parking lot outside an old flower warehouse. No, we haven't made a wrong turn. This is the unassuming, on-location base camp for the cast and crew of Free Guy, a high-concept action-comedy set in (and out of) an explosive open-world video game. The forecourt is filled with rows of neatly parked, nondescript white trailers, which we're ushered along until we reach one with a sign on the door that simply reads: "Molotov Girl".
This is the temporary hangout for one of the film's headline stars. After Jodie Comer's big break onto the global A-list with TV phenomenon Killing Eve, Hollywood naturally came calling, and Free Guy marks her first starring role in a bonafide big-screen blockbuster. The native Liverpudlian, who started her career with guest appearances on shows including Holby City, Waterloo Road and Doctors, has clearly remained typically grounded, though—this is actually her day off from shooting and, as she beckons us inside with a beaming smile, she's in the middle of clearing out her kitchen fridge. 
"It's been so much fun," Comer enthuses about her time on the project so far (they're only two weeks into the shoot), as we take a seat in her makeshift living room. "I've never done anything like this before, and it's very easy to feel overwhelmed because everything is new, but it has been so relaxed. There's a lot of energy on this set and you're encouraged to just roll with it."
Warm, friendly and happy to chat despite the fact she's not technically at work today, Comer is a million miles away from the character she's (currently) best known for—Killing Eve's murderous menace, Villanelle. And, despite the incendiary name, so is Free Guy's Molotov Girl… The kick-ass heroine is actually an avatar, created by human programmer Millie to navigate the world of the game-within-a-film, Free City, and help non-playable character Guy (Ryan Reynolds) to save the digital playground he calls home.
"They both have their strengths, but in very different departments," Comer explains. "Millie has created a version of herself—this badass chick who rides a motorcycle and is ridiculously cool—which I think is really interesting, especially in this day and age where so many of us are on social media and we kind of create this ideal of what it is that we want to be perceived as. There's so much to play with within these two characters."
Comer says that the dual role was a big part of why she ultimately decided to take the role, but for director Shawn Levy—the man behind the Night At The Museum franchise and a regular helmer on Netflix's Stranger Things—it also allowed the filmmakers to "exploit Jodie's unique talent". 
"The character in the game is very cool, incredibly empowered and in absolute control of the events around her," Levy reveals when we catch up with him later, during a break from orchestrating a high-octane action sequence with Reynolds on the bank of Boston's Charles River. "Whereas in real life, it's not so simple for Jodie's character, so we get to play two very different shades all with the same actor."
The differences even encompass the characters' accents: one American, one crisply British, both miles away from the endearingly Scouse twang that Comer carries in real life. It's a skill that she's well-known for—on Killing Eve, for example, she slips between varying languages and intonations, from French to Russian to Dutch to Italian, with absolute ease. And then… "All of a sudden, she speaks in her Liverpudlian accent—and you're like, 'What the hell? Where's that person been all day?!'" says a still-surprised Reynolds.
The Deadpool star admits he hadn't seen Killing Eve prior to working with Comer, but now considers himself "a massive fan". "It's seriously something that doesn't happen, except maybe every 10 years, where a new actor arrives and doesn't feel like anyone you've seen before," Levy adds. "We saw dozens and dozens and dozens of actresses. But I think within four or five lines of her audition, Ryan and I looked at each other because it was like an apparition. She vanishes into the character. In real life, she's just an incredibly sweet, warm young woman. But we've seen on Killing Eve and now in this movie, she's able to transform and inhabit a role in a way that is stunning."
In Free Guy, that transformation extends to Comer's physicality, especially in the role of Molotov Girl. With the filmmakers opting to capture the in-game world in live action, rather than a digital depiction à la Ready Player One ("There's something about seeing the avatars as real people that connects you to them more," Comer says), it meant that the actors' physical performances would be in sharper focus. And while she's no stranger to onscreen action thanks to her stint as hard-edged hitwoman Villanelle, taking on a Hollywood tentpole meant that the bar was inevitably raised… 
"Molotov Girl is a woman who I feel is very unlike myself," Comer says, "so that kind of transformation is always fun to sink your teeth into. I would definitely say the physicality of her has been the biggest challenge, because she's very fierce, and just also getting that stance that video game characters have, where they look strong and their shoulders are back… I'm a bit more kind of hunched in! So that's something that I've had to be really aware of when I'm playing her and trying to get the stunts down."
As well as some full-on fitness training, Comer was schooled in various martial arts before the shoot started—grabbing the opportunity to "learn a new skill" with both hands. "We have an incredible stunt team, so Hayley [Wright, Comer's stunt double] takes over for all the really cool, hardcore stuff—and I'm happy to pass that baton over!" she laughs. "But I really want to try and do as much as I possibly can."
The stakes may be high, but the thing that grounds Free Guy's huge set-pieces is the humour and the human element—hence the choice of live-action over mo-capped, CG-tastic visuals. "Essentially at the centre of it is this emotional connection between these two characters," says Comer. "They want to change the world but they feel like they are stuck in the background, and they kind of recognise that within each other. There's a real heart at the centre of all the crazy stuff."
Key to this was the chemistry between the two leads, which quickly became apparent for everyone in the audition room. "It felt very easy," Comer recalls. "Even though we had our lines, Ryan and I were talking over each other and interacting in ways that weren't actually on the page—and that was our first meeting. It's hard to produce that chemistry when it isn't there [naturally]. And that's carried over to the set: Shawn and Ryan are very encouraging, so it feels safe to play around, to try things and if it doesn't work, go back to something else." Not that it's all plain sailing, though… "I think people really underestimate how hard comedy is," she laughs. "As soon as you try to be funny, it kind of just goes!"
Free Guy's comedy may be a lot broader than Killing Eve's pitch-black humour, but, as with the stunts and physical feats, Comer says it's all part of her ultimate goal: "to continue challenging myself". Taking on new challenges is becoming something of a driving force for the actor, whose future on the A-list is looking bright. Next, she'll be changing tack completely as the star of Ridley Scott's weighty historical drama The Last Duel—a role that some are predicting could carry potential awards-season recognition. One thing seems certain, though: the cheery Scouser is likely to stay grounded, no matter how big or swanky the trailers get. Not that such things matter to her. "I don't like sitting on my own in my trailer," she says. "I'd rather be hanging out with people."
Free Guy opens in cinemas on August 13.