Features
Is Top Gun Based on a True Story?
One of the writers of the original Top Gun reveals where the film's story and characters came from.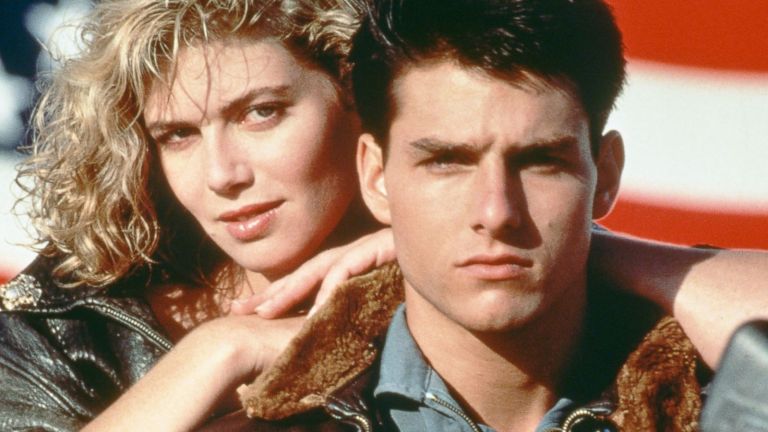 As Top Gun: Maverick arrives in theaters this week, it will be almost 36 years exactly since the original Top Gun was released. That first movie became not only the biggest hit of 1986, but one of the signature films in the career of Tom Cruise and a permanent part of the cultural zeitgeist.
Inspired by an article called "Top Guns," written by Ehud Yonay for the May 1983 issue of California magazine, the film detailed the lives of pilots at the Navy's elite Fighter Weapons School (known as TOPGUN) in Miramar, California. Written for the screen by Jack Epps Jr. and the late Jim Cash, the Tony Scott-directed movie starred Cruise as Lt. Pete "Maverick" Mitchell, a skilled pilot and natural rogue who must learn how to become part of a team if he wants to fly the dangerous missions he's training for.
Top Gun is remembered for not just its flying sequences (which were impressive for their time) but for the film's focus on the lifestyle of the TOPGUN pilots and the personal and professional challenges they faced, all while risking their lives every time they took to the skies.
Although Yonay's article was the launching pad for the movie, Jack Epps Jr.—who now teaches screenwriting at the University of Southern California after also writing films like Legal Eagles and Dick Tracy—tells Den of Geek that it was on-the-ground research that provided him and Cash with the tools they needed to pen the script for Top Gun.
"I went down to [Miramar], and to fly I had to go through two days of water training," Epps recalls in 2022. "When they fly in the Navy, they fly in a lot of helicopters, and helicopters crash. I had to know how to get out of a helicopter in case it crashed, which meant we had to go in this mock-up of a helicopter interior. They dunked us in the water, made us hold our breath, and then move out in an organized manner underwater. Then they did it in the dark. So those experiences really threw me into it."
The other significant part of Epps' research was a series of interviews with the pilots and crew members who flew the Navy's F-14 jets back then. "I interviewed about 25 pilots and RIOs, Radar Intercept Officers, just to understand it," he says. "Because while I had a private pilot's license, that's not what a military Navy jet pilot is like, and their experience is."
Epps says that the pilots opened up and spoke candidly with him, but only after Epps changed the circumstances of the interviews.
"When I did the first interviews, I had somebody from the Navy sitting in," he explains. "After the first interview, I said, 'This is not going to work. I'm sorry, I can't talk to these people with you sitting in the room.' They agreed, so I went forward. Not that [the pilots] had anything to say that was wrong or anything, but they could open up a little more about their private lives."
As for whether Top Gun is based specifically on one true story or incident, Epps explains how he and Cash approached the writing: "The movie is really a series of incidents that people told us. We put those together in a dramatic way. But it really is based upon the stories that these people told us."
One thing that's not based on anything from real life, however, are the characters in the film.
"We basically created our characters to represent what we saw as elements of the pilots," Epps says. "These were very competitive people in terms of just who they were… but there are no characters that are based on an actual person. We just created these archetypes to help us dramatize the world and the story, and use the competition and sort of push that up a little bit."
That includes the character of Maverick himself, who was created specifically as the engine that drives the story forward.
"When you're writing a movie, the most important things to have is conflict," Epps explains. "One of the challenges was that these guys all really got along well. It was all about cooperation. It was all about working out the plan. But where's the conflict?"
He continues, "So being out on the tarmac, looking at the F-14, the thought came to me, well, what if one guy doesn't get along? What if he's sort of this guy who's the bump, and what would that cause within this unit and these people? That's where the idea of Maverick was born, a character who is very much on his own and not part of this team, and how that bumps against the team."
Top Gun: Maverick is out in theaters now.