Features
Top Gun 2: What Has Maverick Been Doing All This Time?
Top Gun: Maverick gets meta when revealing what has become of Tom Cruise's most popular character.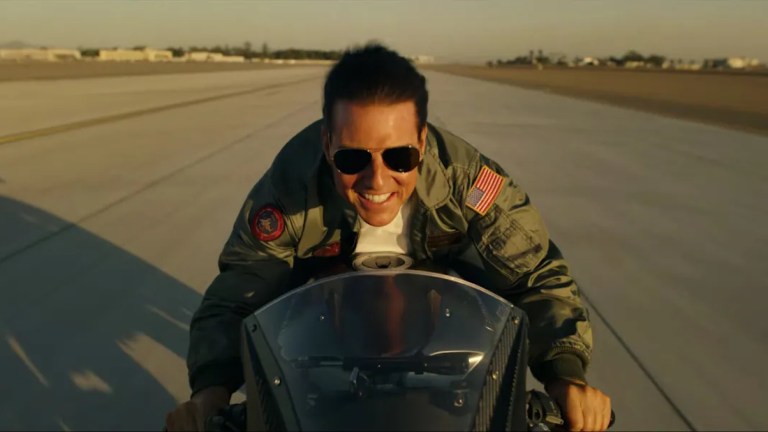 This article contains mild Top Gun: Maverick spoilers. (Really trailer-level stuff, folks.)
What does a man like Tom Cruise's Lt. Pete Mitchell, aka ace Navy pilot "Maverick," look like in his old age? What would it be like for such a man to retire? That is a question that would seemingly be posed by the prospect of a legacy sequel released 36 years after the original and iconic Top Gun. And yet, the answer remains elusive in the final, and joyously satisfying, Top Gun: Maverick.
Technically, Cruise's beloved pilot with an affinity for fast motorcycles, faster jets, and slow-motion volleyball has reached an age where he should be a peer to crusty Rear Admiral Chester "Hammer" Cain (Ed Harris, who is only 12 years Cruise's senior). Yet while Cain might be ready to command a fleet, Maverick is still doing what he's always done: pushing it to the limit and flying high above the danger zone.
Now raised to the rank of merely captain—three ranks above where we met him in the first Top Gun (which amounts to one promotion per decade)—Maverick is where he belongs, pushing the envelope and in the case of the movie's first scene, testing experimental jets in the same daring Right Stuff fashion as Chuck Yeager, the Air Force pilot who in 1947 made worldwide headlines as the test pilot to first break the sound barrier. In 2022, Maverick is trying to break the latest record for a jet that has the ability to go to Mach 8 (which is eight times the speed of sound), easily. But can it go to Mach 9 or higher?
Maverick is still trying to find out!
If you've seen the trailer, you already know that Maverick gets a dressing down from "the Hammer" for his hotshot and insubordinate ways.
"You can't get a promotion, you won't retire, and despite your best efforts you refuse to die," Harris snarls. That tells you where Maverick is in his life. Kelly McGillis' Charlie from the first Top Gun is long gone and the rogue pilot has never settled down, but he's still on the proverbial wall… refusing to die or give up control of the cockpit.
In this way, Top Gun: Maverick is openly inviting audiences to recognize Cruise's own real-life biography in the fictional character. There was a time, about 15 years ago, where some wondered whether the actor's action career was reaching a twilight, and whether there might be a day where Jeremy Renner instead of Cruise leads the Mission: Impossible movies. And yet, despite his seemingly best efforts to die in increasingly dazzling and dangerous in-camera stunts in the last three Mission: Impossible movies—as well as Jack Reacher pictures and now Top Gun: Maverick—Cruise remains unfazed and undaunted. He doesn't want to retire to the role of Hollywood statesman. He is still the classic action movie star, perhaps the last of them, who will push it to a limit that no one else would dare.
And he's right where he belongs, seeming to love every moment of it. So good luck to his antagonists in Top Gun: Maverick, who will spend the movie trying to ground him once and for all…
Top Gun: Maverick opens everywhere on May 27.