Features
Inside The Suicide Squad's Most Dramatic Fight Scene
There's plenty of gonzo action in The Suicide Squad, but James Gunn, John Cena, and Joel Kinnaman told us about how to raise the emotional stakes in important battles.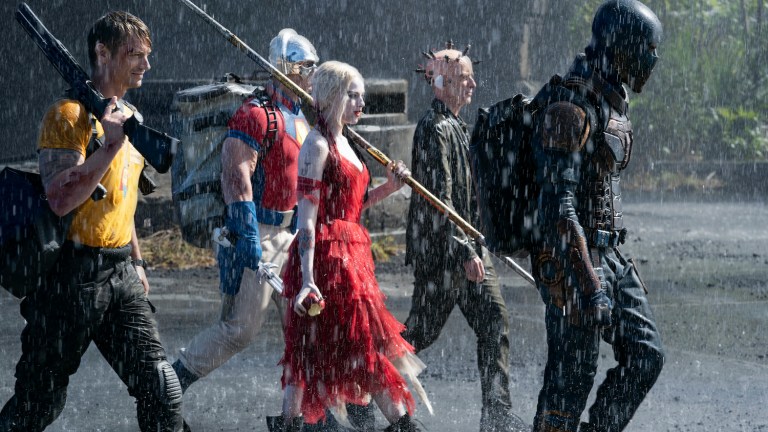 This article contains The Suicide Squad spoilers. We have a spoiler free review here.
The Suicide Squad is just about wall-to-wall action. Yes, there are the occasional (relatively) quiet moments, but for the most part, this is a movie that has a lot of conflicts to resolve, whether with bullets, superpowers, or in the case of the pivotal fight scene in the movie, good ol' fashioned muscles and fists. When John Cena's Peacemaker and Joel Kinnaman's Rick Flag throw down at the end of the movie, it makes for one of the most brutal fight scenes in superhero movie history, a no-holds-barred, bone crunching affair that only one antihero can walk away from in the end.
"We had a great time with it," Kinnaman says of putting The Suicide Squad's most dramatic fight scene together. "It becomes this little capsule project on a movie when you go out and do a fight scene. John and I worked with our fantastic stunt team for a couple of weeks. It was really fun working with John on that. He is such a professional, no ego involved, just really making sure that everything gets done right, and no one gets hurt. It was an inspiring collaboration."
But what's remarkable about this scene isn't just the physical artistry that Cena and Kinnaman bring to it, but also how beautifully it serves the story.
"I think the one thing about it that was so special, is it wasn't just confrontation for the sake of confrontation," Cena says. "When people see The Suicide Squad, they'll understand the stakes and certainly the emotion involved in it. I was very happy with the way it came out, in those regards."
By the time these two characters have to take each other out, we've seen them go from reluctant co-workers on a mission to almost (but not quite) friends. Both of them have a point (although most people's sympathies will probably sit with Rick here, and that's understandable), and you can sense that neither of them really wants to be fighting the other.
"You want a fight to be a story and you want it to be a struggle for life and death," Kinnaman says. "Anyone that has been in a real fight knows how time just completely compresses and, one second can feel like two minutes. I've never been in a life and death situation like that, but I can just imagine all the little interactions and all the things that are being said to one another. I didn't think that we were going to get that much story out of that fight scene as we did."
A scene like this wouldn't have had the same amount of impact if the story surrounding it didn't do such a good job building up to the violence. Both Kinnaman and Cena credit director James Gunn with setting everything on the right path, which allowed the chemistry between the cast to grow.
"Everyone was having so much fun with each other," Kinnaman says. "I was so impressed by John the first few days, just the bizarre, perverted things that came out of his mouth in that Peacemaker costume. His ad-libs were just out of control, and just really, really professional at the same time. James created this vibe on set that was incredible. It really felt magic to step on set… it was just this playground that we got to enter every day, and everyone's on top of their game and doing their best work."
"I think the environment says a lot about how we crafted our characters, and certainly that comes from the top," Cena says. "James set an environment where it was very practical, with large set pieces, and we were able to take some risks."
Of course, there also has to be convincing physicality, and it's on full display here, and Gunn is quick to credit stunt coordinator Guy Norris (Mad Max: Fury Road) with helping him refine the choreography of the movie's big action sequences, a process that could take months just for one fight before they would film it.
"We worked very, very hard on that fight, the rain fight, and the Harley fight," Gunn says "[Norris] would get something and put it together. I would come in and I would change some things and chop some things away….It took a lot of work and it had no unnecessary elements. All those fights would've started off five times as long as they were. But I find that when you're shooting these long fights, you just don't want repetitive stuff. The fight itself has to be a story… It was our requirement that all of the action needed to be part of the storytelling. But that fight in particular was brutal. It's a very sad fight because those characters were very happy with each other and probably having the time of their lives just two hours earlier."
As for which of them would win in an actual fight, both Cena and Kinnaman are diplomatic about it all.
"I'd be like the Russian doll version of John," Kinnaman says with a laugh. "I can hide behind his bicep. There's a vein on John's left bicep that is bigger than my actual bicep."
"I haven't had a fight in 20 years," Cena says. "I think I would like fake punch someone in the face and expect them to react to it."
The Suicide Squad is now playing in theaters and on HBO Max.