News
The Suicide Squad Soundtrack: The Songs James Gunn Picked First
Listen to all the songs from The Suicide Squad soundtrack right here...and let James Gunn tell you the one song he knew Disney wouldn't let him use for Guardians of the Galaxy.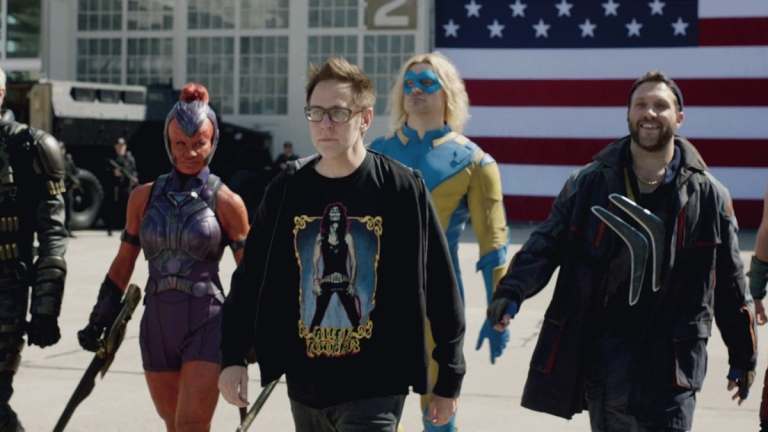 This article contains minor spoilers for The Suicide Squad. We have a spoiler free review here.
Surprise! The Suicide Squad has a soundtrack for the ages. Ok, look, it's a James Gunn movie. You are not surprised.
But nevertheless, even by Gunn's eclectic standards, The Suicide Squad soundtrack is just banger after banger. It's more diverse than the '70s AM radio-friendly (and Walkman-appropriate grooves) of his Guardians of the Galaxy "Awesome Mix" soundtracks, but serves the story just as well. Don't forget, Gunn is known for writing the songs he hopes to use directly into his scripts.
During a chat with James Gunn, I asked him what the first two songs he knew he wanted to use in The Suicide Squad were. To be perfectly honest, I expected the answer to be The Jim Carroll Band's classic "People Who Died" but Gunn surprised me with not one, but TWO picks…including a song he assumed Disney would never allow him to use in his other big superhero movie franchise, Guardians of the Galaxy.
"It was either 'Folsom Prison Blues,' which of course is at the very beginning of the movie or it was The Pixies' 'Hey,' which I've wanted to use forever," Gunn says. "I had thought before, oh, that'd be great in a Guardians of the Galaxy movie, but there's all the 'whores' talk. You can't really use it in the Guardians movie. But I love that song. I love a good, slow walk. And what better thing to slow walk to than the Pixies' 'Hey'?"
Of course, that isn't just any version of Johnny Cash's "Folsom Prison Blues" that opens the movie as we first enter Belle Reve, it's the version that Cash performed at the famed prison itself, before a literal captive audience. And The Pixies' "Hey" comes from one of the greatest rock albums of the 1980s, Doolittle, and it does indeed set the mood for a perfect "slow walk" sequence (the second of the film).
Here are all of the songs in the soundtrack for your listening pleasure, as well…
"Folsom Prison Blues" Johnny Cash
"People Who Died" The Jim Carroll Band
"Sucker's Prayer" The Decemberists
"Samba na Sola" Ceu
Adagio (CONCIERTO DE ARANJUEZ FOR GUITAR AND ORCHESTRA) Pepe Romero, Sir Neville Marriner, Academy of St Martin in the Fields
"Whistle for the Choir" The Fratellis
"Point of Know Return" Kansas
"Sola" Jessie Reyez
"Can't Sleep" K.Flay
"Quem tem Joga" Dirk Barbosa ft. Gloria Groove e Karol Conka
"Meu Tambor" Marcelo D2 ft. Zuzuka Poderosa
"Just a Gigolo (I Ain't Got Nobody)" Louis Prima
"Hey" The Pixies
"So Busted" Culture Abuse
"Oh No!" grandson
"Rain" grandson and Jessie Reyes
You can listen to it here, too. To be played at maximum volume…