Features
Is Indiana Jones 5 Erasing The Young Indiana Jones Chronicles from Canon?
We now have a title for Harrison Ford's final Indy movie, but is Indiana Jones and the Dial of Destiny going to alter George Lucas' continuity?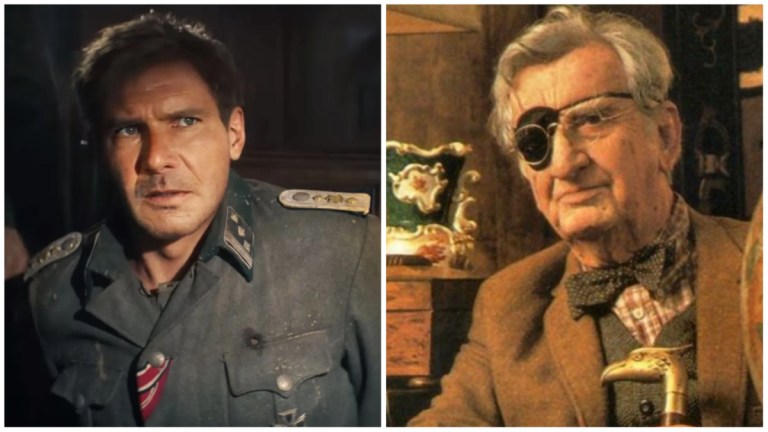 Whether you love or hate the idea of 80-year-old Harrison Ford donning the fedora once again, there's still something comforting about seeing him in the hat while John Williams' iconic "Indiana Jones Theme" plays on. Disney deployed that nostalgia with its usual precision, too, in our first teaser trailer for the newly christened Indiana Jones and the Dial of Destiny.
In the new James Mangold-directed sequel, Ford's Dr. Henry Jones Jr. is looking grayer than he did in 2008's Kingdom of the Crystal Skull. In fact, his hair is now white. But the elegiac rendition of Williams' Indy theme still soars as the old-timer rides a horse through the New York City subways–and it all but weeps as we have our first look at the de-aged Harrison Ford, confirming rumors that there will be flashback sequences set during World War II. Indiana is coming back for one last ride. And if you listen to the bittersweet tone and tenor of the dialogue, there seems to be a strong emphasis on the "last" aspect.
Off-screen, Mangold has also not been shy about this, with the director previously telling Empire, "I just thought it would be nice to see one where Indiana Jones was at the end of his journey." The instinct makes sense for the director. After all, Mangold pulled a similar trick in Logan (2017), one of the best superhero movies ever made, and a picture which brought a curtain down on Hugh Jackman's Wolverine with surprising grace… as well as true finality since (spoiler alert) it ended with Logan being dead and buried. Could Mangold be headed in the same direction with the beloved Indiana Jones? The Dial of Destiny trailer suggests so.
And yet, we can't help but wonder if Lucasfilm would eagerly throw out continuity like this since we already know Dr. Jones' fate—and he doesn't die in 1969.
The Adventures of Young Indiana Jones
A product of early '90s television, The Young Indiana Jones Chronicles, which aired from 1992 to 1993, is a curious relic of pop culture since it seems to only be remembered by older millennials of a certain age… and George Lucas.
Produced by Lucasfilm and Amblin Television as both an expansion of intellectual property—with Ford and director Steven Spielberg at the time seeming generally done with the franchise after 1989's Indiana Jones and the Last Crusade—as well as educational, The Young Indiana Jones Chronicles is one of the more ambitious TV shows ever produced as children's entertainment. Episodes would jump between years and decades in young Indiana's life, alternating from his childhood (where he was played by Corey Carrier) and his truly willful adolescence (as played by Sean Patrick Flanery), and with little in the way of interstitial narrative connecting the episodes from week to week.
In this way, the series could reveal that young Henry and his father explored the Pyramids of Giza with T.E. Lawrence before he became the Lawrence of Arabia, and as a young man Indy spent his college nights at the University of Chicago listening to jazz legends like Louis Armstrong. It was even revealed that he first ran away from home as a teenager because he was enlisted (kidnapped, really) by Pancho Villa's army. Later, he fought in World War I on the Somme and spied on the Bolsheviks ahead of the February Revolution.
It was a veritable history lesson about world events during the first half of the 20th century. And through it all, the only connective tissue is how the episodes were often framed in the present as the reminisces of an ancient, and nearly hundred-year-old Indiana Jones. Played by George Hall as an eccentric and slightly kooky statesman, Old Man Indy came with a mysterious eyepatch as well as a childlike glee shimmering from the other pupil as he scared kids at the local museums by recollecting his previous life.
It was in this way that Lucas turned Indiana Jones into a kind of Forrest Gump character before the movie Forrest Gump even came out, suggesting Indy was there for countless major turning points in history from the beginning of the 20th century to its ending.
The Young Indiana Jones Is Still Canon
Of course some might dismiss the idea that the events of a major film franchise should be beholden to the narrative plotting of an early '90s TV show that only a subset of fans remember. However, one of the most important such fans was Lucas, who as the creator and executive producer of The Young Indiana Jones Chronicles went out of his way to explicitly keep the old show as canon in the films.
For starters, he convinced Ford to guest spot in one episode of the TV show, appearing as a 50-year-old Indiana (remember when that seemed old?!). It's the one where Indy looks back on his days at the jazz clubs after discovering a saxophone in his middle age and revealing he can still play the blues. More importantly, however, in 2008's Indiana Jones and the Kingdom of the Crystal Skull, the Spielberg movie officially acknowledged The Young Indiana Jones as in-continuity by having Ford's 60-something Indiana confide to Mutt Williams (Shia LaBeouf) that he learned to speak Quechua while riding with Pancho Villa. Apparently until his old age, Indy still spits on the ground when he utters the name of their foe, Mexican President José Victoriano Huerta.
As a consequence, we should theoretically know Indy's life does not end while chasing the Dial of Destiny during the summer of '69.
Will Indiana Jones 5 Break Continuity?
We of course have no way to know for certain, but it seems unlikely Disney or Mangold will let whatever artistic (or commercial) objectives they have for Indiana Jones and the Dial of Destiny be thwarted by the fact Lucas and a small fraction of fans love Indy's fictional biography that was established by a 30-year-old TV show.
Consider Mangold was notoriously ambivalent about staying close to the Swiss cheese that was X-Men movie continuity while writing Logan, alternating between suggesting his movie was in an "alternate universe" to simply shrugging at how the film doesn't neatly align, for example, with the events of X-Men: Apocalypse (2016). At the time he even said the following about the modern model of superhero filmmaking:
"Part of the way I think these films stop being fresh (these films being franchise comic book movies) is when you find yourself making essentially a television series with $200 million episodes where you're literally just picking up where the last one left off and you're making a miniseries. Then it's impossible to do something fresh, meaning essentially you're just a director on the 14th episode of a television show picking up where the last one left off and people are going to be really startled by any discontinuity or changes."
While the continuity of the Steven Spielberg-directed Indiana Jones movies are certainly a more sacred (and consistent) text… a half-remembered TV show isn't. So if they want Indy's journey to end in '69, it will.