Features
How the Stars of Onward Became Brothers Onscreen
Voice stars Chris Pratt and Tom Holland say their real-life brothers inspired their relationship in Pixar's new movie Onward.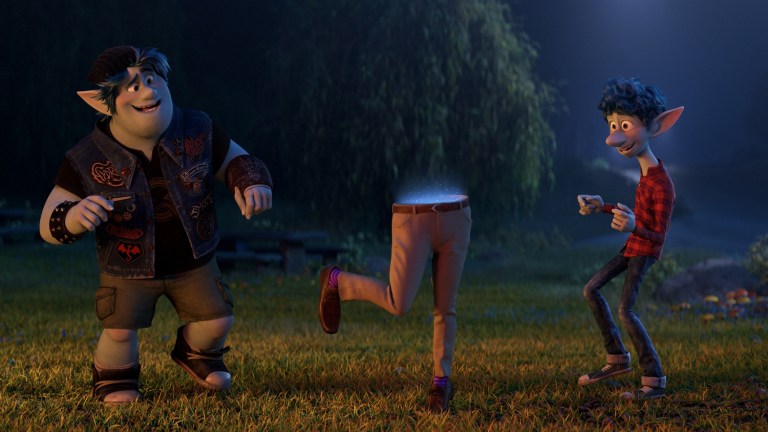 In Pixar's Onward, stars Chris Pratt and Tom Holland ditch their Star-Lord and Spider-Man costumes (the two were last seen together battling Thanos in the Avengers movies) for a recording booth. The two actors voice Ian (Holland) and Barley (Pratt) Lightfoot, two elven brothers who embark on a quest to find a magical artifact that will bring their late father back to them for one day—an artifact that only Ian can wield in a world where magic has faded.
Just like Onward director and co-writer Dan Scanlon drew on personal experience for the basis of the story (his own dad passed away when he and his brother were very young), Holland and Pratt said at a recent press conference for the film that they also tapped their own family dynamics in finding the relationship between Ian and Barley.
"I'm the oldest brother of four, and Chris is the youngest brother of two, and also has a sister," Holland said. "Now I'm playing the younger brother and he's playing the older brother so it was really nice for us to make that switch. Because Chris and I are obviously so close already, before we even came onto this film, it was almost like we were just playing ourselves."
Holland continued, "But the similarities between Ian and myself go back to when I was in my early teens… I was a little bit of an introvert. I was a very nervous kid and I had a hard time at school. It wasn't until I went on this adventure that was Billy Elliot where I came out of my shell and I became more confident in myself and I believed in myself. What drew me so much to this character was that we get to see that entire journey that I went on as a kid in him throughout this film. So I just was really happy to pour my past experiences into this process."
For Pratt, playing the older brother in the movie gave him a different perspective on his relationship with his own elder sibling, who initially wanted to be an actor—and who inspired Pratt to follow that path as well. "[My brother] went in the army, he didn't become an actor, but I became an actor and there was that moment where Barley realizes that Ian has the gift of magic… he wasn't able to do this, but his younger brother was, and I think this was really the heart of the film, that he loves his brother so much that he's just so proud of him that he has this gift, that he's been given this gift.
"When I saw that in the movie, how it was expressed, it really made me appreciate how my brother was with me because my whole life," continued Pratt. "During my career, he's only ever been super encouraging and positive about what I've been able to do as an actor. I think that's what makes this brotherhood and this relationship so special… it celebrates a love between two brothers and that brotherhood and that often is not something you see in movies."
While both Pratt and Holland have starred in animated films before (Pratt most recently in The Lego Movie 2, Holland in Spies in Disguise), Onward is special for both because it's their first Pixar film. "I think for every young actor you set yourself goals," Holland said. "I have mine that I've set out since I was a kid and they're still the same today. One of them was being in a Pixar movie. So when (Scanlon and producer Kori Rae) were kind enough to fly all the way to London to meet me and to tell me your story and pitch me the movie, I firstly was just so honored. It was the first time anyone had come to me. I was like, 'This is amazing, and it's Pixar.' So it was a very easy decision. You don't say no to Pixar because they're the best and the nicest thing about it is they have this family feel that Marvel also has."
"When we originally wrote Ian, he was a little more, I think at times, sarcastic," said Scanlon when asked how the two actors changed the characters they played. "Tom brought a sincerity and vulnerability to him that was crucial in a way that I didn't quite understand, that just naturally comes from him. Chris was very protective of Barley. Barley's kind of a goofball, a crazy character, and… Chris was always like, 'Well, he's not an idiot. He's a well-intentioned guy who's trying to help.'"
The director adds, "In any writing but especially in animation, we live with these characters for a long time, and then the performers come in and they make them real and they give them heart."
Whether or not Ian and Barley get to spend the time with their dad that they so desperately seek is a question that we'll leave for viewers of the movie to find the answer for themselves. But another question that the movie raises is one that everyone can appreciate: if you could bring back one person from your life for one day, who would it be?
"My granddad, Bob, he never actually met his dad," Holland said. "His dad passed away when he was 18 months. So I would bring back my great grandfather, so my granddad would have the opportunity to meet his dad."
"I would probably bring back my dad, who passed away just before Guardians of the Galaxy came out," Pratt said. "Then I would show him Guardians of the Galaxy, and if he didn't like it, I'd bring back a known criminal and then beat him up on Instagram live or something to become popular. Because if my dad didn't like Guardians, I'd be like, 'All right, you go back to heaven.'"
Onward is out in theaters this Friday (March 6).