Features
How Ghostbusters: Afterlife Honors the Original Legacy
Jason Reitman, son of original Ghostbusters director Ivan Reitman, picked up the proton pack and embraced the family spirit for Ghostbusters: Afterlife.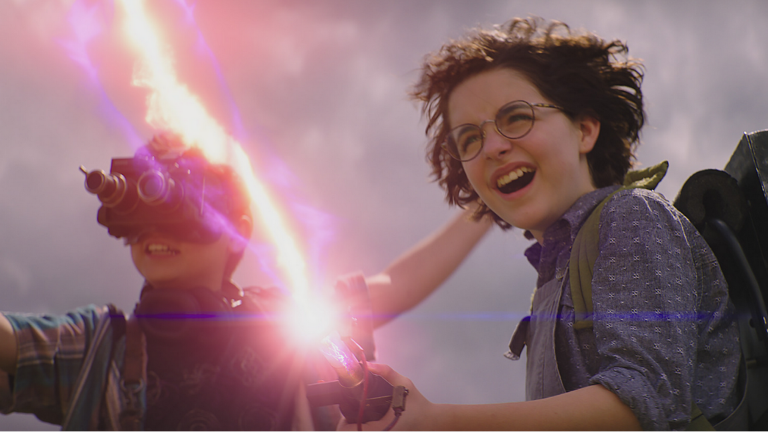 For director Jason Reitman, the first official announcement of Ghostbusters: Afterlife was, by blockbuster franchise standards, quite modest.
"Before we ever started shooting, the way we debuted the idea to the world was we shot this little teaser in secret, with Ecto-1 in a barn," says Reitman, talking to Den of Geek by phone. "At the time, I remember thinking, 'Okay, we have the script, we're going to make this really fast. We're going to put it out into the world before anybody knows it, and this whole thing is going to fly by.'"
That was back in early 2019. Now, more than two and a half years later, Reitman says, "I wish I could go back and pat that director on the shoulder and just be like, 'All right, calm down. Be patient. This is going to take a minute.'"
It's taken somewhat more than a minute: like so many films, Ghostbusters: Afterlife was delayed by the COVID-19 pandemic from its original summer 2020 release. But in another sense, it's taken more than 30 years – not just for this long-awaited second sequel to the original 1984 Ghostbusters to arrive, but for Reitman to embrace what in some ways is the mythology most closely related to his family name.
Reitman's father, producer/director Ivan Reitman, was behind the camera for the original film, which he and his iconic cast – Bill Murray, Dan Aykroyd, the late Harold Ramis, Ernie Hudson, Sigourney Weaver, Annie Potts, and Rick Moranis – turned into a comedy classic for the ages.
Jason Reitman was not even seven years old when Ghostbusters came out in June 1984, yet his memories of being on the set are still vivid to him. "It was extraordinary," he recalls. "It became my introduction to what it meant to make a movie. It was my introduction to really knowing my father as a filmmaker."
Even though Reitman at first resisted the idea of following in his father's footsteps and began pre-med studies when he got to college, the lure of the entertainment business was perhaps too great. He enrolled at USC and began shooting short films and commercials, eventually making his feature directorial debut in 2005 with Thank You for Smoking.
Yet while that was the beginning of a successful string of sophisticated satires, comedies, and dramas for Reitman that included such acclaimed films as Juno (2007), Up in the Air (2009), Young Adult (2011), and Tully (2018), Reitman says that the subject of Ghostbusters would come up constantly.
"From the moment I had shown interest in filmmaking, people wondered whether or not I would direct one of these movies," he says. "Like any young person who has tried to define themselves outside the framework of their parents, I ran away from that… I really wanted to establish my own voice and my own sense and style of filmmaking."
Meanwhile, the franchise itself seemed unable to move smoothly forward either. The first sequel, 1989's Ghostbusters II, was, like the first one, directed by Ivan Reitman and written by Aykroyd and Ramis. While it scored at the box office (albeit earning far less than its predecessor), the film was scorned by critics and was generally considered a lackluster follow-up.
Although Aykroyd, Ramis, and Ivan Reitman continued trying to develop a third film for years, the death of Ramis in 2014 and an all-female remake (directed by Paul Feig) of the original film released in 2016 seemed to bog those plans down – until it was announced in January 2019 that Jason Reitman would direct Ghostbusters: Afterlife, a direct sequel to the first two movies set 30 years after the events of Ghostbusters II.
So what changed the younger Reitman's mind about getting involved in the franchise? "I really didn't imagine myself making a Ghostbusters movie, but then this character came to me, and that character became undeniable," he says. "I think it didn't hurt that she was the same age as my daughter."
The character in question is Phoebe (Mckenna Grace), who moves with her single mother Callie (Carrie Coon) and her brother Trevor (Finn Wolfhard) to a dilapidated farmhouse in rural Oklahoma due to financial difficulties. The house is their inheritance, left to them by Callie's late father, Ghostbusters co-founder Egon Spengler (Ramis).
With the help of a local teacher (Paul Rudd), the Spengler family will rediscover their patriarch's history with the Ghostbusters and learn why the house is apparently the source of some very unusual paranormal activity – which may be the reason Egon purchased it in the first place.
The film's storyline mirrors Jason Reitman's own complicated relationship with the franchise from both a familial and professional perspective: "Certainly, I think it is not an accident that I have questioned my whole life whether or not I would pick up the proton pack," he says. "And we are introduced to a family that is considering the same thing."
Although Reitman (who co-wrote the screenplay with Gil Kenan) was working within the parameters of a franchise for the first time, he says he approached the project the same way he's developed all his other films.
"I come at things from character, and I come at things from the story," he explains. "You look at all my movies, they're all character-based movies. So as soon as I knew Phoebe, I was like, all right, I know my way into this. It wasn't through ghosts and it wasn't through lore. It was through a family."
Saying he was "heartbroken by the death of Harold Ramis" and that Egon had always been his "favorite Ghostbuster," Reitman theorizes that those were two of the reasons why he decided to make the family at the center of the movie the Spenglers.
Yet just as important as honoring Ramis' memory was honoring the legacy of the original movie as well, which is perhaps how Reitman (and his dad, who is the film's producer) got Murray, Aykroyd, Hudson, Weaver, and Potts to reprise their original roles (all five had briefly appeared in the Feig film, but as different walk-on characters).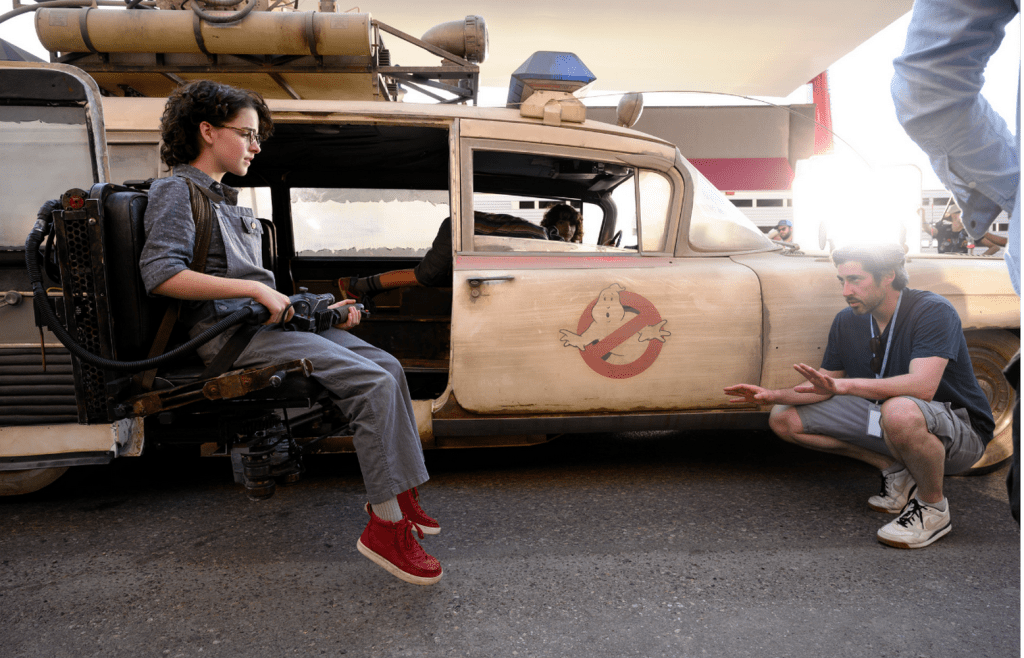 "Gil and I wanted to make a movie that felt as though it clearly was being made by people who loved the film as much as the viewers," says Reitman about including the original cast, choosing his words carefully. "We wanted to make a movie that felt as though the storytellers were handing everything you loved about Ghostbusters back to the audience sitting in their chairs. It felt impossible to do that without including the originals, even though this is very much a story about a single mom and her two kids."
Reitman is, of course, reluctant to speak any further about the role of the original cast members in the movie, or how much we find out about what they've been doing for the last 30 years, which brings us back to where we started: with his original intention to make the movie quickly and spring it on the world with little fanfare (filming was actually completed in the fall of 2019).
"(It was supposed to) arrive on everyone's plate before they knew it," says Reitman. "It was just going to be this kind of hopefully lovely surprise. And now there's been years of buildup and opportunity for people to talk about it."
The director says his original hope was that "no one was even going to know that the originals were even part of it," adding, "I don't really want to give away anything further, except to say that this is not a movie about the originals. This is a movie about the Spengler family, but it will touch upon everything that you love about Ghostbusters."
And that, in the end, is what making a new Ghostbusters movie – and adding his personal take on his own family's legacy – is all about for Jason Reitman.
"I know that my personal goal was to, one, make my father proud, and two, give audiences another trip into the world of Ghostbusters," he concludes. "I hope they feel like it's authentic. I hope they love it as much as we loved making it. The best Ghostbusters movie has already been made. It came out in 1984. Now I'm just excited for audiences to take another trip into this universe that we all grew up on."
Ghostbusters: Afterlife is out in theaters on November 19.