Features
How Dear Evan Hansen Changes the Musical's Ending
In the transfer from stage to screen, the creators of Dear Evan Hansen address some of the problematic elements of the musical with a new ending. So does it improve it?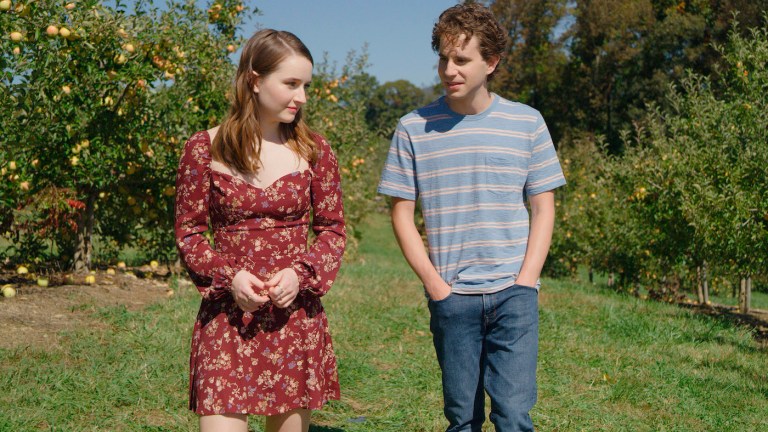 This article contains Dear Evan Hansen spoilers, both for the movie and the stage show.
No matter how you come to the story of Dear Evan Hansen, and regardless of the medium, things always have to end at the same apple orchard. It's fitting since Evan's first major lie about Connor Murphy, the boy who killed himself, was that they spent whole days in the then-abandoned orchard, talking about girls, boats, and whatever other fantasies Evan could concoct. And it's here that Zoe Murphy, Connor's younger sister, requests Evan meet her for the story's final scene.
This is true of the stage show, which took Broadway by storm five years ago—winning six Tonys including for Best Musical and Best Actor for Ben Platt—and it's the same for the movie, with Platt's Evan coming to a now renewed orchard and sitting with the cinematic Zoe (Kaitlyn Dever). Among the trees, Evan can see at least one good thing that came out of his lies: The Connor Murphy Project reopened this small slice of paradise.
Yet how Dear Evan Hansen gets to that moment in the movie is drastically different from the stage musical. Then again, so is the world in the five years since the musical's Broadway debut (and six since it was first performed in Washington D.C.). Hence why director Stephen Chbosky and screenwriter Steven Levenson, who adapted his own book from the stage, have attempted to adjust to our current social climate. The new ending addresses the harshest criticisms about the Evan Hansen character, and the values his tale might promote. This is, after all, a musical about a troubled young man who exploits the suicide of a stranger in his school to increase his popularity and to insinuate himself into the dead boy's family.
But is the new ending an actual improvement? Well…
How Dear Evan Hansen Ends on Stage
The entire narrative of Dear Evan Hansen pivots on a misunderstanding between Evan and the Murphy family as the latter grieve over the suicide of Connor. When Connor's parents, Cynthia and Larry, first misconstrue Evan's letter to himself as their son's suicide note, Evan attempts to correct them. However, they seem so heartbroken, and Evan is so desperate to please and be accepted—by anyone—he quickly goes along with it and begins spinning tales about his and Connor's intimate friendship.
The musical is thus a rising crescendo that builds as Evan climbs higher and higher off his mistruths. So the inevitable moment where his house of cards comes crashing down is the narrative's real climax. And yet, in the original version of Dear Evan Hansen, the story more or less ends right there. After Evan confesses in the song "Words Fail" that he lied about the letter and his entire friendship with Connor, the horrified Murphys walk away from him one by one, with various degrees of disgust. He then comes clean to his mother in the final big song of the show, "So Big / So Small," where she comforts her son. She'll never walk away.
The musical then quickly jumps one year into the future, with Evan revealed to be working part-time and attending community college, hoping to save up enough money to someday attend a university. Zoe, who's now a senior in high school, invites Evan to the orchard where he thanks her family for never revealing his secret to the public—never telling the world he lied about Connor. And, rather incredulously, Zoe absolves Evan and the audience of any guilt. She says, "Everybody needed [the lie] for something." She even goes so far to say it "saved my parents." It brought her family closer together.
So while it's still bittersweet since Evan's relationship with the Murphys, including Zoe, is forever severed, there are still no real consequences for Evan other than Cynthia and Larry won't pay for his college education. Even his guilt is assuaged, and he can brag to Zoe that he's been reading the 10 books Connor said were his favorites in eighth grade. The show more or less ends in a figurative group hug by omitting through a time jump all of the messy fallout from his choices.
How Dear Evan Hansen the Movie Ends
In the film, "Words Fail" is still the climax of the story, with Evan confessing his sins and Zoe walking away. However, in one telling addition, Cynthia (played with delicate fragility by Amy Adams) is barely able to whisper, "I think it's time for you to leave" while holding back tears. Since she was Evan's biggest champion, that she is now the one who states explicitly he is disinvited from their home hits hardest.
Then after Evan's heart-to-heart with his mother (Julianne Moore), we actually see Evan attempt to make amends for his misdeeds. For starters, the whole reason the truth finally came out in both versions of the story is because of the machinations of a schoolmate named Alana (Amandla Stenberg in the film), who accidentally unleashed a whole social media mob on the Murphys, with randos on the internet blaming the parents for Connor's suicide.
On stage, this plot element is entirely dropped after Evan confesses to the Murphys, who presumably bear the brunt of the social media hate in quiet while protecting Evan's secret. In the film though, Evan actually attempts to talk to Zoe in school the following week and she asks him to leave her alone. She also reveals the only reason her parents haven't unmasked what Evan did is because "they're afraid you'll do something to yourself." Like Connor.
Thus Evan gets on Twitter that night and tells the world, "[The Murphys] don't deserve your hate. I do." He confesses. Afterward, he again becomes a high school pariah, but we learn in montage he is more content this way as he tries to make further amends to the Murphys by not only reading Connor's favorite books but tracking down someone's phone video of Connor during his stint in rehab. Evan even finds footage of Connor playing his guitar, a feat he hid from his parents. The new song "A Little Closer," which scores the final montage, is revealed to be a melody Connor wrote and sang in rehab, and Evan is able to at least mail that to Connor's parents. He's finally given them something true that they didn't know about their son.
Only then, before the current school year ends, does Zoe invite Evan to an apple orchard and they reminisce about what might've been.
Does It Improve Evan Hansen and the Story?
The clear implication for adding these sequences, plus a song that the real Connor Murphy character can sing, is intended to fix the moral and thematic slipperiness at the heart of Dear Evan Hansen. Through a series of hummable ballads by songwriters Benji Pasek and Justin Paul, and some heartbreaking performances, including by Platt in the original cast, the stage production relies on the power of its emotions to overwhelm logic or deeper analysis. Some might even say it manipulates.
Yet over the years, the musical has had its fair share of detractors who pointed out how calculating and toxic the Evan Hansen character can appear. And the fact the musical just ends on the emotional high point without actually bothering to sift through the wreckage of what Evan did has always been a cheat.
Conversely, there are a few fleeting sequences in the stage version where the musical at least briefly seems to consider its darker implications. Evan's loose group of (bad) friends in Alana and Jared contribute to this element in the song "Good for You," where they sing in unison, "Well, I guess if I'm not of use, go ahead, you can cut me loose. Go ahead now, I won't mind."
The Alana relationship is particularly interesting in the show since it is only after she demands of Evan "how" will he raise $17,000 that he shows her Connor's "suicide note." He immediately protests after she decides to post it online, but did he not on some level show it to her in order for her to use it to raise $17,000 and reopen the apple orchard? After this scene, Alana ghosts him, suggesting she was herself only using Evan to brandish her social clout in the school and, eventually, her college applications.
The Dear Evan Hansen movie tries to wipe even this thorniness away. The context of Evan showing the note to Alana is handled slightly differently, but as a consequence there's no ambiguity on why he showed it to her—he did not intend for her to share it online. She also, like Evan, is softened around the edges when she does answer Evan's ringing phone on-screen and cries that she tried to take the letter down but it's still all over social media.
The logic behind the change would seem to make both Evan and Alana more purely sympathetic and blameless for their mistakes. In Alana's case, she isn't a master manipulator, and in Evan's case it is beyond his control when others take things too far. He then puts in the work to help the Murphys, beginning by admitting to the world his dishonesty.
These were obviously conscious choices made after the five years and full lifetime which passed since 2016—a year where Barack Obama was still president and the #MeToo movement hadn't yet occurred. Now in an age where social accountability, especially in online life, and alleged authenticity are valued more than ever, having a hero who lies to the world and gets away with it is inherently problematic. So the flaws in Evan's choices, and even Alana's, are "fixed" with crocodile tears of regret from Alana, and then Evan making an actual effort to atone for his mistakes.
Yet I would argue it doesn't actually improve the fundamental issues with the musical. In the case of Alana, having a character show the ugly side of social manipulation, even among ostensibly sympathetic figures, was one of the truer impulses in a story that otherwise glorifies the healing power of finding validation from strangers on the internet. While both the film and show also depict the downside of online life with a discordant singing hydra coming after the Murphys, it's only because of a couple of misguided mistakes. And in the case of the stage show, the larger message is Evan's musical platitudes are simply too powerful (or profitable) for the Murphys to shatter.
In 2021, Evan and his creators make the choice that he can admit his mistakes. Yet the story still attempts to justify Evan's actions, which ironically puts the film at odds with itself. It basks in the splendor of Evan's self-help ballad, "You Will Be Found," and then shows him suffering comeuppance for lying—even if Zoe still gives him final absolution.
The one significant change that clicks for me is Evan at least seeking out some hidden truth about Connor, and sharing it with the real people who actually loved him instead of strangers, who in turn would only again offer performative gestures and signaled virtue toward a kid they otherwise ignored. Hearing Colton Ryan's Connor sing for himself—for the first time in any medium—and not merely be a puppet for Evan's self-serving fantasies was a significant, moving improvement over how this thread is resolved on the stage.
Still, I think going further in that direction with Evan realizing the crassness of what he created, and the emptiness of his bromides, would've made this a more interesting narrative. But what do I know? My instincts wouldn't have turned this into a Broadway anthem for Generation Z. So how about yourself? Do you like the new ending to Dear Evan Hansen?