News
Hocus Pocus 2 Just Took a Big Step Forward
We're crossing our fingers for a Halloween 2021 release for Hocus Pocus 2.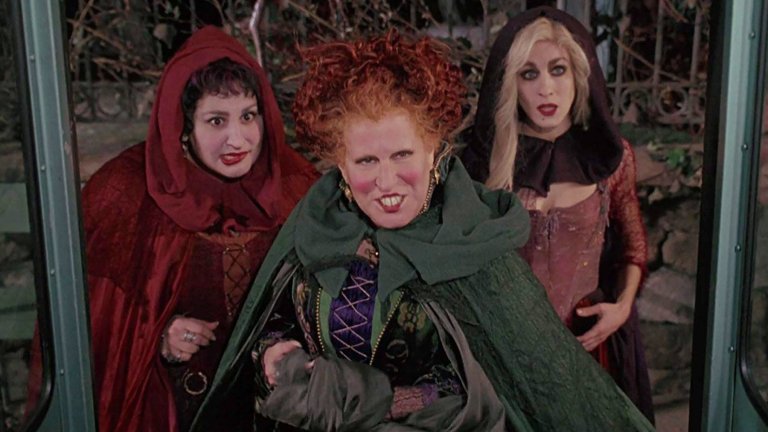 Halloween is saved! Well not this Halloween, obviously—nothing can save 2020. But next Halloween is shaping up to be a pretty good one. Bette Midler has just confirmed that Midler, Sarah Jessica Parker, and Kathy Najimy will all be returning for the Hocus Pocus sequel as the sister-witches Winnie, Sarah, and Mary.
"They want to make a movie, they've asked us if we were interested and of course all of us said yes," she told Fox 5 New York. "I'm game, I'm totally game."
Midler, Parker, and Najimy played the Sanderson Sisters in the original 1993 classic, three witches bent on securing immortality by absorbing the youth of children—a, you know, deadly process. The original film also follows teen boy Max Dennison (Omri Katz), who moves from California to Salem, Massachusetts only to accidentally bring the trio of soul-sucking witches back to life. In the film's conclusion, Max, his crush Allison (Vinessa Shaw), and his little sister Dani (Thora Birch) vanquish the sisters. But, let's be real, the Sanderson Sisters are creative; there's no way a little vanquishing could keep them down for good.
While it's unclear, at this point, if anyone else from the original cast will be back for Hocus Pocus 2, we do know Adam Shankman (Hairspray, A Walk to Remember) will be directing, taking over from Kenny Ortega who directed the 1993 original. He is also attached to produce Disenchanted, the planned sequel to Disney's Enchanted. On the writing side, Jen D'Angelo penned the script, takign over from Mick Garris and Neil Cuthbert, who wrote the script for the original.
While no official release date has been announced for Hocus Pocus 2, and it's not like productions with 74-year-old stars like Midler are clambering to begin in the midst of a global pandemic that is disproportionately more risky for older adults, I would imagine Disney is eying Halloween 2021 as a planned release date.
If you can't wait that long to see the Sanderson Sisters again, then you can check out In Search Of The Sanderson Sisters: A Hocus Pocus Hulaween Takeover, a virtual, one-night-only event in which the actors will reunite as their characters. In addition to the Hocus Pocus alums, the event will be hosted by Elvira, and will feature guests like Glenn Close, Billy Crystal, Jamie Lee Curtis, and Meryl Streep.
"It was so bizarre to have been these characters 27 years ago," said Midler of the mini-reunion. "And to put all that gear on…it was so bizarre because we fell into exactly the same relationship we had and the same style of behaving on screen that we had 27 years ago. As if we had been off for a weekend!"